Secretary De Lima says cites Tuason's affidavit that Napoles promised to give senators Enrile and Estrada 40% for every business handled by Napoles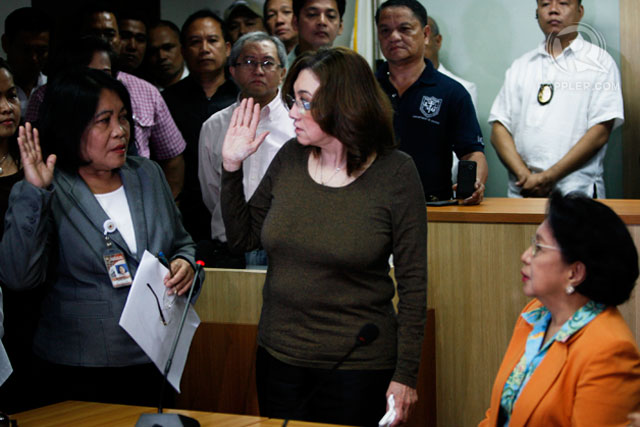 MANILA, Philppines – The testimony of provisional state witness Ruby Tuason can be regarded as "slam dunk evidence," Department of Justice (DOJ) Secretary Leila de Lima said.
In a press conference on Friday, February 7, the justice secretary disclosed portions of Tuason's testimony implicating senators Jinggoy Estrada and Juan Ponce Enrile in the controversial multi-million pork barrel scam.
Tuason was admitted as a provisional state witness by the DOJ after a month of long-distance coordination. (READ: Tuason a 'provisional' state witness – DOJ) 
Tuason was asked by pork barrel queen Janet Lim-Napoles to introduce her to the two senators in 2004, De Lima said.
Quoting Tuason's sworn affidavit, De Lima said the witness would pick up the pork barrel scam shares of Estrada and Enrile, the latter through his then chief of staff, lawyer Jessica "Gigi" Reyes.
Dennis Manalo, legal counsel of Tuason, earlier said that his client's testimony will "corroborate" the whistleblowers' revelations that the senators and Reyes had knowledge of the pork barrel scam.
But de Lima said Tuason's testimony was "more than just corroborative" as it proves that the lawmakers were directly and personally receiving money from the scam.
Tuason's affidavit was subscribed and sworn to in California on February 4 with Philippine consul Jaime Ramon Ascalon. It was re-affirmed before the Office of the Ombudsman in the Philippines Friday.
Manalo filed before the Ombudsman a formal motion to grant Tuason immunity from prosecution. 
Kickbacks
De Lima said that based on Tuason's affidavit, Estrada refused to meet with Napoles. But Napoles promised to give the senator 40% (less withholding tax of 5%) for every business handled by Napoles.
The same scheme applied with transactions with Enrile, through Reyes.
Tuason would then receive 1.5% of every successful project as referral fee.
De Lima said Tuason also confirmed the testimony of whistleblower Benhur Luy, saying Napoles sometimes took cash advances.
The figures involved in the scam are much bigger than the amounts cited by Luy in his testimony, De Lima said, still based on Tuason's affidavit.
While details on the exact amount of the total kickback were still hazy, De Lima said Tuason testified that these transactions happened "several times."
Personal receipt of cash
There were also times when Tuason would deliver the cash to Estrada in the Senate building, passing through the basement parking in order to not get checked by the guards, De Lima said.
In most of the instances that Tuason delivered cash to Enrile, De Lima said it was through Reyes.
Reyes would pick up the cash personally at Tuason's house or in a restaurant where they agreed to meet either in Makati or Taguig City, she quoted the affidavit.
Enrile would join them for a cup of coffee at the end of some of the transactions, she added.
"So sinunsundo siya (So she gets picked up by Enrile)," De Lima said of the meet-up.
There were other times when Enrile would personally receive the sums. – Rappler.com