Ruby Tuason's sibling was a conduit of Malampaya fund releases, and a collector who came over to her house 'would lead you to Jess Santos'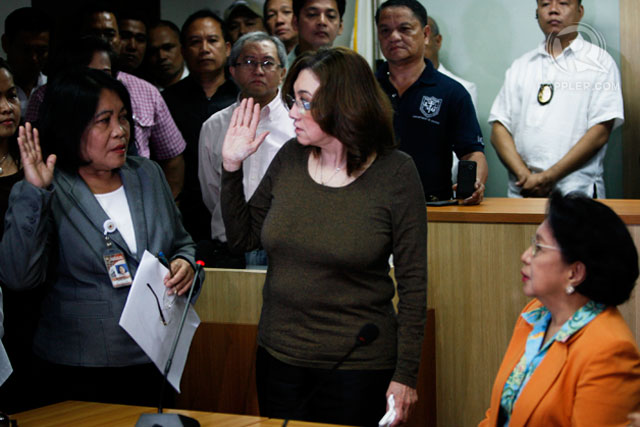 MANILA, Philippines – A new name has emerged to help fit together the pieces of the puzzle in the Malampaya fund scam: "Jess Santos."
Citing the affidavit of provisional state witness Ruby Tuason, Department of Justice (DOJ) Secretary Leila de Lima said in a press conference on Friday, February 7, that an unnamed person who collected commissions from the multi-billion-peso energy fund "would lead you to Jess Santos."
He is presumed to be the same person as Jesus "Jess" Santos, the trusted lawyer of then First Gentleman Jose Miguel Tuason Arroyo.
Tuason's estranged second husband, now deceased, was a first cousin of the First Gentleman. It was, however, Tuason's sibling, now deceased too, who dealt with the Malampaya fund commissions.
The Malampaya fund consists of proceeds from the natural gas operations off the shores of Palawan. Contested until now before the Supreme Court for the sharing scheme between the national and local governments, it became a huge discretionary fund of the Office of the President under Gloria Macapagal Arroyo. Portions of it were released to agencies whose works were totally unrelated to energy development, and were siphoned off to fake non-governmental organizations associated with Janet Lim Napoles, an associate of Ruby Tuason.
Based on De Lima's very brief explanation of people's links, it was Tuason's sibling who was dealing with another person who delivered to their residence money from the Malampaya fund. Tuason at times witnessed these deliveries.
"Ang sinasabi po ngayon ni Mrs Tuason is that kino-confirm niya na nagkaroon ng mga deliveries sa bahay niya doon sa kapatid niya, 'yung namatay na niyang kapatid. At 'yun ang merong ka-deal," De Lima said. (What Mrs Tuason is now confirming is there have been deliveries [of cash] to their residence to her sibling, the one who died. It was the sibling who was dealing with someone.)
"Pero 'yung paghahatid ng pera nawi-witness daw niya 'yun at may sinabi siyang pangalan na 'yun ang kumukuha ng pera sa bahay nila and that can lead us to Jess Santos," the justice secretary added. (But she witnessed the delivery [of cash], and she is stating a person's name, that person was the one who fetched money from their house and that can lead us to Jess Santos.) 
Santos denied 
any involvement in the scam in 

an interview with the ABS-CBN News Channel. 
"Maraming Jess Santos (there are a lot of Jess Santoses). I have nothing to do with this scam. I don't know Ruby Tuason," he said.
"I am ready to face any probe. I am even ready to face my God to say I have nothing to do with this. I do not know these people," Santos added.
In a statment, Arroyo's counsel and spokesman Ferdinand Topacio criticized De Lima for her "extreme irresponsibility and lack of ethics, logic and common human decency" for "

heavily insinuating the involvement of our client, Atty. Jose Miguel Arroyo, in alleged criminal acts regarding the Malampaya Funds."
"

So what if Atty. Santos was the counsel of our client? Ms. De Lima should know enough that there is no such creature as guilt by association or even guilt by lawyering," Topacio said.
During the press conference, De Lima referred to Tuason's 15-page affidavit, but journalists were not given copies of the document until there's an approval from the Ombudsman.
De Lima regarded the revelation as "a very important development," as it may lead to finding out who the prinicipal recipient is in the Malampaya fund scam. (READ: How the Malampaya fund was plundered)
Tuason is a respondent in two plunder cases filed by the justice department with the Ombudsman: one over the misuse of the pork barrel fund of senators; another, over the scheme to divert the Malampaya fund to fake NGOs. – Rappler.com