Will your community be affected by Metro Manila construction projects? Here's a list of schools and hospitals that will be affected.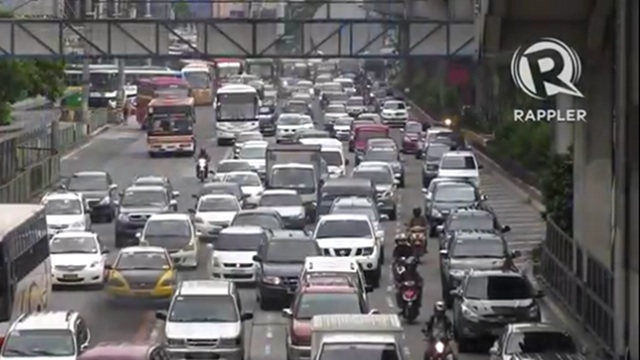 MANILA, Philippines – Metro Manila, brace yourselves for heavier traffic in the next few years, as major roadwork projects start rolling out starting this year.
The Metropolitan Manila Development Authority (MMDA) has been warning local government units and the public of the heavier traffic and has suggested several ways to ease congestion – among them, the shortening of the school week.
Apart from the Skyway Stage 3 which starts construction Monday, February 17, at least 15 road projects are lined up for construction, according to the MMDA:
NAIA Expressway Phase 2
Gil Puyat-Makati-Avenue-Paseo de Roxas underpass
Sta. Monica-Lawton Avenue bridge
CP Garcia Avenue-McKinley Hill ramp
Repair and asphalt overlay of Magallanes Interchange
EDSA-Taft Avenue flyover
MRT Line 3/ LRT Line 1 extension common station
LRT Line 2 East extension up to Masinag
LRT Line 1 Extension (Cavite)
EDSA-Roosevelt Ave. interchange
Espana Avenue-Lacson Avenue interchange
Repair/rehabilitation and improvement of South Superhighway Makati
NLEX-SLEX connector road above the PNR alignment
EDSA-West Avenue-North Avenue interchange
Will your community be affected by the projects? Here's a list of schools and hospitals that will be affected by the construction projects, according to the MMDA:
C5 to McKinley Ramp Project
Schools
STI College – Taguig 
Manila Japanese Schools 
Abba's Orchard 
Fort Bonifacio High School 
Global City Innovative College 
Creative Play Corner School, Inc. 
Rizal Elementary School 
NFWC Gremville Learning Center
Pembo Elementary School 
Pitogo Elementary School
South Cembo Elementary School
---
C2-R7 Interchange Project
Schools
University of Santo Tomas
Trinidad P. Tecson Elementary School 
Paaralang Hen. Licerio Geronimo 
Moises Salvador Elem School
Hospitals
UST Clinical Division
UST Hospital
Perpetual Succor Hospital and Maternity 
Ospital ng Sampaloc
NLEX-SLEX Connector Road Project
Schools
Marulas Elementary School
Bethel Lutheran Schools
Narra Elementary School
AC Herrera Elementary School 
Trivino Learning Center
FC Calderon Elementary School
St. Joseph the Worker 
Mababang Paaralan ng Lapu-Lapu
M. Aquino Elementary School 
Galang Medical Schools
Espiritu Santo Parochial School
Colegio Apostol Elementary School
Manuel L. Quezon High School 
St. Louie Learning Center 
Holy Spirit Elementary School
Little Angel Development Center
Legarda Elementary School 
Dr. Benigno Elementary School Constancia Pre School 
Jenova Learning Center
Educational Center of the 7th Day Adventist 
Padre Pedro Pelaez School
Polytechnic University of the Philippines 
Bacood Elementary School
Emilio Aguinaldo Elementary School
Rosechild Montessori Center
La Concordia College
St. Pius X Parochial School 
St. Marylandia Leaning School
Paz Kindergarten School
PEP KIddie Land Learning Center 
Aldana Elementary School
Paaralang Gregoria de Jesus 
Grace Park Elementary School
Hospitals
Santos Clinic and General Hospital 
Ospital ng Tondo
Esphar Medical Center
St. Jude General Hospital 
Hospital of the Infant Jesus
Ospital ng Sampaloc 
Unciano General Hospital
St. Claire Patronage of the Sick and the Poor 
Ygeia Medical Center
Asthma, Heart and Lung Clinic
Health Center and Lying in Clinic
---
LRT 1 North Extension Project
Schools
Holy Trinity School 
Norte Dame of Greater Manila 
San Antonio Elementary School
Apolonio Samson Elementary School 
St. Mary Academy of Caloocan 
AMA Computer College 
Paaralang Elementarya ng Esteban Abada 
Golden Miles Learning Center
Quezon City Academy
Hospitals
John Paul Hospital 
Roon-Carmel General Hospital 
JP Sioson General Hospital
---
LRT 1 Cavite Extension Project
Schools
Tambo Elementary School
Camp Claudio Elementary School
Don Gale Elementary School 
St. Andrew's School
St. Paul College 
Las Pinas National High School
Hospitals
Baclaran General Hospital 
St. Rita de Baclaran 
Protacio
Olivares Hospital 
Jesus Divine Healer Center
Las Pinas Integrated Hsopital
Las Pinas District Hospital
---
EDSA-Taft Avenue Flyover Project
Schools
Pasay City East High School
Cuneta Elementary School
Hospitals
San Juan de Dios Hospital
FB Harrison Medical Hospital 
Malibay Health Center
Dona MArtha Multi Health Complex
---
NAIA Expressway Phase 2 Project
Schools
Airlink International Aviation School
Paaralang Elementarya ng Tambo
Philippine State College of Aeronautics
Pasay City South High School 
PATTS College of Aeronautics
Hospitals
San Pablo Health Center
PAF General Hospital
Social Action Department Airforce
PAFGH Physical Sevice
MIA Health Center
---
Repair/Rehab/Improvement of South Superhighway, Makati
Schools
Hon Pio del Pilar Elementary School
Bangkal Elementary School I and II
Asia Pacific Computer College
Hospitals
American Medical Hospital 
Bangkal Lying-in Hospital
---
Skyway Extension (Stage 3 Project)
Schools
Balingasa Elementary School
San Jose Elementary School and High School 
Sergio Osmena St. High School
Masambong Elementary School
Perpetual Learning Center
Delos Santos College 
Betty Go Elementary School 
Carlos L. Albert High School
University of the East Ramon Magsaysay Memorial Medical Center
Central Colleges of the Philippines
Immaculate Heart of Mary College 
Roosevelt Colleges San Juan 
Makati College
Makati Science High School 
Paaralang Elementarya ng San Antonio 
Paaralang Rafael Palma 
Manuel A Roxas High School
La Concordia College 
Paaralang J. Zamora
Polytechnic University of the Philippines
Central College of the Philippines
Siena College 
Mataas na Paaralang Sergio Osmena
Hospitals
National Children's Hospital 
Delos Santos Medical Center
Quezon Institute
San Juan Medical Center
Unciano General Hsopital
St. Claire Patron of the Sick and the Poor
Asthma, Heart, and Lung Clinic
American Medical Hospital
University of the East Ramon Magsaysay Hospital 
Health Center and Lying-in Clinic
---
Sta Monica-Lawton Bridge Project
Schools
West Drive Educational Foundations, Inc
West Capitol School of Technology 
Creative Learning School
University of Makati
---
Sen Gil Puyat Ave-Makati Ave-Paseo de Roxas Underpass Project
Schools
First Academy of Computer Arts
Mapua Information and Technology Center
---
Integrated Transport System (Southwest Terminal) Project
Hospitals
Jesus Divine Healer Center
Olivares Hospital
---
Magalles Interchange Project
Schools
– Rappler.com