Education Undersecretary Dina Ocampo says regional offices should do a fact-check on their economic data to put their senior high school curriculum in context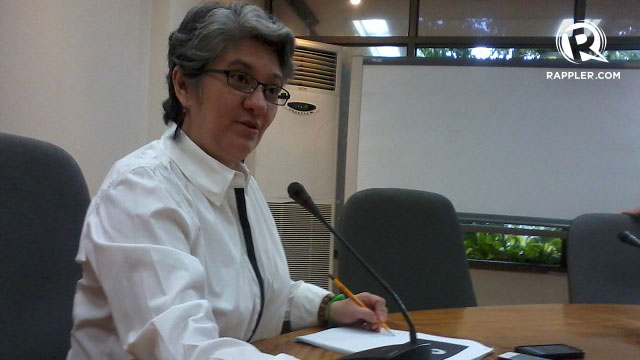 MANILA, Philippines – The Department of Education (DepEd) urged its regional offices to look at the economy in their areas to determine which senior high school (SHS) tracks they should focus on. 
"Look at the emerging industries in your area and see what SHS tracks fit best," Undersecretary for Programs and Projects Dina Ocampo told DepEd officials during a workshop on SHS implementation on Monday, February 17.
The department will offer 4 SHS tracks for Grade 11 and 12 students under the K to 12 program: academic, sports, arts and design, and technical-vocational livelihood. (INFOGRAPHIC: 10 things about K to 12)
The track will serve as the student's specialization, which will contribute to his/her preferred exit after basic education: higher education, employment, entrepreneurship, or middle level skills development.
The goal is to educate children so they can "find or create meaningful opportunities where they are." (READ: DepEd proposes liberal arts strand for senior high school)
This will be a challenge not only for DepEd but even for local government units (LGUs): to develop an implemented school curricula responsive to the needs of their regions. 
If more high school graduates are equipped with skills relevant in their areas, there won't be a need for them to go to Metro Manila and other, more urbanized areas where compensation is deemed better. (READ: LGUs told: Graduates need not always head to Manila)
The set of guidelines being presented to education officials since 2013 is only an intended curriculum. Once teachers convert it to learning or teacher's guide, or once it has been adapted to learners, it will become an implemented curriculum.
"The best curricula are the ones that are contextualized by those implementing it," Ocampo said.
'Tech-vocalizing?'
Ocampo also stressed they are only adding technical-vocational skills to basic education and not "tech-vocalizing" education.
"We're not graduating dressmakers and car mechanics; we're developing lifelong learners with critical and technical skills," she said.
The department is two years away from the full implementation of the K to 12 program in 2016, when the senior high school curriculum will finally be rolled out nationwide. Some public schools, however, are opting for a 2015 early implementation.
"As we approach 2016 we need to make sure that everyone in DepEd is on the same page," Undersecretary for Regional Operations Rizalino Rivera said.
As for private schools, Ocampo echoed Luistro's sentiment: to establish SHS programs needed in their localities. 
"[Work closely] so effort is [towards] convergence, complementarity, and coordination – not competition or we don't even talk to each other," Luistro said. (READ: 3 things the private sector can do for basic education)
Ocampo earlier said they hope to complete the SHS curriculum by February this year. As of Wednesday, February 19, she told Rappler some details of the curriculum are still being edited and reviewed. – Rappler.com