Junior Justice Marvic Leonen says 'there are less draconian alternatives' such as civil actions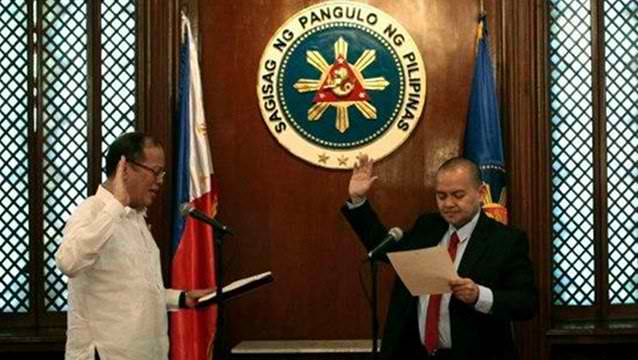 MANILA, Philippines – Junior Justice Marvic Leonen would have wanted libel decriminalized in the Supreme Court (SC)'s ruling on the controversial Cybercrime Prevention Act of 2012.
The ruling – announced after the February 18 SC en banc session – was promulgated on February 11 and released Friday, February 21. 
Leonen, the youngest member of the High Court appointed in November 2012, tweeted Friday a portion of his dissenting and concurring opinion in a Court decision that ruled online libel constitutional when it pertains to the original author of the post. (READ: SC rules online libel constitutional) 
"…the constitution requires that libel …be struck down as infringing upon the guarantee of freedom of expression.." Leonen, J. dissent

— Marvic Leonen (@marvicleonen) February 21, 2014
"Criminalizing libel contradicts our notions of a genuinely democratic society." Leonen J., dissenting and concurring, Disini v DOJ, p 55

— Marvic Leonen (@marvicleonen) February 21, 2014
"Given the statutory text, the history of the concept of criminal libel, and our court's experience with libel, I am of the view that its continued criminalization especially in platforms using the internet unqualifiedly produces a chilling effect that stifles our fundamental guarantees of free speech," Leonen wrote.
He added that "there are less draconian alternatives" such as civil actions.
Technology law expert JJ Disini, who is among the petitioners against the law before the SC, earlier told Rappler that the scrapping of libel in its entirety would spell victory for freedom of expression. (READ: 'Libel gone is best-case scenario for SC Cybercrime ruling')
"I think that it's good that the court takes out libel altogether, so they render it unconstitutional, and they invalidate all other previous conditions, or set people free who are now in jail for libel, and then dismiss all those cases," he said.
The Cybercrime Prevention Act or Republic Act 10175 was signed into law on September 2012 and temporarily suspended by the SC a month after. Oral arguments were heard in January 2013 by the High Tribunal on the 15 petitons filed against the law.
Online libel unnecessary?
The Department of Justice (DOJ) Office of Cybercrime earlier said that it has dropped online libel in its submitted version of the law, adding that online libel is unnecessary, given that it is still covered by libel penal provisions in the Revised Penal Code.
"We never had an Internet [or] onIine libel. The position of the DOJ has been very consistent: Online libel is not needed. Cybercrime prevention has to do with core cybercrimes. What are these? Hacking, phishing, using it for child pornography. Those are the bigger cases, so that's where we must divert our attention and resources," DOJ Assistant Secretary Geronimo Sy, who also heads the Cybercrime office, said in a mix of Filipino and English.
With or without online libel, Sy said the existing legal framework can still deal with defamatory posts online.
It was Senator Tito Sotto who proposed to Congress to include online libel in RA 10175, even calling himself the "cyberbully whipping boy." – Rappler.com