The Comelec is encouraging voters will be abroad during the 2016 elections to register as overseas absentee voters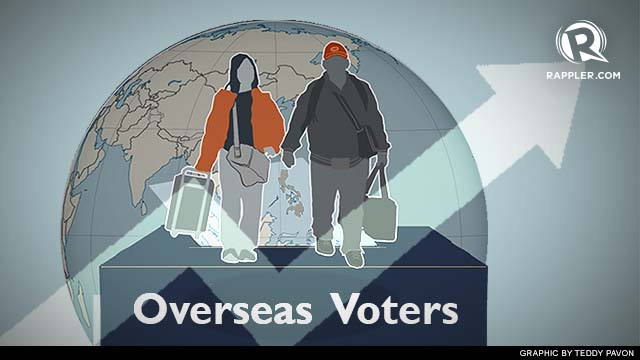 MANILA, Philippines – Will you be out of the country during the May 13, 2016 elections?
The Commission on Elections (Comelec) is encouraging voters who will be abroad during the next national and local elections to register as overseas absentee voters.
This way, these voters will still have the chance to vote outside the country, at least for officials at the national level.
Bella Ranes of the Comelec's Committee on Overseas Absentee Voting (COAV) told Rappler on Tuesday, March 4, that these voters have to register anytime between May 6, 2014 and Oct 31, 2015 with any Philippine embassy abroad or local offices to be assigned by Comelec.
At the registration, the election officers will give the registrants a certification that will allow them to vote in the country where they intend to vote.
There's no need for these voters to revoke their local registration, Ranes said.
This certification will be reflected in the voter's records in the Comelec database. "Local election officers will put a mark opposite the voters' name in the voters list to signify that they are voting abroad," Ranes explained.
This certification will be valid until the next election.
If they are planning to return to the country and vote again locally, they must first file to revoke their certification in the same embassy abroad.
Aside from overseas voters, the May 6 registration is also open locally to new and old voters who still haven't had their biometrics taken.
The Comelec earlier said they are expecting 2.9 million new voters to register for the 2016 elections.
In the 2013 elections, there were 52,695,140 registered voters. Voter turnout was 75.72%.
As for overseas voting, however, only 15.35% of the 737,759 registered voters actually voted – lower than the 26% overseas voter turnout in the 2010 elections. – Rappler.com
(Editor's Note: In an earlier version of this story, we said that voters have to register only with the Philippine embassy of the country where they intend to vote. This is not the case. We have made the correction.)