The incident at the Ayungin Shoal in the West Philippine Sea erupts a day before Manila files a historic pleading against Beijing before an international tribunal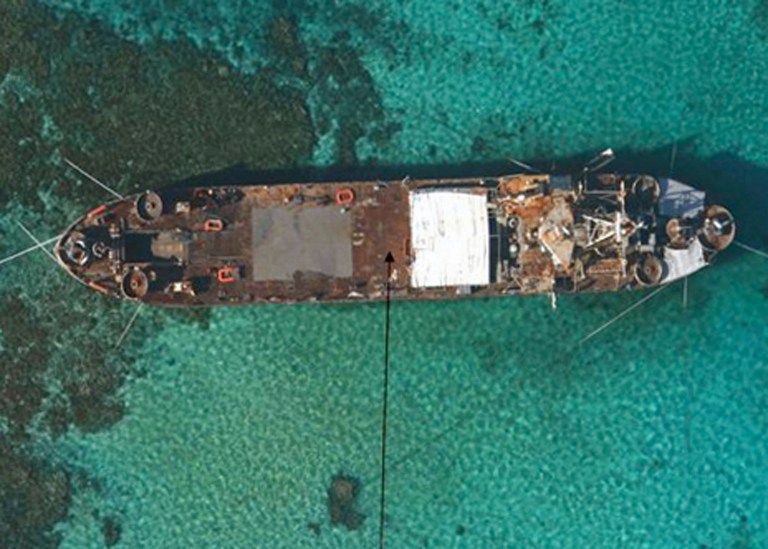 MANILA, Philippines (UPDATED) – The Philippines slammed China after two of its ships harassed a Philippine vessel in the disputed Ayungin Shoal in the West Philippine Sea (South China Sea) on Saturday, March 29.
The incident erupted a day before the Philippines submits on Sunday, March 30, its historic pleading against China before an international tribunal. (READ: PH readies 'convincing evidence' vs China)
"We condemn the harassment by the Chinese coast guard of our civilian vessels which are on their way to Ayungin Shoal to resupply provisions to our personnel stationed there," Philippine Department of Foreign Affairs (DFA) spokesman Charles Jose said in a statement.

The DFA stressed that Ayungin Shoal "is part of the Philippines' continental shelf." Therefore the Philippines "has sovereign rights and jurisdiction over it."

"We demand that China cease taking actions that are a threat to our security," Jose added.

Based on the reports reaching the DFA, two Chinese coast guard vessels harassed a Philippine civilian ship approaching Ayungin. At around 3 pm on Saturday, the Armed Forces of the Philippines (AFP) was able to resupply provisions and personnel onboard the Philippines' stranded ship in Ayungin, the BRP Sierra Madre, said AFP spokesperson Col. Ramon Zagala. (READ: China digs up details vs PH on Ayungin)
In 2013, the Philippines filed a historic case against China after the rising superpower claimed virtually the entire South China Sea.
China also claims parts of the Philippines' exclusive economic zone (EEZ), an area 200 nautical miles from a country's baselines within which a State has the sovereign rights to explore and exploit, and conserve and manage natural resources, among others. (READ: What's at stake in our case vs China)
The Philippines says Ayungin is within its EEZ. – Rappler.com