The Liberal Party believes an endorsement by President Benigno Aquino III will be enough for Interior Secretary Mar Roxas to win the 2016 presidency
MANILA, Philippines –  He's supposed to be prepping for a presidential race that his party mates and his biggest supporter, President Benigno Aquino III, hopes he will win. But Interior Secretary Mar Roxas has been bad news lately: from getting criticized for distasteful early campaigning in Yolanda-hit areas to getting suspended by a golf club for breaking the rules. 
And the clincher of them all happened this week: a survey on perceived presidential bets that showed him in single digit, just a percentage point above the senator-son of dictator Ferdinand Marcos.
It started on the first week of April with Roxas' trip to areas hard-hit by Super Typhoon Yolanda (Haiyan) to distribute reconstruction assistance and funds to local government units. The tour was slammed by critics as early campaigning, something fueled by his ally, Transportation Secretary Joseph Emilio "Jun" Abaya, who  called him "President Roxas" during a stop in Capiz.
Just as the issue died down, Roxas again found himself in the headlines after he made a scene at an exclusive golf club, berating employees in Wack Wack Golf and Country Club over a guest's green fee. What happened next seemed unthinkable: the club slapped Roxas – presidential buddy, adviser and future standard-bearer of the ruling Liberal Party (LP) – with a two-month suspension.
Roxas has apologized for the Wack Wack incident, and his camp said, he was warmly received when he went on tour.
But he is not in a good place.
While President Aquino seems untouchable – his survey numbers riding high midway through his term – Roxas is struggling with public opinion.
According to the Pulse Asia Ulat ng Bayan Survey for the period March 19-26, 2014, Vice President Jejomar Binay would be the overwhelming choice for president with 40% selecting him as their first choice if elections were to happen today. In comparison, Roxas rated 6%, earning him a No. 5 rank behind neophyte Senator Grace Poe with 15%, Senator Miriam Defensor Santiago with 10%, and Senator Chiz Escudero with 9%. 
The LP, however, is far from giving up on Roxas. It is hardly concerned with his numbers. Because the numbers they care about are Aquino's. And those are high. 
To the LP, as long as Aquino supports Roxas, he will have a good shot at the presidency in 2016.
"The messaging is continuity. It's not going to be elections as usual. This is an election where you want to see the changes carried on through the next administration," Budget Secretary and LP official Butch Abad told Rappler.
The same message was pushed by Aquino himself, just two days after Rappler released the report on the Pulse Asia survey. At a Labor Day event on Thursday, May 1, Aquino emphasized continuity in a surprising speech that saw the President give advice to voters two years before the 2016 polls.
"My request to you: If you believe that what we are doing is right, if you don't want what we've started on the straight and narrow path to go to waste, let's pick a leader who will continue and further improve on the reforms we've made," he said.
"Let's pick someone deserving so that the transformations we want in our society will be permanent and wide-reaching."
Aquino magic
This is the mindset of the LP now: Aquino's endorsement alone – given the successes of his administration and his consistently impressive trust ratings – will be strong enough to pull Roxas from being at the bottom to being a heartbeat away from the presidency.
The LP bases its opinion on Aquino's sky-high numbers. 
Based on the results of the Social Weather Stations (SWS) survey during the first quarter of 2014, 66% or nearly 7 in 10 Filipinos expressed satisfaction with Aquino's performance. Only 21% did not.
The LP is confident the unprecedented numbers will translate to endorsement power.
"If you step back and recall how he became a candidate, it was actually the people who asked him to run for president. And empirically, if you go by his present approval and trust ratings, that relationship is pretty much there, and it will be very likely that in 2016, the people may go back to him and say, 'Of course you can no longer run for the second term – who do you think is the best person to succeed you?'" Abad said.
Abad explained that the trust has been maintained because of the "palpable benefits" felt by the people, and the numbers are "grounded on something concrete."
"I think what is important for this administration is that 2016 is not seen as a business-as-usual election. It's an election wherein people have a stake, and will then seriously think about who they will vote for. And I think if you listen to the value sector, everyone is talking about what happens after 2016. That kind of concern, scenario, is seen as intensifying," he said.
Because of this, the message that will guide Roxas' campaign come 2016 is continuity.
It's no surprise that the focus of the LP right now – although elections and Roxas are, and always will be, at the back of their minds – is to ensure the success of the President's programs.
Not only will instituted reforms cement Aquino's legacy, it is also what they believe would make Roxas win.
"It's premature [to campaign]," said Abad. "The preoccupation now of government is to make sure that all the President's programs succeed."
"At the end of the day, whoever [is] his successor will benefit greatly if the government is able to succeed in implementing his social and economic programs because what those programs will do will create more stakeholders for reform, and therefore it will naturally come to them that if the new administration that will succeed the Aquino administration is also committed to the President's social contract."
Roxas himself, when asked about his low survey numbers, drew attention to the work still left to do.
"I'm focused on my job and I don't give mind to these things," he said.
Ongoing preparations
His response is not entirely accurate.
In the beginning of April, Roxas visited Tacloban, Palo, Tanauan, Baybay and Ormoc in Leyte, and stopped by his home province of Capiz, to distribute, in behalf of the Department of the Interior and Local Government (DILG), typhoon relief money to local governments.
They were visits that had been prepared for months in advance with utmost care and attention – by his campaign staff.
He was doing his job, but for those helping him in his campaign, the focus was on the details of Roxas' demeanor and how he carried himself.
Roxas is being groomed by a team solely committed to ensuring his victory. Aside from LP veterans, the team includes names that have helped Roxas in his campaign before: former Alaminos (Pangasinan) mayor and defeated gubernatorial bet Hernani Braganza and Silvestre "Yong" Afable. He also gets occasional advice from American political strategist Paul Bograd, a long-time personal friend.
Everything from messaging, to stance, to surveys are scrutinized in an effort to make Roxas the next president of the Philippines.
There's work to do, especially after Yolanda sank Roxas' numbers, because of what the public perceived as poor relief management by government in the wake of the typhoon – operations led by Roxas himself. 
According to the Roxas campaign source, the team has started studying surveys and working on party consolidation.
Abad said he is not aware of the team's specific plans but said it is only natural for Roxas to be preparing as early as now.
"I would be lying if I say somebody who is being considered for the highest position is not preparing himself. He has to, he owes that to the party," Abad told Rappler. 
"But the real question is: how do you do it? [Roxas] doesn't want to be distracted from his own work," he said.
No announcement
Within the LP, Roxas is understood to be the standard bearer for the 2016 polls, although the formal selection process based on the party's constitution has yet to begin.
Aside from his reference to Roxas as "president," Abaya, LP's acting president, also recently confirmed that Roxas is the party's likely bet. He too admitted they have not yet undergone a formal selection process, but noted nobody else is being considered, and that the party is in "consensus and in unison" over Roxas' candidacy.
The idea of Roxas as LP's presidential bid is so widespread that pressure within the party for Roxas to declare his candidacy has been mounting – especially after several politicians have made known their plans to run for the country's top post, said the source familiar with Roxas' campaign plans.
But no announcement will be made anytime soon.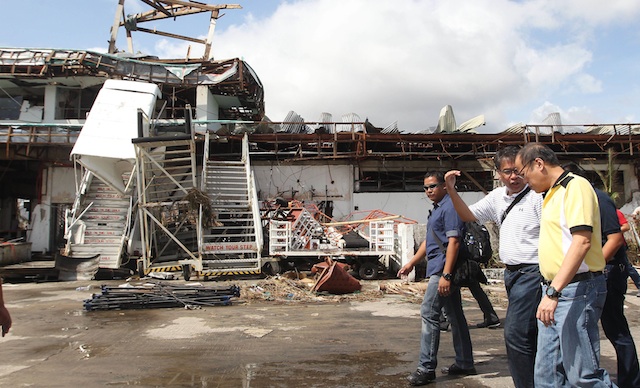 An announcement by Roxas would automatically mean a resignation from his current post as head of the DILG, said one of his advisers. Aquino has yet to give Roxas the go-signal.
In July 1991, then Defense Secretary Fidel V. Ramos resigned from his post after he decided to join the 1992 presidential race. Former Defense Secretary Gilbert Teodoro did the same thing in November 2009 – 6 months before the 2010 presidential elections. Teodoro lost to his cousin Aquino.
With the task of ensuring Yolanda rehabilitation, among other duties, Roxas will not be making an announcement on his candidacy any time soon – not until 2015. 
At that point, Roxas is expected to leave his Cabinet post. And Aquino could well be his campaign manager.
'Time will come'
Aside from having to lose its interior and local government secretary if Roxas were to announce his candidacy, the LP knows that an early declaration would hurt Roxas' chances.
Western Samar Representative Mel Sarmiento, LP secretary-general, explained that elections are always more nuanced for any ruling party, which simply cannot think of elections as early as other parties.
Sarmiento said the LP has not even been able to meet as regularly as before, given the slew of demands and the sheer amount of work to be done.
"The time will come," Sarmiento said, referring to the party's formal selection of its standard bearer.
Abad too said the announcement "will be dictated by many factors."
"People will not take it kindly if government engages in partisanship when there is reconstruction work that needs to be done, huge infrastructure backlog for which we have budgeted, preparation for APEC – our coming-out party," he said. 
Abad pointed to Roxas' Yolanda tour, saying that if Roxas were to announce his candidacy now, people would even be "more negative," even if he is only doing his work.
"Now that he's getting things moving, he's being misinterpreted as campaigning. [Now] he's very careful, there's lots of pressure to get things done," he said.
"[But] that doesn't stop people from sniping at Mar."
The Mar problem
Critics, including a political veteran closely working with another presidential candidate, told Rappler the problem isn't misinterpretation but Roxas himself.
The source said Roxas is simply unable to connect with Filipinos on a personal basis, and just has no natural link to voters. He is perceived as out of touch and temperamental.
So far, Roxas also has had no defining moment in his career that makes him memorable or significant, said the source. In fact, what has been his unforgettable moments recently have been largely viewed as negative: his handling of the Zamboanga siege and the aftermath of Yolanda. 
As a senator, Roxas also hedged his stance on issues, was usually late to criticize other officials, and was hesitant to voice his position on crucial matters, the source added.
To this political veteran, relying on an endorsement is flawed because it is not enough to win an election, especially in the case of Roxas who's struggling in surveys.
The LP, whose officials admire Roxas for his work ethic and his corruption-free image, isn't concerned. 
Abad told Rappler "surveys change" and the "elections are far away." He also pointed out former president Corazon Aquino's endorsement of Ramos who, "without machinery, still won."
"If mother can do it, I think so can the son, be even better at convincing people than his successor," he said.
At this point, it will take much to convince the LP to believe otherwise. 
What they believe is at the end of Aquino's term, the people will feel the difference – the positive change brought by his administration – that they'll seek continuity.
They believe the public will look to the President for his pick, his anointed one who will continue the work Aquino has done in his 6 years in office – whoever he will be.
And when that time comes, expect Aquino to utter the name of the man who gave up his presidential dreams to make way for Aquino and subsequently lost the vice-presidential race; the man who's not popular but is on top of the President's most trusted list; and the man who largely funds the party's operations from his own resources: Mar Roxas. – Rappler.com