This is AI generated summarization, which may have errors. For context, always refer to the full article.
(3rd UPDATE) Now it can be told: President Benigno Aquino III himself says he has seen two versions of the so-called Napoles list. And they don't match.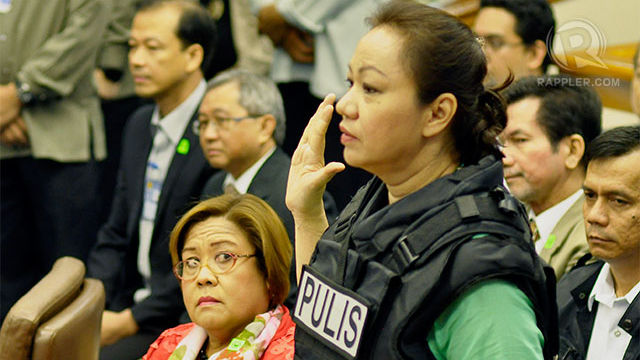 MANILA, Philippines (3rd UPDATE) – The President himself has seen the controversial Napoles list – two versions of it.
President Benigno Aquino III admitted to reporters in Myanmar on Sunday, May 11, that he has seen two lists supposedly from pork barrel scam mastermind Janet Lim Napoles. He said the lists don't match.
The lists allegedly contain the names of all the lawmakers who worked with her in channeling their Priority Development Assistance Fund (PDAF) to her bogus non-governmental organizations (NGOs) in exchange for hefty kickbacks
"I think I have physically seen two and they don't agree with each other exactly. And they [are] both supposed to have come from Mrs. Napoles," Aquino told reporters in Myanmar on Sunday on the sidelines of the 24th ASEAN Summit.
Aquino said one list was "transmitted" to him directly before Napoles decided to speak with Justice Secretary Leila de Lima. Aquino said he sent the list to De Lima, but did not say who gave him the list in the first place. (READ: Napoles wants to be state witness – De Lima)
The President said the second list was from De Lima herself, after Napoles changed her mind and agreed to speak with her directly and "tell all." 
Third list
But Aquino said he was also briefed by former senator Panfilo "Ping" Lacson who claims Napoles also approached him directly. Aquino said he has yet to see Lacson's list but Lacson briefly gave him highlights that were "not consistent already with the other two."
"Now, Senator Lacson was telling me of another list given to him by relatives of Mrs. Napoles and, again, there is a substantial detail there that doesn't again agree with the other two. So when you ask me, 'did you see a list?' I think the best answer is I have seen physically two lists and I am told that there is a third list."
Demands from lawmakers and the public for De Lima to release the list as narrated to her by Napoles are intensifying for fear that the list would be cleansed to remove the names of Aquino's allies. The justice secretary said her department would like to first vet the list and make sure the names they will release are supported by evidence.
Senate Majority Floor Leader Alan Peter Cayetano has asked the Senate Blue Ribbon Committee to issue a subpoena to Napoles, De Lima and the lists that both have.
On Monday afternoon, Senate Blue Ribbon Committee chairman TG Guingona said he has signed a subpoena to De Lima for her to produce the list. (READ: Guingona orders De Lima: Show Napoles list)
De Lima earlier promised she would not sanitize the list, but said she prefers releasing it at the proper time.
The President supported De Lima's stand, saying the contradictions alone were enough reason to keep the list confidential for now.
"Is it safe [to] reveal? Even that by itself, you have to resolve first: why are there differences from the information you are getting from one witness who [are] supposed to be narrating facts? So one cannot escape the suspicion that instead of trying to clarify matters, are trying to cloud the whole issue. Make the process that much more difficult at arriving at the truth," he said.
The scam, which has led to plunder charges against 3 senators and other congressmen, is seen as the biggest corruption scandal in the Philippines in recent history.
Straight to Ombudsman
But Aquino said he is not concerned that Napoles is telling half-truths or lies, saying "even the truth  that will support the lies or will try to make the lies seemingly true, will help us in ferreting out the truth."
He also said once Napoles finalizes her affidavit with the help of her counsel, he prefers it to be forwarded immediately to the Office of the Ombudsman which is responsible for determining the value of the testimony.
"That is the only arm that will [and] can file a case before the Sandiganbayan," he pointed out.
"And that has been discussed with Secretary de Lima. So I think it has been reverted back to her [that if] you finish what you want to say, you can submit it to us or we can also submit it to the Ombudsman for the proper evaluation."
He added, "So, in effect, the submission will be the start of evaluating what she's saying and seeing if there is proof to back up what she is saying."
Napoles had approached both Lacson and De Lima to confess everything she knows before undergoing surgery, reportedly out of fear that something might happen to her during her procedure. – Rappler.com