This is AI generated summarization, which may have errors. For context, always refer to the full article.
(4th UPDATE) 'I will comply,' says Justice Secretary Leila de Lima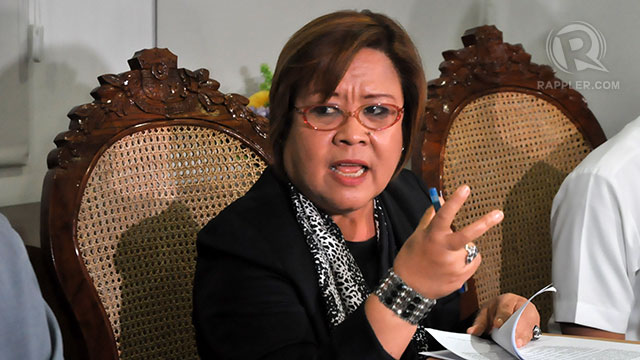 MANILA, Philippines (5th UPDATE) – The Senate Blue Ribbon Committee on Monday, May 12, ordered Justice Secretary Leila de Lima to present to the Senate the so-called Napoles list that reportedly contains the list of lawmakers implicated in the pork barrel scam.
In a televised press conference, committee chairman Senator TG Guingona said he has signed a subpoena that will be sent to De Lima for her to produce the list that alleged pork barrel mastermind Janet Lim Napoles signed in her presence and which contains the names of lawmakers she had transacted with over the years. The list in effect implicates these lawmakers in the biggest corruption scandal in the country in recent years.
The subpoena has to be signed also by Senate President Franklin Drilon before it is issued to De Lima, according to Guingona.
Earlier in the day, Senate Majority Floor Leader Alan Peter Cayetano asked Guingona's committee to issue a subpoena to De Lima and Napoles in connection with the list. (READ: Compel Napoles to testify on list)
Guingona pledged to "make public" the list once De Lima submits it to the Senate. "She cannot say no. She has to honor our request," Guingona said.
When asked to comment, De Lima said in a text message: "Since it's a subpoena, I will comply."
Guingona said he decided to issue the subpoena – after earlier pronouncements that he will call a caucus on the matter – "in the spirit of transparency."
Guingona said the caucus will no longer be held.
Guingona initially said he will wait for De Lima to evaluate the testimony of Napoles before deciding whether or not to call for a hearing. Napoles made a sudden turnaround and "tell all" in April following months of denying involvement in the scam.
But Guingona's colleagues such as Senators Sergio "Serge" Osmeña III, Alan Peter Cayetano, Francis Escudero, Antonio Trillanes IV and Grace Poe urged De Lima to release the list even without verifying its contents. 
Guingona also said Monday that former senator and now Rehabilitation Secretary Panfilo Lacson agreed to submit his own copy of the Napoles list to his committee.
Senator Escudero said Lacson and whistleblower Sandra Cam should be summoned to appear before the Senate. Cam, who testified on illegal gambling under the Arroyo government, supposedly has her own list as well.
"In adherence to transparency, as soon as these lists are received by the committee, these must be made public even prior to a scheduled hearing," Escudero said in a statement.
Almost entire Senate
Lacson said Monday that 21 former and incumbent senators are implicated in the list of Napoles and the one prepared by whistleblower Benhur Luy. He added that 12 of them are incumbent senators and include the 3 who already face plunder complaints: Senators Juan Ponce Enrile, Jinggoy Estrada and Bon Revilla.
De Lima has refused to produce the list, saying she needed more time to vet it. This has prompted critics to accuse her of trying to sanitize it to protect administration allies, a claim she has repeatedly denied. 
"By law and Constitution, yes, the Senate can compel me to disclose the list, under pain of contempt," she said last week. "But I will appeal to them to wait for the proper time and give me enough space to discharge my mandated tasks with utmost responsibility."
Napoles, who is in the Ospital ng Makati recovering from a surgery, met with De Lima on the evening of April 21, promising to tell everything she knew of the illegal diversion of lawmakers' Priority Development Assistance Fund (PDAF) to bogus non-governmental organizations she owned or was associated with.
During their meeting, Napoles submitted to De Lima her first documented statement, detailing what she knew of the corruption scandal and a list of names of people she has transacted with over the years.
President Benigno Aquino III himself admitted seeing two versions of the list. He supported De Lima's decision to keep the list confidential in the meantime that she's verifying it.
Estrada: Guingona move just for 'pogi points' 
Estrada hit Guingona's move as a mere publicity stunt to lift his poor survey ratings. 
"With regard to Sen. Guingona's pronouncement that he already signed the subpoena compelling Sec. de Lima, maybe he's just trying to earn pogi points because since he handled the blue ribbon committee hearings on the PDAF scam, he slid further in the survey. Maybe he wants to improve a little," Estrada said. 
Estrada said Guingona should have issued a subpoena "a long time ago" but added he also believes De Lima should have released the list on her own accord right after receiving it from Napoles. 
Although De Lima has so far refused to divulge the list, she has confirmed that Estrada, Enrile and Revilla were among those named by Napoles. – Rappler.com