The list includes the 3 already indicted in the pork scam, and 68 current and former congressmen including former House Speaker Prospero Nograles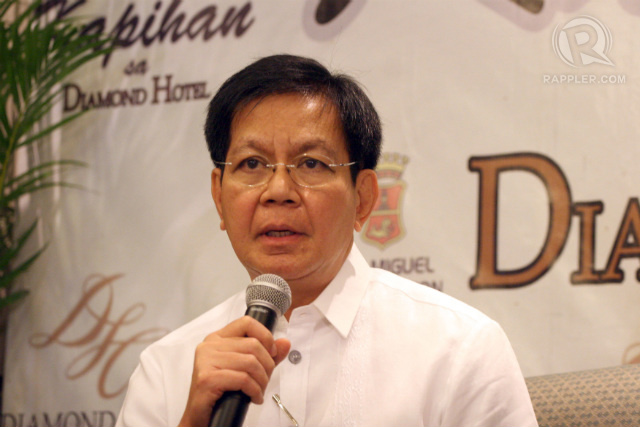 MANILA, Philippines (UPDATED) – Rehabilitation Secretary Panfilo Lacson submitted his copy of the controversial Napoles list to the Senate blue ribbon committee on Tuesday, May 13.
Lacson's list of lawmakers alleged pork barrel scam Janet Lim Napoles supposedly implicated includes the name of 12 current and former senators.
The following are the senators named in the list: 
Ramon "Bong" Revilla Jr 
Jinggoy Estrada 
Juan Ponce Enrile 
Vicente "Tito" Sotto III
Loren Legarda
Aquilino "Koko" Pimentel III
Manny Villar
Alan Peter Cayetano 
Robert Barbers 
Francis Escudero 
Gregorio Honasan II
JV Ejercito 
Lacson's two-page list also names Budget Secretary Florencio Abad, who was Batanes representative, and Agriculture Secretary Proceso Alcala.
Abad also issued a strong denial of any involvement in the pork barrel scam or with Napoles, while Malacañang said the budget and agriculture secretaries still enjoy the President's trust.
The list names the 3 senators already indicted for plunder over the pork barrel scam: Revilla, Estrada, Enrile. It includes 68 current and former congressmen including former House Speaker Prospero Nograles.
Strangely enough, the list provided by Lacson did not include Senator Miriam Defensor Santiago, one of the names he had confirmed during an interview with ABS-CBN on Monday night.
The Lacson version of the Napoles list also includes the following administration allies: former Customs Commissioner Ruffy Biazon, who faces graft charges over the scam, and Technological Education and Skills Development Authority chief Joel Villanueva.
It also names relatives of former President Gloria Macapagal-Arroyo: son, Pampanga Representative Mikey Arroyo, and her late brother-in-law, former Negros Occidential Representative Ignacio "Iggy" Arroyo.
Besides lawmakers, the list names executive officials from the departments of agriculture, agrarian reform, and implementing agencies.
It also includes provisional state witnesses: self-confessed bagman Ruby Tuason and Technology Resource Center chief Dennis Cunanan. The staff of the 3 opposition senators, and actor Mat Ranillo III are also part of the list under the classification "agents."
Several of the senators and congressmen on the list denied any link to Napoles and questioned the credibility of the list.
Besides the list, Lacson also submitted a copy of the unsigned draft affidavit of Napoles, and narration of events.
"I hope that these documents will assist the investigation being conducted by your Committee and address the clamor of our people for transparency in public service," Lacson wrote in his letter to Senate blue ribbon committee chairman Teofisto "TG" Guingona III.
Lacson said that in March, Napoles' husband Jaime and two children approached him and gave him a copy of the 3 sets of documents: unsigned affidavit, narration of events, and the list.
Napoles' lawyer confirmed that the family gave Lacson the documents but said the list he has is incomplete. Napoles later met with Justice Secretary Leila de Lima and supposedly gave her a more complete version of the list. Guingona ordered De Lima to submit her own version of the list by Thursday.
Napoles faces plunder charges for allegedly conniving with top executive and legislative officials to siphon off their pork barrel funds to her bogus non-governmental organizations in exchange for kickbacks.
The following are the names in Lacson's list.  Some of the names have symbols to indicate mispelled names (*), the deceased (RIP), and a (?) for the wrong agency.
PAGE 1
SENATORS
Ramon Revilla Jr

Jinggoy Estrada

Juan Ponce Enrile

Vicente Sotto

Loren Legarda

Koko Pimentel

Manny Villar

Allan Peter Cayetano*

Gringo Honasan

Robert Barbers (RIP)

Francis Chiz Escudero
CONGRESSMEN/ WOMEN
 

Jesus Judin Romualdo*

Florencio Abad

Banzai Nieva

Maite Defensor

Mikey Arroyo

Joel Villanueva

Isidro Ungab

Reynaldo Umali

Salacnib Baterina

Conrad Estrella

Raymond Estrella

Victor Ortega

Neil Benedict Montejo

Arthur Pinggoy

Samuel Dangwa

Florencio Flores

Erwin Chiongbian (RIP)

Erico Fabian

Florencio Miraflores

Napoleon Beration* (RIP)

Ricky Sandoval

Max Rodriguez

Rufus Rodriguez

Rizalina Seachon Lanete

JV Ejercito

Edgar Valdez

Scott Davies Lanete

Rafael Nantes (RIP)

Sunny Rose Madamba

Ruffy Biazon

Gerald Gullas

Carlos Padilla

Rodolfo Plaza

Arnulfo Fuentebella

Raul del Mar

Rommel Amatong

Marc Douglas Cagas

Digaden Dilangalen*

Iggy Arroyo (RIP)

Rodolfo Valencia

Eduardo Zialcita

Nanette Costalo Daza*

Constantino Jaraula

Clavel Martinez

Manuel Ortega

Peter Falcon

Isidro Real*

Coranzon Malanyaon

Narciso Monfort

Uliran Joaquin

Juaquin Chipeco*

Abdullah Dimaporo

Ernesto Pablo

Marcelino Libanan

Rolex Suplico

Benasing Macarambon Jr

Jesnar Falcon

Nasser Pangandaman

Hussein Pangandaman

Boy Umali

Bagatsing

Malapitan

Ecleo

Olano

Jesli Lapuz

Oca Rodriguez

Alvarado

Tulagan

Nograles
 PAGE 2
AGENCY
DA
Ofelia Agawin

Allan Umali

Procy Alcala
DAR
Teresita Panlilio

Narciso Nieto
NLDC
TRC
Antonio Ortiz

Deniss Cunanan*
NABCOR
Rhodora Mendoza

Antonio Ortiz (?)
AGENTS
Ruby Tuazon*

Bryan Yasmuan*

Jen Corpuz

Mat Ranillo

Pauline Labayen

Catherine Mae "Maya" Santos

Patricia "Gay" Agana Tan

Alen Ruste

Mon Arcenas
State witness Benhur Luy, a former assistant of Napoles, said Lacson's disclosure of the list on Tuesday was "premature" and "does not serve any legal purpose" but only to muddle up the issues. 
– Rappler.com