The assessment of needs and the adoption of a new disaster-resilient classroom design have caused delays in the construction of target classrooms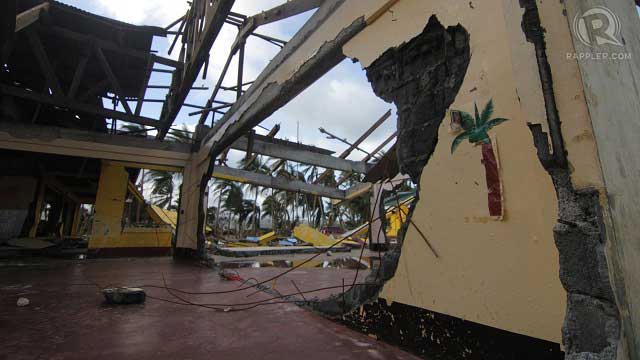 MANILA, Philippines – Students and teachers in areas affected by Super Typhoon Yolanda (international name Haiyan) shouldn't expect the turnover of most of the new classrooms anytime soon.
The assessment of needs and the adoption of a new disaster-resilient classroom design have caused delays in the construction of target classrooms.
Latest figures from the Department of Education (DepEd) showed 2,990 schools affected by Yolanda in November 2013 need 2,313 new classrooms, while 17,757 need repairs. Most of them are in Eastern Visayas. 
However, bidding is still ongoing for the construction of most new classrooms, DepEd Undersecretary for Finance and Administration Francisco Varela said.
"You don't bid [out] without the design," which was only finalized some time April, he said.
"No construction has been awarded yet for PAGCOR-funded [classrooms]. Most are single-storey buildings, [so] typically we should be able to finish in 60 to 90 days. If they are able to start July, [construction will be done] some time 3rd or 4th quarter [of the year]," he added.
PAGCOR or the Philippine Amusement and Gaming Corporation is funding most of these new classrooms – P2 billion of the P2.9 billion budget requirement.
About P400 million are from private donors, who have began and even finished some classrooms. The rest, or P500 million, will come from DepEd's 2014 construction budget.
The department hoped to finish new, one-storey classrooms by the end of May or before the opening of classes on June 2, but needs assessment and finalizing the classroom design got in the way. (READ: DepEd to private sector: Adopt schools in Yolanda areas)
New design
"[Building] back better…meant a significant change in structural elements of the DepEd [classroom] design," Valera said. (READ: What goes into the building of classrooms)

Structural enhancements also meant more costs for the department. Whereas the old 2013 design for single-storey buildings cost P650,000 each, now they're at an average of P1 million.
The design includes tie beams – meant originally for just multi-storey classrooms – and thicker columns. The rest of the enhancements won't be seen in the final product, Valera noted.
"Most of the enhancements are inside, which makes the job of monitoring actual construction even more important for both DepEd and DPWH (Department of Public Works and Highways). We would like to encourage stakeholders and third-party observers to help us in this effort so that what we pay for, we really get," he added.
The new design, he said, is also at par with international standards and beyond minimum requirements. (READ: Are schools in PH earthquake-proof?)
Classrooms in 'no build' zones
Meanwhile, the department pegged a bigger cost of P5.3 billion for the repair of 17,757 classrooms.
Most of the needed fund will be sourced from DepEd's 2013 savings, in line with the joint resolution of the Senate and the House of Representatives to extend the validity of all savings and calamity-related funds under the 2013 national budget.
"We try to help ourselves first," Valera noted. DepEd also has a pending request with the Department of Budget and Management of a P1-billion release from the government's rehabilitation fund, which will be used for classroom repairs. 
For affected schools located within 40 meters from any shoreline – a "no build" zone – they will first be provided temporary learning spaces made of GI sheets and wood. These cost about P50,000 to P60,000 each.
Totally-damaged classrooms will no longer be rebuilt, while classrooms will be repaired as needed until a relocation site for the school is identified.
"[For example, a school has] 20 classrooms, and you can only repair 8 of them, we'd probably give a few of these [temporary learning spaces], because you can't rebuild the 12 [classrooms] there, and we can't transfer them immediately," Varela explained.
While there is no intention to make the structure permanent, Valera recommends this more than tents that can be more expensive and not well-ventilated.
"What's P50,000 a year to benefit students? Even if you end up abandoning that site, you're not making a significant investment that you will lose," he added.
The building, about 50 square meters in size, will only take less than a week and 3 to 4 workers to build.
The temporary learning space is among the different modes of intervention the department is looking at for future disasters. – Rappler.com