There's a notable increase in Filipinos growing undecided over his performance especially after the Supreme Court ruling on the Disbursement Acceleration Program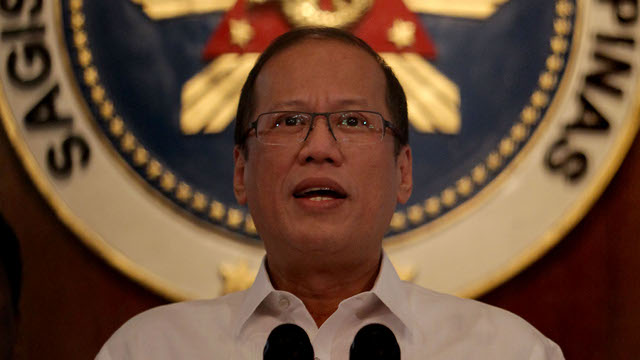 MANILA, Philippines (UPDATED) – It's his lowest since assuming the presidency in 2010.
President Benigno Aquino III's satisfaction and approval ratings suffered double-digit drops in June and July 2014, his lowest ever as he enters the last phase of his presidential term.
The new numbers also put an end to his 4-year winning streak in public opinion polls.
There's a notable increase in Filipinos growing undecided over his performance especially after the Supreme Court rulling on the Disbursement Acceleration Program (DAP). It suggests confusion over current issues that Malacañang is facing. 
Aquino has defended DAP – which he said allowed him flexibility to spend taxpayers' money to boost the economy – despite the SC ruling, and announced last week he won't sack its chief architect, his close adviser Budget Secretary Florencio "Butch" Abad.
Aquino's satifaction ratings suffered an 11-point drop in the Social Weather Stations (SWS) survey, down to 55% satisfaction ratings from his 66% in March. 
It's a 14-point drop in the Pulse Asia survey, showing him down to 56% approval ratings from his 70% in March 2014. His trust ratings is statistically the same at 53%. 
The SWS survey period, June 27-30, covers the arrest of Senators Ramon "Bong" Revilla Jr and Jinggoy Estrada and Malacañang's rejection of the nomination of Nora Aunor as National Artist for Film. Aquino cited Aunor's past drug use as reason for the snub. (READ: Ang palalong Pangulong Aquino)
The Pulse Asia, conducted June 24 – July 2, also covers the arrest of Senator Juan Ponce Enrile and the July 1 Supreme Court ruling on the "partially unconstitutional" Disbursement Acceleration Program (DAP) of Malacañang, among other issues. 
Undecided vs dissatisfied
The 2 surveys show a difference in where most of the double-digit drops were felt.
SWS shows growing dissatisfaction among Filipinos. Pulse Asia, on the other hand, shows more Filipinos are growing undecided – not dissatisfied with – over Aquino.
Still, both surveys show a big chunk of double-digit undecided voters – which is a far cry from solid numbers in previous years when support for President Aquino and his policies was clear and unequivocal.
The numbers should worry the ruling Liberal Party (LP), which is hoping to use Aquino's popularity to ensure another LP victory in 2016, when Aquino steps down from office. The party's prospective presidential bet, Interior and Local Government Secretary Mar Roxas, got a drubbing in a March survey among perceived presidential candidates. 
The SWS shows public dissatisfaction growing 9 points to 30% in June from 21% in March. This brings down the net satisfaction ratings of Aquino to a "moderate" 25%, his lowest in his 4 years in Malacañang. (The net satisfaction ratings is the difference between the satisfaction ratings and the dissatisfaction ratings. The net ratings ignore the undecided bloc.) 
Pulse Asia shows Aquino's disapproval ratings down 6 points to 14% in June-July from 8% in March. This gives Aquino a net satisfaction ratings of 42% in the Pulse Asia Survey. This is because the undecided bloc is bigger at 30% in June-July, which is up 8 points from 22% in March.
The SWS survey, although in smaller percentages, also shows a growing bloc of undecided respondents. 
The SWS respondents who answered "I don't know" or ignored the question grew to 15% in June to 13% in March. The undecided in the December 2013 survey was only 10%.
Pulse Asia's undecided
The Pulse Asia survey, which covers the DAP ruling, shows a significant growth of the undecided bloc among residents of the National Capital Region, the Visayas and Mindanao.
Balance Luzon shows an increase in the number of dissatisfied respondents.
In NCR, undecided is up 12 points to 37% in June-July from 25% in March. In the Visayas, it is up 10 points. In Mindanao, it is up 16 points.
These increases in the undecided blocs account for almost the entire decline of Aquino's satisfaction ratings in the those 3 areas. His dissatisfaction ratings are statistically unchanged.
The trend is different in Balance Luzon where the 14-point drop in Aquino's satisfacting ratings is reflected in the 11-point increase in his dissatisfaction ratings.
The error margin for geographical breakdown is 6%.
There's also a 20-point decline in Aquino's satisfaction rating among the ABC, 17-point decline among D, and 14-point decline among E. Error margins for the socio-economic classes were not provided, however. – Rappler.com