Former Makati City employee Mario Hechanova claims he was once forced to trap a bidder in an elevator so that the alleged Binay-anointed rival bidder would bag the project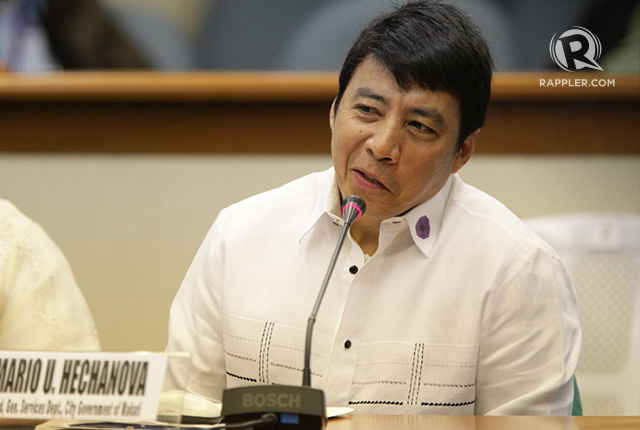 MANILA, Philippines – For P200,000 ($4,591*) a month, a former Makati city employee allegedly fixed bids for city projects, picking only companies anointed by the Binay family. 
At one point, said former Makati city bids and awards vice chairman Mario Hechanova, he was even reportedly forced to "trap" an interested bidder in an elevator to make sure that the rival bidder – the  friend of Makati councillor and now Mayor Junjun Binay – would bag the project. 
Hechanova was one of the resource persons at the Senate hearing on an allegedly overpriced Makati city hall building, on Thursday, September 4. The engineer, who worked in the city for over 19 years, said it was how things worked in the local government.
"Kalakaran namin sa Makati 'yan eh (That's the usual practice in Makati)," he told Senator Antonio Trillanes IV.
Trillanes asked in return, "Lahat ng bidding sa Makati niluto? (All biddings in Makati are fixed?)
Hechanova replied,  "Totoo po, Sir (That's true, Sir)." 
Hechanova said in the case of the allegedly overpriced Makati City Hall Building 2, he was instructed by former Makati City Engineer Nelson Morales to give the project to Hilmarc's Construction Corporation. Morales was allegedly acting on instructions of former Makati mayor now Vice President Jejomar "Jojo" Binay himself. 
The former employee said he was certain it was the Vice President who gave the instructions. "Si Morales, matagal nang kasama ni Mayor Jojo Binay. Trusted niya iyan (Morales has been with Mayor Jojo Binay for a long time. He trusts him)," Hechanova added. 
Morales was gunned down in 2012 in Albay, where he was the provincial chairman for Binay's United Nationalist Alliance (UNA). Binay then said Morales' death was related to the 2013 mid-term elections.
'Soldier following orders'
Hechanova, however, denied earning a cent from the alleged "fixing" of bids. Instead, he said, they were given monthly "allowances" of up to P200,000. When asked what the "allowance" was for, Hechanova said it was probably so they would continue to do what they needed to do. 
Prodded by Majority Leader Alan Peter Cayetano, Hechanova admitted he felt "guilty" for trapping a would-be bidder inside an elevator.
"Did you admit what you did? Or did it appear as a mechanical problem? Wala naman sigurong 'beware bidders' [sign] sa elevators 'nyo. (Perhap there was no 'beware bidders' sign on your elevators)." asked Cayetano.
"Dumating siya 20 minutes late….Kasama pa niya nanay niya. Naawa nga ako eh. Kaya lang sundalo lang rin ako na kailangang sumunod sa utos (He came 20 minutes late with his mother. I felt bad. But I'm just a soldier who follows orders)," he said.
Hechanova claimed that they kept the bids for the controversial new city hall building close, prompting Cayetano to ask, "Ginawa n'yong close fight? Para exciting? (You made it a close fight? To make it exciting?)"
He responded, "Hindi naman. Para lang mas mababa ang Hilmarcs  (Not really. Just so Hilmarcs would have a lower bid)."
Hechanova added that it was the Vice President himself who would reprimand him for delayed payments over the birthday cakes the city government gives to its senior citizens. The payment was allegedly meant for the Vice President's daughter, now-Senator Nancy Binay. 
Hechanova's narrative repeated what another resource person, former Makati Vice Mayor Ernesto Mercado told the Senate in the previous hearing. Mercado had said he earned from the construction of the building and said it was highly likely the Vice President did too, since he was the mayor while Mercado was just the vice mayor.
Mercado had also named Nancy Binay as the one who allegedly oversaw the birthday cakes for the city's senior citizens. Mercado, however, did not give the details of his accusations and said he would address them in "at the proper forum." 
How good a soldier is Hechanova? He told the Senate he decided to leave the city around the end of 2009 over what he saw as the Vice President's "treachery." Then mayor Binay had  promised Mercado that he would support his bid for city mayor, but the Vice President supported his son instead, for the mayoralty race.
Trillanes has recommended that Hechanova be placed under the Witness Protection Program (WPP).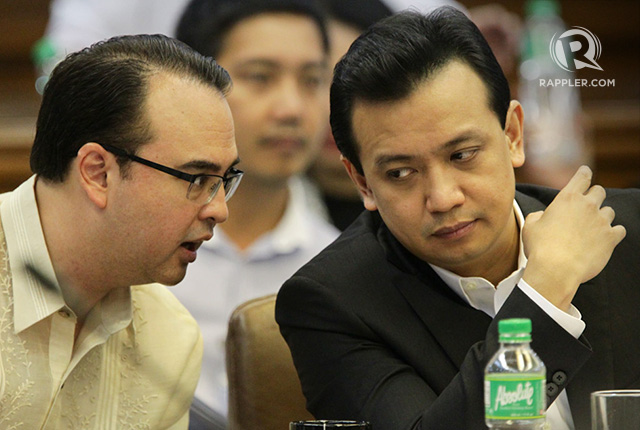 Binay controversy
The Thursday hearing is the fourth held by the Senate over an alleged overpriced building in Makati – the third was the ocular inspection of the building.
The probe was sparked by a plunder case filed against Vice President Jejomar Binay and his son, Makati Mayor Junjun Binay. 
The Binay family has dismissed the Senate hearings as politically motivated. Vice President Binay, in a press conference, had denied profitting from the building and said the city even saved P200 million from it. He is running for president in 2016 and is leading early presidential surveys. 
Both Trillanes and Cayetano have expressed interest in seeking high office come 2016. The two senators have denied that the hearing is politically-motivated. 
On Monday, September 1, the Senate conducted an ocular of the alleged overpriced building in Makati. During the inspection, Trillanes told reporters the building did not seem "world class." – Rappler.com