This is AI generated summarization, which may have errors. For context, always refer to the full article.
Small-scale fisherfolk ask why they were not consulted on revisions to the 16-year-old Fisheries Code which the government is seeking to avoid EU sanctions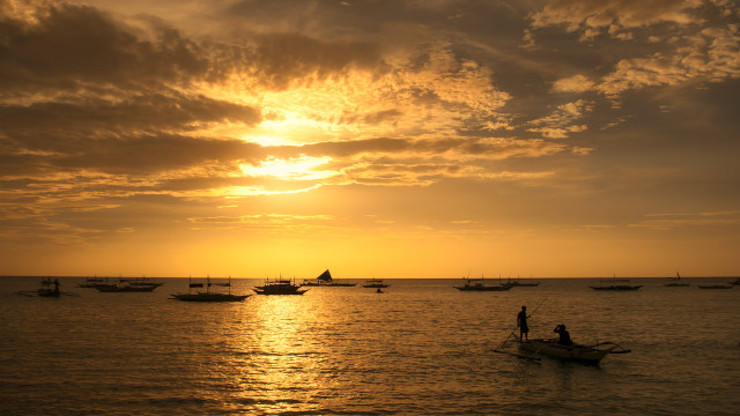 MANILA, Philippines – If the government is set to amend the 16-year-old Philippine Fisheries Code to comply with European Union regulations, why can't it include concerns of small Filipino fisherfolk?
This was the issue raised by a fisherfolk group Pangisda (Progresibong Alyansa ng Mangingisda) after it learned that amendments to the law were already filed in Congress despite a lack of consultation with small fishers who, according to government figures, bring in roughly half of total annual fish catch.
"Unang pagtutol namin doon ay pagbabago ng BFAR (Bureau of Fisheries and Aquatic Resources) dahil lang sa utos ng EU. Nagkukumahog ang BFAR na walang sangguni sa mga maliliit na mangingisda. Marami kaming rekomendasyon noon pero nagbibingi-bingihan sila," Pangisda chairperson Pablo Rosales told Rappler on Wednesday, September 17.
(Our first opposition is that BFAR moved for revisions just because they were ordered by the EU. BFAR is rushing the amendments without consulting with small fishermen. We had many recommendations before but they wouldn't listen.)
New penalties and new international concepts should be put in our law and we're working on that now.

 
Amendments are urgently needed after the EU gave the Philippines a yellow card for lacking measures to fight illegal, unreported, unregulated (IUU) fishing. If the Philippines doesn't shape up in 3 months, the EU may ban all Philippine fisheries exports from its market.
If this happens, the country stands to lose billions in annual revenue. Last year alone, Philippine exports of fish to the EU amounted to 165 million euros (P9.4 billion).
Small fisherfolk, also called municipal fisherfolk, are those who use boats of 3 tons or less (bancas) to fish, compared to larger commercial fishing vessels. (READ: PH oceans in crisis: The sad state of small fisherfolk)
Because of their small capacity, only municipal fisherfolk are allowed to fish within 15 kilometers of the shoreline from coastal towns, or in municipal waters. Commercial fishing vessels can only fish beyond the 15 kilometers.
Following international standards
One EU condition to lift the Philippines' yellow card is the amendment of the outdated Fisheries Code of 1998 (Republic Act 8550).
"New penalties and new international concepts should be put in our law and we're working on that now," BFAR Director Asis Perez told Rappler.
In the EU's June 2014 Commission Decision sent to the Philippines, the commission noted specific areas for improvement in the country's fisheries sector such as the weak monitoring capability of the government to ensure it is not exporting illegally-caught fish.
It also cited the inability of the government to trace the origins of the fish that land in its ports. The changes in the Fisheries Code seek to address these gaps. 
But Rosales said most of the revisions to the law were tailor-fit to comply with the EU standards alone and did not go all the way in addressing other ills of the fisheries sector, specifically those that affect small fisherfolk.
"It does not include the social aspect of fishers and fisheries workers. We don't have minimum wage, no security of tenure, no SSS, no sick leave," he told Rappler in Filipino.
Workers in commercial fishing vessels face many hazards while at sea. And because of the contractual nature of their jobs, employers can fire them for the smallest of mistakes or simply on a whim, said Rosales.
If the government is going to change the law for the EU, why can't it consider including changes that small fisherfolk have been seeking for years? he asked.
A copy of the draft bill to amend the fisheries law obtained by Rappler showed that most of the revisions were to make the Philippine law more consistent with international fisheries conventions.
For instance, it uses terms also found in international agreements, gives BFAR jurisdiction over Philippine-flag ships operating in other countries, adds provisions on port monitoring, and toughens penalties against illegal fishing.
Here is a copy of the Senate draft bill as of September 9, 2014: 
No consultation
Rosales said fisheries groups have been calling for a mandatory review and amendments to the Fisheries Code since 2003.
According to the Official Journal of the EU, the Philippines submitted a new draft for the revision of the Fisheries Code as early as February 2014, even before the Yellow Card was issued in June that year.
The consultations were FYI only, meaning we couldn't propose changes. They were only telling us what changes they have put forward.

 
But Pangisda only found out about the new draft in August after BFAR consulted with other stakeholders and civil society groups.
Mark Dia, Regional Oceans Campaign Coordinator for Greenpeace, attended the consultations and confirmed commercial fishing companies were represented while small fisherfolk were not.
He also said the consultations were not really participatory in nature.
"The consultations were FYI (for your information) only meaning we couldn't propose changes. They were only telling us what changes they have put forward," he told Rappler.
Rosales said his group will do everything it can to block the bill from passage without sufficient consultation with small fisherfolk.
The government wants the amendment passed by December to meet the EU deadline. According to Dia, it is set to go through third reading in the Senate on September 22.
On September 16, Pangisda and Save the Fisheries Now Network delivered a letter to the EU Delegation office in Makati City to air their grievances against the allegedly rushed drafting of the amendment.
It was timed to coincide with President Benigno Aquino III's meeting with European Commission President Jose Manuel Barroso during his trip to Brussels, Belgium.
In his meeting with Barroso, Aquino gave assurances to the European Commission that the Philippines is "actively undertaking measures to effectively combat and put a stop to illegal, unreported, and unregulated fishing."
Aside from the fisheries law revisions, the Philippines adopted a National Action Plan in December 2013. – Rappler.com
Filipino fishermen image via Shutterstock