The list is 'prepatory work' before the party convenes the Liberal Party's national board
MANILA, Philippines – Liberal Party (LP) "key party leaders" in a meeting on Thursday, June 14, listed 15-20 senatorial candidates who may run under the administration ticket in 2013.
"It's a fluid list, 15-20. Umaapaw (overflowing)," LP secretary-general Joseph Emilio Abaya told Rappler.
It's the first time that the party leaders sat down to discuss their senatorial slate. But Abaya said the list is not official. Thursday's meeting was "more of preparatory work" before they convene the LP National Board.
Abaya refused to give names but admitted that re-electionist senators are on the list.
LP trailing behind
President Aquino and LP president Manuel Roxas II earlier named some of the potential LP candidates. They are Aurora Rep Juan Edgardo Angara, former Akbayan Rep Risa Hontiveros, TESDA secretary-general Joel Villanueva, Customs commissioner Ruffy Biazon, and Quezon Rep Lorenzo Tañada III.
In the surveys, these names are trailing behind candidates of Vice-President Jejomar Binay's Unted Nationalist Alliance (UNA), however.
UNA's senatorial candidates include Senator Gringo Honasan, former senator Juan Miguel Zubiri, Cagayan Rep Jackie Enrile Jr, San Juan Rep JV Ejercito, Zambales Rep Milagros "Mitos" Magsaysay, Cebu Gov Gwen Garcia, and Joey De Venecia.
LP stalwarts said they are not threatened. "The administration party should always be alert. But feel threatened? I don't think so. Most of the leverage are all in the hands of the administration," said House Speaker Feliciano Belmonte in an earlier interview.
Also in UNA's list is Sen Aquilino "Koko" Pimentel III, but he has threatened to bolt UNA. He said he doesn't want to run alongside Zubiri, whom he accused of being a "poll cheat."
The LP said Pimentel is welcome in their slate but the PDP-Laban president said he will decide in "one to two weeks."
Re-electionists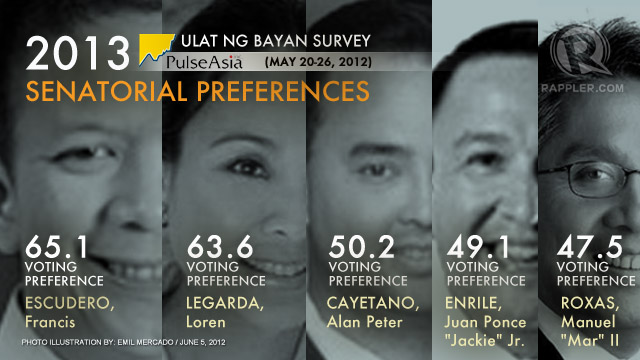 Besides Honasan and Pimentel, there are 4 other re-electionist senators who have not decided which group they're joining. They are senators Francis Escudero, Loren Legarda, Alan Peter Cayetano, and Antonio Trillanes IV.
The re-electionists have been regularly topping senatorial surveys. Escudero topped the recent Pulse Asia survey conducted from May 20-26 (see table below). In the 2010 elections, Escudero was known for his controversial "NoyBi" campaign endorsing candidates President Aquino and Vice President Jejomar Binay.
Local recruitment
Away from the media noise, LP has been aggressively recruiting local politicians.
LP currently controls about 30% of the local positions, according to LP spokesperson Lorenzo Tañada. It's a long way to go. In its heyday, President Arroyo's Lakas-Christian Muslim Democrats controlled about 70% of local positions. – Rappler.com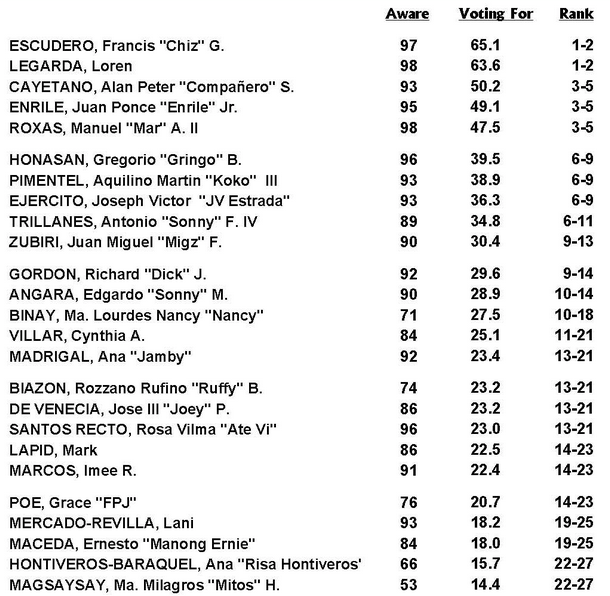 Click on the links below for related stories: