[EXCLUSIVE] A witness says the 3 foreigners ran away when told: 'Your friend killed my friend'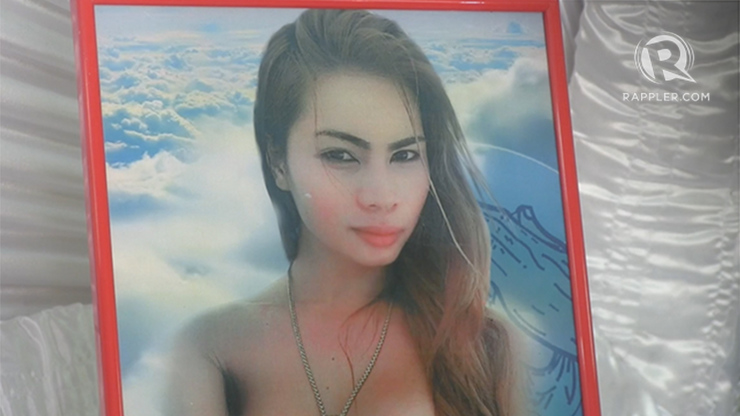 MANILA, Philippines – A witness in the murder of transgender woman Jennifer Laude said 3 male white foreigners had been looking for their companion, whom they called their "buddy Pemberton," half an hour after Laude was found dead in the bathroom of Celzone Lodge in Olongapo City.
In his sworn statement, 42-year-old technician Edgar Cabanela said that around midnight Saturday, October 11, three white foreigners approached him at the entrance of the lodge asking about their companion, "Pemberton."
The 3 even offered Cabanela money to help them look for their companion. The men said they needed to get back to their ship, Cabanela said.
Around 11:45 pm on Saturday, Laude's body was found in Room No. 1 by the lodge's cashier, Elias Gallamos.
Police said Laude's head "was leaning" against the toilet bowl, while her "lower body was partially covered with a color cream blanket."
Injuries were also found on her neck. An autopsy report later said Laude died due to "asphyxia by drowning."
While the investigation was ongoing, Cabanela said the 3 foreigners tried to enter the lodge.
'Your friend killed my friend'
But he told them in English: "There's a problem there, you're not allowed to enter the lodge." 
Cabanela said he then saw a "gay person" who approached the 3 foreigners and told them: "Your friend killed my friend."
Upon hearing that, the 3 foreigners immediately ran away and jumped inside a cab.
Laude was last seen by her friend, witness Mark Clarence Gelviro, who accompanied Laude and a male white foreigner to the lodge after meeting at a nearby disco bar.
According to Gelviro's statement, the foreigner was among a group of 4 who approached them in Ambyanz Disco Bar along Magsaysay Drive, East Tapinac.
Gelviro said one of the foreigners spoke to Laude in English. After 5 minutes of conversation, Laude asked Gelviro to accompany them to Celzone Lodge.
They were directed to Room No. 1 after paying at the front desk, an account also corroborated by the cashier, Gallamos.
Gelviro eventually left Laude and the suspect alone after about 10 minutes. Afterwards, Gelviro met a Filipino male who brought him to another room in the same lodge.
At past 11:46 pm, Gelviro said Gallamos knocked on his room and told him that Laude "fainted."
"Dali-dali po akong nagbihis at pinuntahan ko ang aking kaibigan sa room number 1 at doon inabutan kong may nag-iimbistiga na mga pulis at nakita ko ang aking kaibigan na nakatakip ng kumot na kulay cream, nakasubsob sa inidoro at wala nang buhay."
(I immediately dressed and went to room number 1, and I saw police investigators and my friend, with a cream-colored blanket on her, her head in the toilet bowl and lifeless.)
Suspicious
In his statement, Gallamos said he saw the foreigner leave room no. 1 at around 11:30 pm, with the door ajar. Gallamos went to check the room, but saw slippers near the comfort room and thought that Laude was still inside.
But after 15 minutes, Gallamos became suspicious.
"Kinutuban po ako na maaaring may nangyari sa aming visitor na si Jeffrey Laude dahil hindi karaniwan na maiiwan pa ng ganoon katagal ang partner ng nag-check in," he said.
(I sensed that something might have happened to our visitor Jeffrey Laude, because it is unusual for the partner of the one who had checked in to be left that long.)
Witnesses later identified the suspect as a US Marine, Private First Class Joseph Scott Pemberton.
He is currently under US custody, following a provision in the Visiting Forces Agreement (VFA) signed between the Philippines and the United States.
Under the VFA, the Philippines can seek custody of a US soldier accused of committing a crime in its territory under "extraordinary circumstances."
The Philippines has already said it wants to get the American soldier under its custody, a request that the US can opt to deny.
On Wednesday, October 15, Laude's family filed a murder complaint against Pemberton before the prosecutor's office in Olongapo City.
The city prosecutor will determine if there is prima facie evidence to merit the filing of murder charges against Pemberton in court.
In a news conference, Department of Foreign Affairs spokesman Assistant Secretary Charles Jose said the Philippine government will seek custody of Pemberton after the court issues a warrant for his arrest.
– Rappler.com