In two weeks, 71 coconut farmers will arrive in Malacañang, hoping to meet face-to-face with President Aquino to demand action on the P71-billion coco levy funds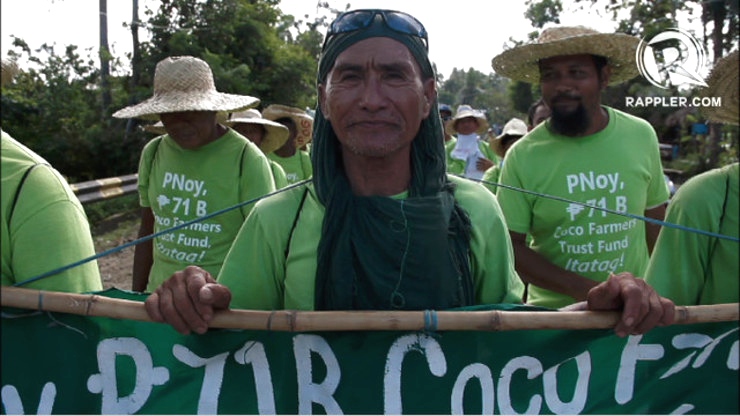 QUEZON, Philippines – Sixty-seven year-old coconut farmer Dionisio Abao has been walking for 52 days with a bamboo and cloth banner strapped around his shoulders.
He left his 4 kids at home in Misamis Oriental to be one of 71 farmers marching 1,750 kilometers from Davao City in Mindanao to the capital, Manila. 
"Sa kaawaan din ng Panginoon na nabigyan ako ng malakas na katawan para makaabot ng Malacañang (With God's mercy, I was given the strength of body to reach Malacañang)," he tells Rappler as he and 71 other farmers reach Lopez, Quezon, on Tuesday, November 11. 
He has around 130 kilometers to go before reaching the seat of government, where he hopes that its official resident, President Benigno Aquino III, will open the Palace's doors to talk to them. 
We can take sacrifices, we can walk, we can face hardships but we cannot sacrifice the coconut farmers of our country who, until now, are still suffering.

 
The farmers are expected to arrive in Manila on November 26.
By that time, the 71 farmers would have walked 71 days to tell the world they deserve to benefit from P71-billion (US$1.6 billion*) coco levy funds wrongfully taken from them 4 decades ago.
Abao's grandmother was one of the millions of farmers who had to pay the Marcos administration 50 centavos for every 100 coconuts they sold.
They were told the money would go to programs to improve their lives and the coconut industry. Instead, the money ended up in the hands of Pedro Cojuangco, a crony of President Ferdinand Marcos.
It was only in 2012 that the Supreme Court declared that a portion of the funds, now amounting to P71 billion due to accrued interest, rightfully belonged to the Philippine government and should be used specifically for programs to benefit coconut farmers. 
But it's been two years and the coconut farmers have heard nothing of the funds. Around P56 billion ($1.2 billion) still sits in the National Treasury while P14 billion ($311 million) is with the United Coconut Planters Bank (UCPB).
The coconut farmers march rain or shine. They depend on the hospitality and generosity of the towns they pass through, spending the night in covered courts or churches.
Supportive local government units feed them. A truck with food follows them. 
The other day, the group marched 63 kilometers straight, the hardest stretch of the journey so far, said George Malbun Jr, a 33-year-old coconut farmer from Tawi-Tawi.
"Kaya po namin magsakripisyo maglakad, mahirapan, pero hindi po namin kayang masakripisyo 'yung mga magniniyog sa ating bansa na hanggang ngayon naghihirap pa rin (We can make sacrifices walking, facing hardships, but we cannot sacrifice the coconut farmers of our country who, until now, are still suffering)," he told Rappler.
'Poorest of the poor'
The 3.5 million Filipino coconut farmers are considered the "poorest of the poor" along with fisherfolk.
The average coconut farming household earns a meager P16,000 ($355) a year. If the farmer is a copra farmer, he earns even less – P10,000 ($222) a year, according to the National Anti-Poverty Commission (NAPC).
Around 41% of coconut farmers live below the poverty line, almost double the national average of 25%. 
And yet coconut products are one of the country's top exports.
Coconut oil, along with banana, is the country's top foreign exchange earner, according to the Bureau of Agricultural Statistics. Out of the country's 81 provinces, 78 are coconut producers. 
The coco levy fund is seen as an opportunity to improve the lives of smallholder coconut farmers.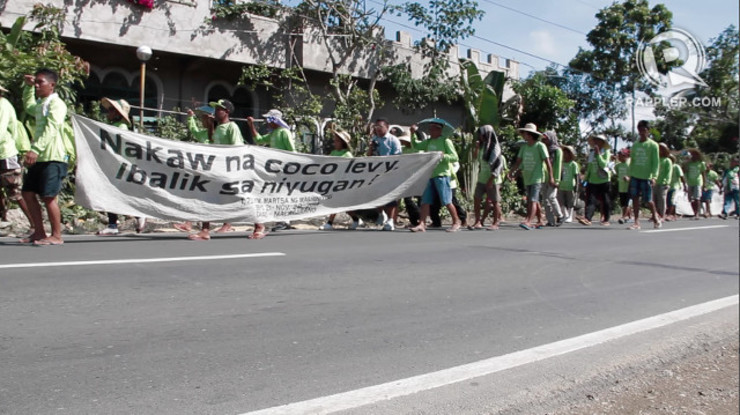 A draft executive order and a people's initiative bill filed in Congress by coconut farmers groups and their supporters lay out their vision for the use of the funds.
"It will be a perpetual trust fund. Only the interest will be used annually for programs and projects for coconut farmers," said Bobby Tañada, a former senator and congressman who has lobbied for the mobilization of the coco levy funds.
One program in the wishlist of farmer group Kilus Magniniyog is the establishment of village coconut hubs outfitted with processing equipment that can be used by all coconut farmers in the village.
This would allow them to be not only producers but also entrepreneurs, able to turn raw material into more valuable coconut products like virgin coconut oil, cocomilk, or coco jam. 
New opportunities 
Diversifying coconut products is the key to increasing income of coconut farmers, said NAPC head executive assistant Jessica Cantos.
"For the longest time, our coconut farmers have only been producing copra when in fact there are many products you can make from coconut. The problem is there are no processing facilities that would support the other products," she said.
The catchphrase now is inclusive growth. This will not happen in the cities but in the countryside with village-level community development.

 
The trade of copra, aged coconut meat from which coconut oil is extracted, buried coconut farmers in poverty because traders have  complete control over prices. 
Coconut farmers are at the bottom of an endless chain of middlemen and traders who often reap the most profits.
But if farmers themselves are able to process the raw material and make the end products themselves, they may be able to go up a few rungs, bypass traders and earn more.
They'll need more than processing facilities for this, said Cantos.
Support services are needed to teach farmers how to manage their own business and how to manage their finances. 
They should also be better linked to consumers who are willing to buy their products directly from them. To handle big orders from customers like restaurant chains or supermarkets, farmers should organize themselves into groups so they can meet the demand from these businesses.
The foremost goal of such programs would be not only to increase the production of the coconut industry, but also to increase the income of small coconut farmers, said Tañada. 
"The catchphrase now is inclusive growth. This will not happen in the cities but in the countryside with village-level community development, here in the barangays to activate the local economy," he added.
All of these dreams can become real programs with the use of the coco levy funds. 
Time is ripe
So what's the Philippine government waiting for?
According to Food Security and Agricultural Modernization Secretary Francis Pangilinan, an executive order to tap the funds will be ready for President Aquino to sign by end of November.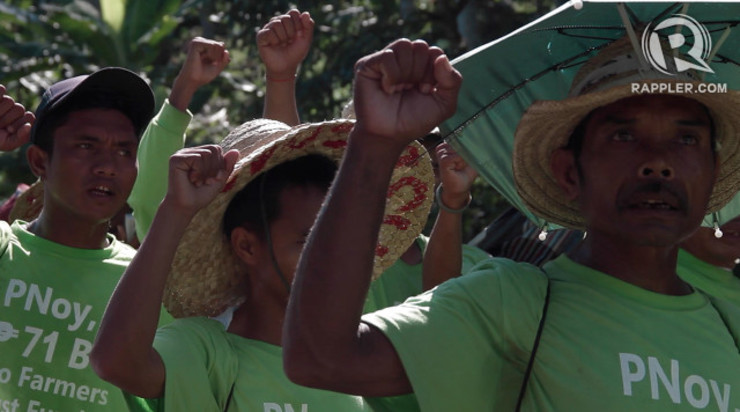 The creation of a trust fund requires a law. In the Senate, Senator Cynthia Villar, chairperson of the Senate Committee on Agriculture, has already filed a bill establishing a trust fund.
She has called a public hearing and aims to submit a committee report by 2015.
The bottleneck is in the House of Representatives.
Despite the filed people's initiative bill and a similar bill from AAMBIS-OWA party-list Representative Sharon Garin, the House Committee on Agriculture is yet to call any public hearing on either of the bills.
The chairperson of the committee is Representative Mark Llandro Mendoza (4th district of Batangas) who is also secretary-general of the Nationalist People's Coalition (NPC), the political party controlled by Eduardo "Danding" Cojuangco Jr, nephew of Pedro Cojuangco.
Danding Cojuangco is also the President's maternal uncle.
Each day the bills are stalled in Congress, coconut farmers lose hope that they will ever benefit from the funds.
Abao's grandmother died without receiving a single centavo of insurance from Cocolife.
It's no wonder that when asked about how his life will improve with the coco levy funds, he only speaks of how his children's lives will change.
"Sana para makatulong sa mga anak ng magniniyog para umangat ang buhay lalo na ang mga anak na gusto mag-aaral tapos 'yung mga pabrika na yan, sana mapakinabangan ng anak ng magniniyog." 
(Hopefully to help the children of coconut farmers so they can have better quality of life especially the children who want to study, and for the processing facilities to be used by the children of coconut farmers.)
After 4 decades, 6 administrations and 1,750 kilometers, will Aquino face the farmers in Malacañang?
Carrying a tiny seed of hope in their hearts, the farmers march on, eager to find out. – Rappler.com
$1 = P44.95