The decision paves the way for Congress bills creating a trust fund for coconut farmers which President Benigno Aquino III had promised to certify as urgent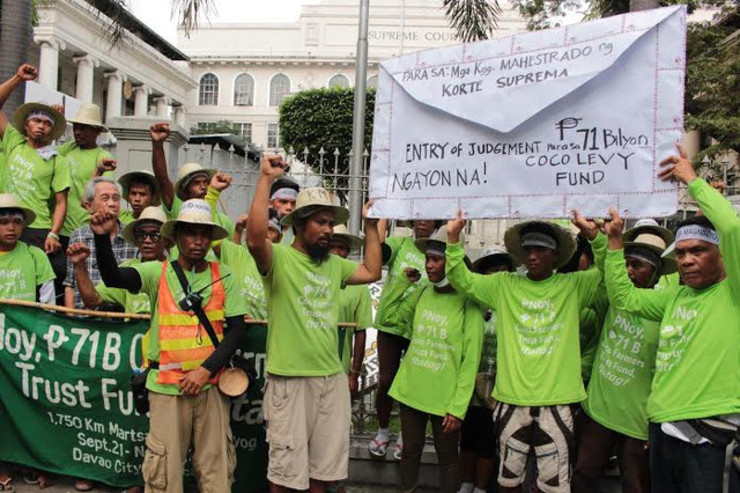 MANILA, Philippines – The Supreme Court on Wednesday, December 10, freed up P71 billion ($1.6 billion*) in coconut levy funds to be used for programs to benefit Filipino coconut farmers. 
In a press  briefing, Supreme Court spokesman Theodore Te said the 15-member Court en banc approved the October 14 motion filed by the Office of the Solicitor General (OSG), asking the Court to issue an entry of judgment for its final decision on the fate of the coconut levy funds made on September 4, 2012.
"Acting on respondent Republic of the Philippines' motion for partial entry of jdugment dated October 14, 2014, as supplemented by its manifestation and supplemental motion for partial entry of judgment dated October 20, 2014, let entry of judgment of the Court's September 4, 2012 resolution be immediately issued," the Court said in a unanimous decision. 
The ruling affirms with finality the decision issued by the Sandiganbayan in May 2004 that awarded shares of San Miguel Corporation, bought using taxes collected from coconut farmers during the Marcos administration, to the government. 
The same decision ordered funds "be used only for the benefit of all coconut farmers and for the development of the coconut industry."
The said 24% of SMC shares, with an estimated value of P71 billion, is currently in the National Treasury. The absence of an entry of judgment from the Court, required for decisions to be considered final and executory, had prevented the Executive branch from making use of the funds.
Coconut farmer groups have long lobbied for the funds to go to programs meant to uplift their lot and help them increase their income.
In November, 71 coconut farmers marched 1,750 kilometers from Davao City to Malacañang Palace in Manila, demanding that Aquino and Congress create a trust fund from the coco levy funds that would bankroll entrepreneurship programs, village-level coconut hubs and scholarships for coconut farmers. 
Aquino, who received them in Malacañang, promised to certify as urgent a bill creating such a trust fund and issuing an Executive Order doing the same. 
But he emphasized that none of these actions could be taken unless the Supreme Court makes its decision final and executory.
'Overjoyed'
"Sobrang saya at natupad yung pangarap namin (We are overjoyed. Our dream has been fulfilled)," Kilus Magniniyog chairman Ed Mora told Rappler by phone after hearing the news.
But the fight is far from over, he said. Now that the court has acted, there should be nothing to stop Aquino from issuing an EO and certifying the coconut trust fund bills as urgent.
"Babantayan namin siya (Aquino). Kung wala pa siyang sasabihin bukas, kakausapin namin si Secretary Pangilinan (We will monitor him. If he doesn't say anything tommorow, we will talk to Secretary Pangilinan)," said Mora.
Secretary Francis Pangilinan, Presidential Assistant for Food Security and Agricultural Modernization, called the High Court's decision a "milestone."
"Finally, after more than 4 decades, our farmers can now benefit from the coco levy funds.  Napakagandang pamasko para sa ating mga magniniyog (What a nice Christmas gift for our coconut farmers)," Pangilinan said in a statement.
Coconut farmers had dutifully paid taxes to the government for every kilogram of coconuts they sold, under the impression that the money would be used for their benefit.
The Supreme Court's decision brings them one step closer to receiving the benefits so long denied then. – With reports from Pia Ranada/Rappler.com
*$1 = P44.6