The PNP says at least 392 Special Action Force cops were involved in the operation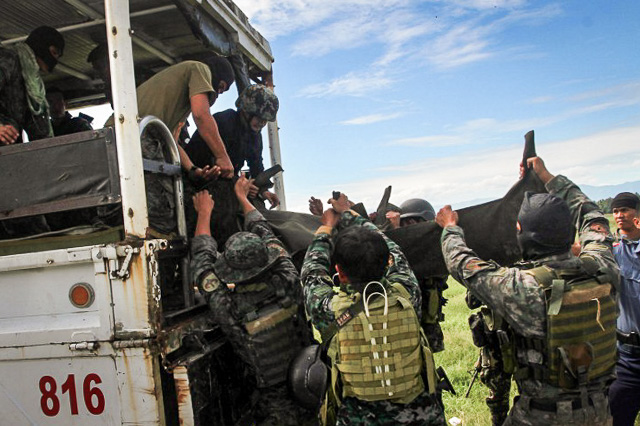 MANILA, Philippines (UPDATED) – The Philippine National Police (PNP) will investigate the bloodiest police operation in recent history that led to the killing of dozens of commandos in a January 25 clash with Muslim rebels in Maguindanao.
Interior and Local Government Secretary Mar Roxas called it a "misencounter."
In a press conference in Cotabato on Monday, January 26, Roxas announced the creation of a board of inquiry that will look into what happened during a Special Action Force-led operation in Mamasapano town, Maguindanao, that was meant to arrest top terrorist Zulkifli Abdhir, better known as "Marwan," a Malaysian and alleged bomb maker. (READ: Dead or alive? Top terrorist was cops' target)
Mamasapano is a known bailiwick of the Moro Islamic Liberation Front (MILF), which signed a peace agreement with the Aquino government last year and which has joined security units in the past in running after lawless groups in central Mindanao.
The attacks threaten to derail the implementation of the peace pact, which is now on its second phase – the drafting of a law to create the proposed Bangsamoro region. President Benigno Aquino III said the passage of the law is one of his priorities this year. (READ: Maguindanao clash casts doubt on peace process)
The MILF said the police did not coordinate with them for this particular operation. The military, on the other hand, was not involved until the SAF called for troop reinforcement Sunday.
The SAF attacks were "not directed against the MILF," Roxas stressed. "This was a law enforcement operation."
Roxas said at least 43 SAF commandos were killed, based on their official reports so far. PNP reports in the field however counted 49 killed SAF personnel as of Monday noon.
Why the SAF entered a contested territory without informing other units is a question being asked within police and military circles. Roxas said the operation is now the subject of a high-level PNP investigation.
Deputy Director General Leonardo Espina, acting PNP chief, said at least 392 SAF members were involved in the operation. The elite cops were plucked from other areas in Mindanao such as in General Santos City and other Cotabato provinces, Espina said.
Out of this, "more or less only 35 actually entered the area," Roxas said. "The others were in the surrounding areas."
Congressional probe
At least two separate resolutions in the House and the Senate were filed on Monday calling for a probe.
The so-called Saturday Group, composed of former military officials such as Representatives Romeo Acop, Leopoldo Bataoil, Samuel Pagdilao, Gary Alejano and Francisco Ashley Acedillo, said the House of Representatives should suspend deliberations pending the result of an investigation by a "multi-agency govenrment panel."
Bayan Muna Representative Carlos Isagani Zarate also called for a probe.
Senator Grace Poe said she wants to know why special police forces were sent to Mamasapano in the first place. – with a report from Angela Casauay/Rappler.com