The team behind Sakay.ph, a web service that gives users directions for commuting around Metro Manila, share recommendations on how to fix the public transport system
MANILA, Philippines – For many of Metro Manila's 12 million residents, traffic in the megacity is as much a certainty of life as death and taxes.
But if Filipinos aren't spending hours stuck along EDSA, they're jostling for space in the crowded trains of the Metro Rail Transit (MRT) or spilling out on the streets to flag down buses. Scroll through Twitter during rush hour, and you won't be left wanting in the number of irate complaints from tired commuters. 
The government has proposed big plans to try to solve congestion in Manila – from the soon-to-be-launched express bus, to a proposed bus rapid transit (BRT) system, even plans for the Philippines' first subway.
Commuting in Manila is a challenge, but the team behind Sakay.ph is using data and technology to create a platform that gives users the best possible commute routes, complete with jeepney, bus, and train directions, to their destination.
Since its launch, the web service has come up with new features and a mobile app. There's newer updates and bigger plans in the pipeline, in a bid to make Sakay a one-stop app for navigating Metro Manila.
Rappler asks Philip Cheang, Rodrick Tan, and Kenneth Yu of By Implication, the company behind Sakay.ph, for their ideas and recommendations on fixing Manila's transport problem.
From your work and observations, what do you recommend to improve public transportation?
Philip: Obviously a lot of work in infrastructure is needed and [the government is] making steps towards that, which is great. But to some extent, I think – and this is just my personal opinion – that only really goes so far. Because for example, even with new train lines, you have to put those train lines somewhere. If they're going to be aboveground, they're going to have to demolish or reconstruct something…Subways would be perfect in theory, but the fact of the matter is they're very expensive and there are some people who say they're a bad idea specifically in Metro Manila because the foundation is not that good.
But I think what would go the most towards solving the problem is actually the decongestion, that is to say, if we could make other centers for industry, for commerce, for living outside Metro Manila. I think that would go a long way towards helping Metro Manila and actually spreading some of that progress and wealth throughout the rest of the country. Transport is terrible in Metro Manila, and there are a lot of ways you could fix transport, but I think the biggest reason is there are too many people.
Rodrick: I agree with all of this, but for me I would prioritize improving existing commuting systems. I think we have this obsession of introducing new things. [Some say] you should make the train lines more extensive, you should build more highways…people tend to forget the existing systems. For example, the buses. They've been there since forever and I could think of tons of ways on how to improve the bus line. For example, tapping a card so that you can pay easily. Here you still pay in a very manual way, there's no unified system just yet.
In Indonesia and some of the other developing countries, what they did for bus lines was to make it work like a train. So what the bus does is it stops there, quickly, [people] get on, and then you move. Those are the types of innovations that they can bring in, and it's not necessarily having to introduce new lines, new routes. 
Philip: Just repurposing existing… 
Rodrick: The existing ones, I think they really should just focus on working on the existing ones.
[Here Philip shows a picture of the proposed bus rapid transit system]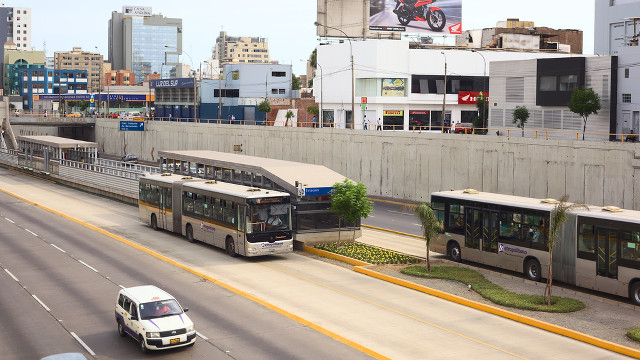 Philip: It's basically turning buses into a sort of a train, having their own dedicated lane and having actual stations. Doing things this way improves traffic because they don't cut into different lanes. (READ: DOTC eyes bus rapid transit, more walkways, car-less cities)
Rodrick: And it's nothing compared to the amount of investment for infrastructure… I think we also have the mistake of looking at solutions which are very geared towards developed countries. We always think of importing what's in developed countries, but people don't look into solutions more tailor-fit for developing countries. The subway would be very, very expensive, and Comet [e-jeepneys] is a great solution that's tailor-fit for [us].
How do you see the future of Metro Manila's transportation system – what's your outlook?
Philip: On the one hand, it's been getting worse. On the other hand, there are a lot of things happening that are really positive in recent years. I mention the MMDA's app, the efforts with the BRT…and then of course, not to be self-serving, but there are apps like ours that are coming around. I'd be very tentatively cautiously optimistic. The volume of people has been getting worse and worse, but the number of approaches that people are doing to sort of address that have been improving. 
Kenneth: To expand on that, you're hitting kind of an intersection point. Metro Manila is not a planned city, it's a mess. The potential for a gigantic transpo f–#k up has always been built into Metro Manila. It's just never been as obviously problematic as now. In a sense, now the need for resolution increases. On the other side, the capability of technology, of people and of systems to give a solution also improves.
Rodrick: I came back here [from Singapore] and the traffic was worse…but I also am very optimistic because there's a lot of things that are being done right now, and I think it will really take time for us to work on it. You can't expect traffic to be gone overnight, but I'm pretty optimistic that data will play a big role.
Just making the data open and available to people and democratizing that information and rerouting people, I think that will be a big step already. You sometimes find roads that are not that congested and you wonder why everyone was on EDSA, and if you just reroute that…if you look at it as a very mathematical routing problem wherein you just move them around and make the best use, I think that alone would make a big impact already.
Also, there's a lot of tests that are being done – the BRT, the new lines. I think a lot of tests will fail, but at least they're trying, and that's how we solve problems versus not trying at all. 
Kenneth: At least the attitude now is, this is really bad, we've got to fix this. It's not anymore, 'But it's the cost of doing business.' You can't be apathetic if it takes two hours to get to work everyday, you're gonna be pissed. And I would prefer people to be pissed than to be apathetic. – Rappler.com