The nationwide survey also shows that nearly 5 in 10 Filipinos are against the passage of the proposed law – a product of the peace pact between the government and the Moro Islamic Liberation Front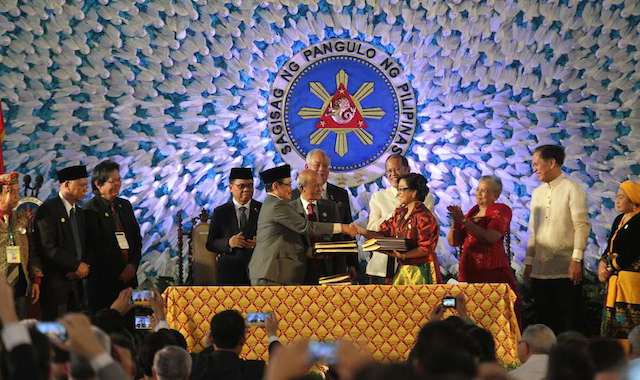 MANILA, Philippines – If the results of the latest Pulse Asia Research Inc survey serve as any indication, the proposed Bangsamoro Basic Law (BBL) may have a difficult chance of ratification if put to a vote in a plebiscite right now. 
A Pulse Asia survey released on Thursday, March 19 found that 62% of Filipinos in Mindanao – said to benefit from the BBL – disagree with the passage of the proposed law seeking to create a new autonomous region in Mindanao with greater fiscal and political powers.
Nationwide, nearly 5 in 10 Filipinos or 44% are opposed to the passage of the BBL, a product of the peace deal between the government and rebel group Moro Islamic Liberation Front (MILF). 
The survey results showed that more people in Mindanao believe the bill should not be passed by lawmakers, compared to those in National Capital Region (52%), the rest of Luzon (32%), and the Visayas (43%). 
Among all regions, the lowest level of indecision about their stand on the BBL was recorded in Mindanao at 18%.
In the rest of Luzon, 43% are undecided, while 40% are undecided in the Visayas. 
Under the current proposal in Congress, the BBL would have to undergo ratification in a plebiscite in core areas of the proposed Bangsamoro region after it hurdles Congress. 
Proposed core areas include current provinces under the Autonomous Region in Muslim Mindanao, the cities of Cotabato and Isabela, and municipalities and barangays in North Cotabato that voted yes to the ARMM plebiscite in 2001. The survey, however, did not include separate results from the core territories.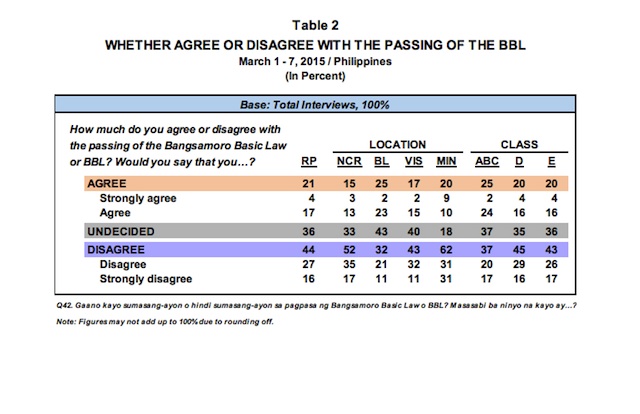 There is a high level of awareness among Filipinos regarding the BBL, the survey showed. Nine in 10 Filipinos or 88% said they have heard, read or watched something about the proposed law – 87% in Luzon, 82% in the Visayas, and 93% in Mindanao.
The survey was conducted from March 1-7, as headlines continued to be dominated by the Mamasapano tragedy that killed 67 people, including 44 elite cops, 18 MILF members, and 5 civilians, resulting in a political fallout that stalled deliberations on the proposed law and endangered its passage. 
It came in the aftermath of the police operation in Mamasapano to arrest wanted terrorists Zulkifli bin Hir (Marwan) and Abdul Basit Usman. Marwan was killed but Usman was able to get away. 
Results also showed that while 79% of Filipinos found that the explanation provided by Aquino on the operation was not enough, more Filipinos still believe he should remain in office. (READ: More Filipinos don't want Aquino to resign – poll)  – Rappler.com