This is AI generated summarization, which may have errors. For context, always refer to the full article.
The current HIV figures in the country are still at alarming levels, with 16 new infections every day and a running total of 22,527 HIV positive cases since 1984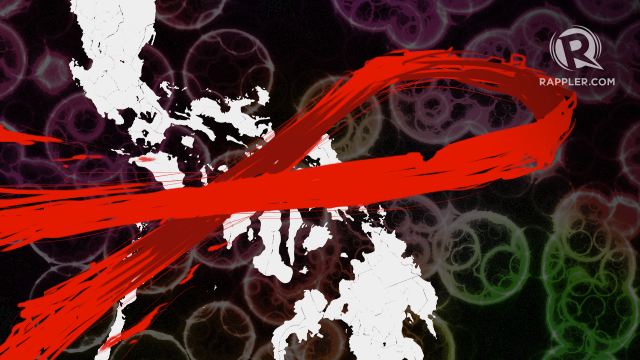 MANILA, Philippines – With the rapid increase of new HIV infections in the Philippines, the country will not be able to meet the HIV/AIDS targets in the Millennium Development Goals (MDG), according to the Joint United Nations Programme on HIV/AIDS (UNAIDS).
"For HIV, kasi nga the trend is increasing, it is not even plateauing, so talagang kontrang-kontra," UNAIDS Philippines Country Director Teresita Bagasao told Rappler after the Philippine Legislators' Committee on Population and Development (PLCPD) press conference on Thursday, March 19.
(For HIV, the trend is increasing, it is not even plateauing, so it's really contradicting)
The United Nations identified two targets in order to combat HIV/AIDS under MDG 6:
Have halted by 2015 and begun to reverse the spread of HIV/AIDS

Achieve, by 2010, universal access to treatment for HIV/AIDS for all those who need it.
But the current HIV figures in the country are still at alarming levels. (READ: Know more about HIV with your mobile phone)
From 1984 to 2014, a total of 22,527 HIV positive cases were reported. In 2014 alone, the health department recorded 6,011 new cases, 5,649 (94%) of which were infected through sexual contact.
Bagasao said one of the contributing factors to the increase is the high rate of risky sexual behaviors among Filipinos and the low usage of condoms "consistently and correctly."
Intervention coverage is also below the level required to contain the epidemic, according to data from UNAIDS Philippines:
| | | |
| --- | --- | --- |
| TYPE | 2014 COVERAGE | TARGETS |
| Female sex workers | 16% | 80% |
| People who inject drugs | 6.3% | 80% |
| Men who have sex with men | 9.3% | 80% |
| Men who have sex with men (<25 years) | 7.2% | 80% |
| Standard antiretroviral therapy (ART) of all people living with HIV | 20% | 90% |
Source: UNAIDS Philippines
The Philippines may be "nowhere near" successful against HIV, but Bagasao said much progress has been made.
"There is progress in terms of people getting treatment, but to maintain that modest treatment success, you have to be able to address prevention," she said in a mix of English and Filipino. 
The health department has always attributed the rise in the number of HIV cases to progress in addressing stigma and discrimination against people who live with the virus. (READ: Mandatory HIV testing? Groups blast DOH chief)
Health Spokesperson Lyndon Lee Suy said more Filipinos are not embarrassed to come out and have themselves tested. (READ: The year that was in public health)
Ifugao Representative Teddy Baguilat on Thursday called on senators to amend the Republic Act 8504 or the Philippine AIDS Prevention and Control Act of 1998.
House Bill 5178, which amends the AIDS law, was approved on third reading in December 2014, but Senate has yet to pass its own version.
Baguilat said a stronger law can help the country achieve zero new infections in the coming years. – Rappler.com
Virus background image from Shutterstock