'A lawyer president, after a hiatus of 30 years,' Vice President Jejomar Binay refers to himself before the Integrated Bar of the Philippines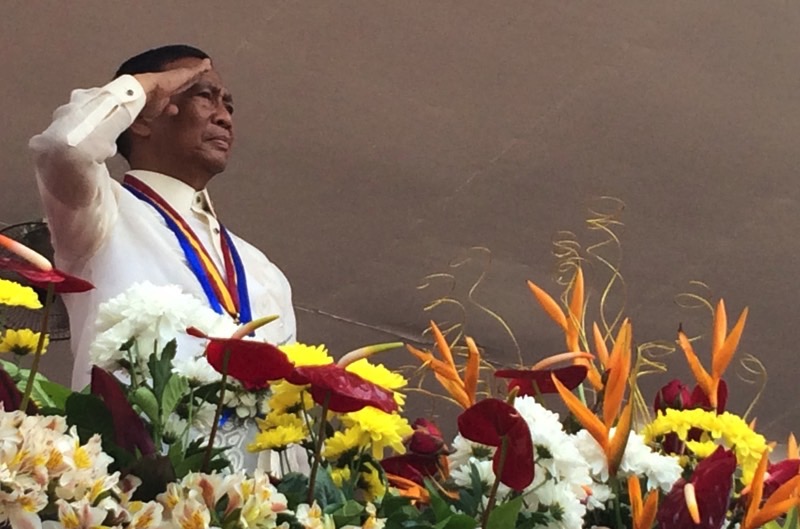 CEBU CITY, Philippines – Speaking before around 2,000 lawyers here, Vice President Jejomar Binay presented his plans for his "first 100 days" in office – if elected Philippine president in 2016.
Binay on Friday, March 20, gave the lawyers a "peek at the kind of leadership and governance our country can have in 2016 and beyond." 
"This is the last convention that I will appear before you as the Vice President.  With God's grace, the will of our people, and your support as fellow lawyers, a member of the bar who has the experience and competence in both leadership and management may well be able to lead this country and be at the helm of government in 2016.  A lawyer president, after a hiatus of 30 years," Binay said during the national convention of the Integrated Bar of the Philippines (IBP) in Cebu.
He added that the government in 2016 "can build on the gains" of the current administration "in terms of increased business and investor confidence and rising competitiveness ratings."
"But there is still much to be done and so much more to fix and turn around.  While our economy's GDP growth rate has pushed us to become Asia's second fastest growing economy, the benefits of growth elude the great mass of our people who remain jobless and poor.  Economic growth is not inclusive, and is, therefore, not stable. The next administration must be able to generate and position more substantial investments in manufacturing, agriculture, and tourism for the creation of more jobs for our people," he said.
He called for "strong and hard-nosed policies on efficient progressive tax collection and elimination of graft and corruption."
He also took this chance to slam the Aquino administration. In particular, he criticized the Ombudsman, the Department of the Interior and Local Government, and the Department of Justice for "brazenly ignoring the lawful court order" on the suspension of his son, Makati Mayor Jejomar Erwin "Junjun" Binay. (READ: VP Binay: Court TRO prevails over 'opinion and speculation')
Binay then detailed his plans for his first 100 days in office if he becomes president.
MRT revamp planned
During his first 100 days, he said, he will solve port congestion to ensure the quick availability of food supplies and to ease traffic.
"Existing airports will be improved – all their toilets will have running water – and new ones built in strategic areas to signal to all who come to our shores the rise of a country worthy of their visit and attractive to their investments," Binay said.
The Vice President also promised to solve the problem with Manila's Metro Rail Transit system. He said the system will be redesigned and re-engineered so it could be a viable option even for those who have their own cars and as a result would lessen road traffic.
Binay's 20-minute speech also covered the continuation of infrastructure-building via public-private partnerships. Among those priority projects are electric plants and roads.  He also emphasized that the controversial pork barrel for both legislative and executive branch, including its "derivatives and incarnation," will be abolished.
Binay said steps will also be taken by his administration for constitutional amendment, the matter of federalism or greater autonomy to Muslim Mindanao, and the Cordillera can likewise be tackled.
One of his closest possible rivals in 2016, Davao City Mayor Rodrigo Duterte, also runs on a platform of federalism. (READ: Binay vs Duterte in 2016?)
"The next administration in 2016 must make a true difference in the life of the Filipino.  So much time and energy have been wasted in the furtherance of dirty and vindictive politics, such that our nation has lagged behind in progress at the cost of our people's quality of life.  The 2016 administration must be led by a unifying president," he said.
The Vice President also invited lawyers to join his possible administration in 2016.
"I know that many of you are engaged in lucrative law practice at the moment and that a decent and upright stint in government can mean a diminution of your income.  But I entreat you to consider a once-in-a-lifetime chance to be of service to our people and country and make your mark in a historic quest to raise this nation to great heights of achievement," Binay said.
Binay remains the frontrunner in the latest Pulse Asia survey on presidential preferences in 2016, with 29% of respondents saying they will vote for him.
Senator Grace Poe trails him with 14%, followed by Manila Mayor Joseph Estrada and Duterte with 12%. – Rappler.com