Senator Miriam Santiago says of the tycoon: 'People like him should be in government, not those from highly publicized careers'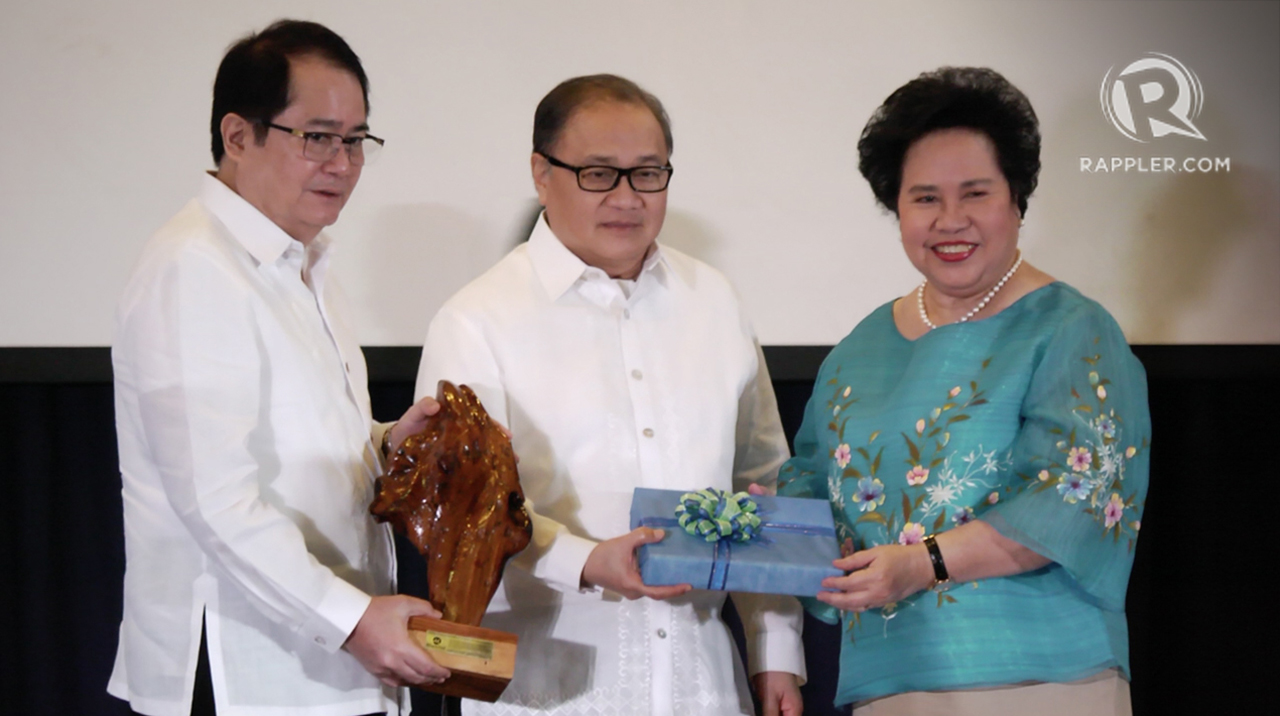 MANILA, Philippines – After heading utility, telecommunication, and media companies, should tycoon Manuel V. Pangilinan lead the Philippines as well? 
Senator Miriam Defensor Santiago used her leadership talk at a Maynilad event to crack water jokes, and to endorse the chairman of the water services company for president in 2016. 
Using her trademark punchlines, Santiago said that Filipinos must choose leaders based on merit and not just mass appeal. It was at this point that she mentioned Pangilinan, who was in the audience to hear her speak at the University of the Philippines. 
"I want you to think about Mr Manny Pangilinan as president of the Philippines," she said on Wednesday, March 25. 
Responding to Santiago's speech, Pangilinan told reporters that he was not sure if the senator was just joking. 
"I thank her for that but I'm not sure if she was totally serious. I respect her opinion. Her opinion counts a lot but I'm not a politician," Pangilinan said. 
Before Santiago's speech, the lawmaker met with Pangilinan for about 20 minutes at a holding room. Pangilinan said they did not discuss politics or business. 
Santiago devoted the length of her speech to motivating Maynilad employees to practice "self-leadership" and excellence. She again mentioned Pangilinan as she wrapped up her talk. 
"Sabi ni Mr Pangilinan sapat ang tubig sa summer. Ang shortage ay sa kuryente. Eh 'di ilagay natin siya doon (Mr Pangilinan said we have enough water for the summer. The shortage is with power. Then let us put him there)," she said.
Ironically, Pangilinan is also chairman of the power distributor Manila Electric Company (Meralco). 
Last year, Pangilinan was also rumored to be the possible running mate of Vice President Binay. Yet the businessman said he was not interested in public office.
"I'm not thinking of that. I'm more focused on the businesses here and in other parts of Asia," Pangilinan, was quoted as saying."
'Just thinking aloud' 
In a press briefing after her speech, Santiago said her quip was an endorsement of Pangilinan. 
"People like him should be in government, not those from highly publicized careers. People from mass media are blinded on the qualifications for public office." 
She added: "I'm just thinking aloud to young people what type of candidate I have in mind. Maybe we can have a survey on the Internet."
Asked if the endorsement meant she was not interested in higher office, Santiago said the presidency is just one option but is not necessarily the end goal of all those rumored to be aspiring for the post. 
She again discussed her ideal president. "My qualification is the president must be honest, have professional excellence, academic excellence." 
Santiago reiterated her call to amend the constitutional requirement for those running for president, vice president, and senator. She wants the provision to include a college degree as a requirement. (READ: Miriam: Don't let idiots run for president)
"Biruin mo, ang pulis dapat college graduate. Ang presidente at senador, read and write lang? (Imagine, a policeman must be a college graduate. But a president or senator is only required to know how to read and write)."
She said that educating the masses is necessary to improve the quality of public officials. 
"Kaya nagiging korap ang leader kasi walang moral character dahilan sa kulang ang edukasyon. This starts with voter education (A leader becomes corrupt because he or she has no moral character because of lack of education)."
'A president must listen to criticism'  
In her leadership speech, Santiago made an obvious reference to President Benigno Aquino III.
"'Yun ang problema sa mga presidente ng Pilipinas; nagiging obsolete. Unang taon, enjoy. Akala nila totoong matalino sila, ang yabang na. Kaya lahat ng presidente bagsak 'pag malapit na matapos ang termino nila kasi naniniwala sa chuchuwa nila at nagagalit pag pinipintasan. 'Di dapat ganun!"
(That's the problem with presidents of the Philippines; they become obsolete. On their first year, they enjoy popularity. They think they are such intelligent leaders and become arrogant. That's why the popularity of all presidents goes down towards the end of their term because they believe their aides, and get mad when they are criticized. It shouldn't be that way!) 
It was a reference to how Aquino handled major controversies in office, with critics saying he tends to listen to close allies and friends but is peeved with constructive criticism. 
Santiago also criticized her rival, former Senator Panfilo Lacson, for supposedly positioning for president. She questioned a full-page ad on the Philippine Daily Inquirer where former generals endorsed Lacson and Senator Grace Poe as presidential and vice presidential bets in 2016. 
Santiago said that the ad "comes from them." 
"A full-page ad is too expensive to express casual opinion It's not like they have experience working together. It makes you suspicious. These are just the original grumblings of the clash of tectonic plates that will occur in 2016. This is just the start of the campaign. As a veteran candidate, I can dismiss it offhand as part of the PR work of a team working for either camp." 
Santiago urged voters to stop voting leaders because of their celebrity status or popularity. 
"Ang mga presidentiable laging may papel sa sine na sila nagtatanggol sa mga api (Presidential candidates are always portrayed on movies as defending the abused).We have to distinguish between what is real, and what is not."
Santiago summed up her message by turning philosophical: "Leadership is the modern equivalent of Socrates' command: 'Know thyself.'"
"What is it you want for the Philippines in 2016? Why hold elections if there will be no change?" – Rappler.com