The Ombudsman questions the power of the Court of Appeals to cite the Ombudsman in contempt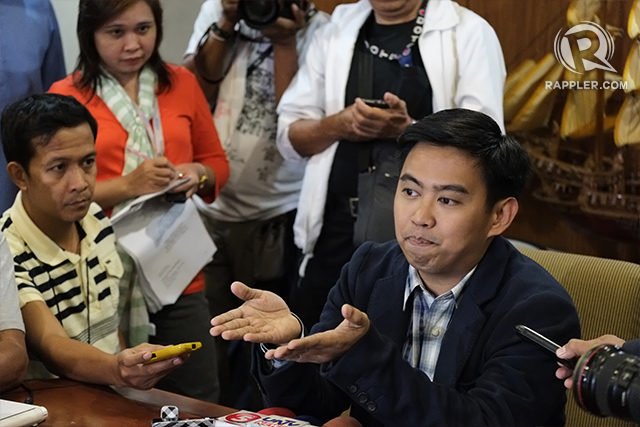 MANILA, Philippines – The Office of the Ombudsman wants the Supreme Court to intervene in the confusion surrounding the implementation of a preventive suspension order against Makati City Mayor Jejomar Erwin Binay Jr. (READ: SC partly to blame for confusion on Binay's suspension)
In a 36-page petition filed Thursday, March 26, Ombudsman Conchita Carpio-Morales asked the Supreme Court to stop the Court of Appeals (CA) from implementing the temporary restraining order (TRO) it issued against the Binay suspension. 
Highlighting its unique position as an independent body created by the Constitution to curb corruption and abuse in government, the Ombudsman also questioned the CA's power to cite an impeachable officer such as the Ombudsman in contempt in relation to the charges. 
The Ombudsman argued that the CA committed grave abuse of discretion in issuing two resolutions over the Binay suspension order – one for a TRO and another asking the Ombudsman to answer contempt charges filed by the Binay camp. 
In its petition, the Ombudsman assailed the CA's "unwarranted intervention in what should have otherwise been a regular administrative proceeding before the Office of the Ombudsman." 
"The intervention of the Court of Appeals has resulted in chaos and total confusion of the people of Makati and those transacting official business with the city government," the Ombudsman said.  
'Dangerous precedent'
The Ombudsman warned that the CA's actions set a "dangerous precedent" for public officials under investigation as it provides avenues to thwart or delay investigations or prosecution. 
On March 10, the Ombudsman, along with other city officials, suspended Binay, son of Vice President Jejomar Binay, for 6 months in connection with the alleged overpricing of a Makati City building.   
Binay refused to heed the suspension order when the Department of the Interior and Local Government (DILG) served it at 10 am on March 16, citing his then pending petition with the CA for a TRO.  
Over an hour later, the CA issued a TRO on the Ombudsman suspension order.  
By the time the CA issued the order, Makati City Vice Mayor Romula Peña Jr had also been sworn in as acting mayor. 
Binay has been invoking the CA TRO as his basis for staying in office. The Ombudsman, meanwhile, is of the position that the TRO was rendered moot and academic since it was issued after the order had already been served. 
The Makati City mayor filed an amended complaint before the CA days later, asking the court to cite the Ombudsman and Justice Secretary Leila de Lima in contempt for defying its order.  
A day after, the CA ordered the DILG, the DOJ, and the Ombudsman to respond to the contempt charges.
The legal battle over the Binay suspension has led to a leadership standoff between Binay and Peña. (Makati: Binay, Peña hold separate flag-raising ceremonies)
For the Ombudsman, the Court of Appeals' TRO over the Binay suspension "gravely undermined its mandate", while the second resolution asking the Ombudsman and others to answer contempt charges was "illegal and improper" since it was issued against an impeachable officer.  
Besides, the CA's TRO was "bereft of legal basis," the Ombudsman argued, since Binay has no claim or right to his public position as mayor of Makati City that can justifiy his holding on the position as city mayor, while the suspension order was "a lawful exercise of discretion that cannot be the subject of an injunctive writ." – Rappler.com