While it took over 5 decades for the SC to have a close review of the doctrine, Chief Justice Maria Lourdes Sereno says the judiciary should not be blamed 'for all of this mess'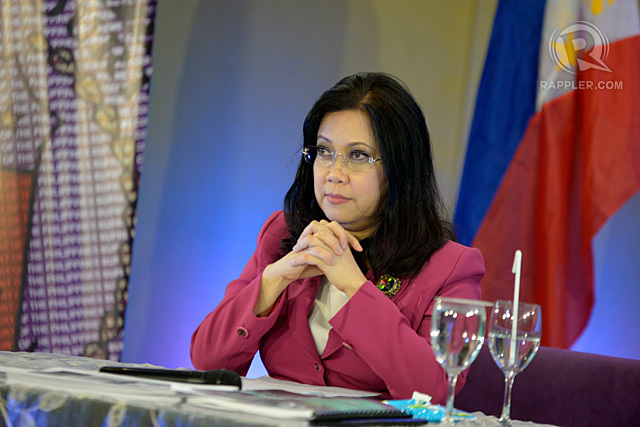 BAGUIO CITY, Philippines – What is at stake over the continued application of a doctrine absolving reelectionists of misdeeds in a previous term?
For Chief Justice Maria Lourdes Sereno, this doctrine first applied in the Philippine legal system in 1959 puts in peril over P389 billion in government funds. The amount is based on the Internal Revenue Allotment distributed in 2015 to local governments. 
Sereno cited this amount and the over 690,000 elective officials in stressing the "importance of accountability of elective officials."
While it took over 5 decades for the Supreme Court (SC) to have a close review of the doctrine, she added that the judiciary should not be blamed "for all of this mess."
Sereno outlined the negative impact of the condonation doctrine in a series of slides presented on Friday, April 21, during the 2nd round of oral arguments on the high-profile case of Ombudsman Conchita Carpio Morales against Makati Mayor Erwin Jejomar "Junjun" Binay Jr. (READ: Mayor Binay's reelection argument based on assumption – Ombudsman)
Mayor Binay cited this doctrine in assailing the Ombudsman-ordered 6-month suspension against him.
In an hour-long questioning of Binay's lawyers, Sereno explained that the doctrine goes against many Constitutional and statutory provisions on public accountability.
Her former student now counsel for Mayor Binay, lawyer Sandra Marie Olaso-Coronel, countered by saying it must not be presumed that all local government officials are going to be guilty of misconduct and get reelected. 
But Sereno insisted that taxpayers' money is at stake when erring officials are given the legal defense of reelection to escape administrative liability. (READ: Carpio, Sereno suggest revisiting condonation doctrine)
Visibly disappointed, the chief justice questioned her former student if "this is the kind of legal regime you want us to propagate."
She reiterated how condonation will "wreak havoc on our Consitutional framework."
Sereno criticized Coronel's "insistent voice that procedures trump the Constitution" and stressed its "impact on the lives of Filipinos for generations to come."
"Do not keep pushing to us the blame for all of this mess," she added.
Appointed relatively early to her present post, the 54-year-old Sereno has 16 more years as chief justice until the mandatory retirement of age of 70 – a rare and golden opportunity to institute long-lasting judicial reforms.
She is now on her third year as the first female leader of the Philippines' 15-member High Court.
Anti-corruption stance
The same sentiment on the condonation doctrine was expressed by Sereno during the first day of oral arguments.
"It is important that this court deliver the correct message to 430,000 officials…We're basically saying that these 430,000 officials can commit administrative offenses ranging from simple misconduct all the way to serious misconduct, and dishonesty. They just have to ensure that they get re-elected and any preventive suspension or any investigation or an administrative finding by the Ombudsman will have to stop," said Sereno.
"Is that the message that is going to be delivered if we continue with the condonation doctrine?" Sereno asked.
The doctrine of condonation was first cited in the 1959 case of Pascual v Provincial Board of Nueva Ecija.
In an interview with reporters, Binay's lawyer Claro Certeza questioned why the revisiting of the condonation doctrine was raised specifically in the case of his client.
"Pag dating kay Mayor Binay, biglang wala nang condonation? (When it came to Mayor Binay, suddenly there's no condonation?)" he asked.
Coronel also argued before the SC that their camp was merely invoking an existing judicial rule applicable to Binay's case.
Ombudsman Conchita Carpio Morales had asked the SC to revisit the doctrine, saying it is not based on a law or the Constitution but is merely a judicial rule. (READ: Binay reelection not an argument vs suspension – Ombudsman)
Re-elected in 2013, the Makati chief executive is being investigated by the Ombudsman for criminal complaints of malversation, graft and violation of the procurement law over the allegedly overpriced construction of a Makati city hall building.

His suspension is linked to administrative charges of grave misconduct, serious dishonesty, and conduct prejudicial to the best interest of the service over the same deal. – Rappler.com
Editor's Note: In a previous version of this story, we used P389M instead of billion. We have made the necessary correction.