WHO country representative Julie Hall says the Philippines needs to have a 'bigger response' to bring the epidemic under control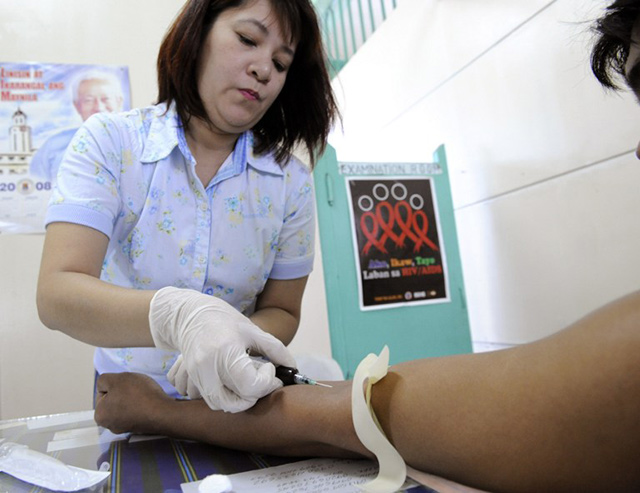 MANILA, Philippines – On the heels of the Philippines' first National HIV Testing Week, the World Health Organization (WHO) urged the country to ramp up its response to put the alarming HIV situation under control.
"We're seeing a response happening now, but it needs to be bigger," WHO Representative in the Philippines Julie Hall told Rappler in an interview.
The Philippines has the fastest growing HIV epidemic in the world, according to Hall.
Last March 2015, the health department recorded 667 new cases, bringing to 24,376 the cumulative cases since 1984. (READ: New HIV cases in PH hit all-time high – DOH)
The number of new cases recorded daily has risen from 17 in 2014 to 21 in 2015, but, despite this alarming numbers, Hall lamented that "there probably isn't enough action right now."
"The window of opportunity is fairly small and there's a few years, really, where intensive work needs to be done to bring this outbreak into control. Otherwise, it simply gets bigger and bigger, more and more costly, more and more difficult to bring it under control," she added.
More testing, condoms
Hall said the country will need to conduct the National HIV Week about 2 to 3 times a year, since testing rates are still currently very low, especially in rural areas. (READ: 'Stop the spread of HIV')
More funding also needs to go into testing, and the availability of free treatment, counseling, and condoms. The health department's National HIV/STI Prevention Program has a 2015 budget of about P500 million ($11.21 million), 60% of which will go to the treatment of patients.
With the implementation of the reproductive health (RH) law, Hall said schools must now begin giving sex education to young people at an age before they start exploring sexually.
The national HIV prevalence in the Philippines remains low at 0.1%, but prevalence rates are "rapidly expanding" in key affected populations, such as males who have sex with males, and injecting drug users.
"The rates have taken off, the doubling of the cases. The way in which we see more and more cases, the speed with which this is now growing, is faster than what we've seen in other countries in the world," Hall said.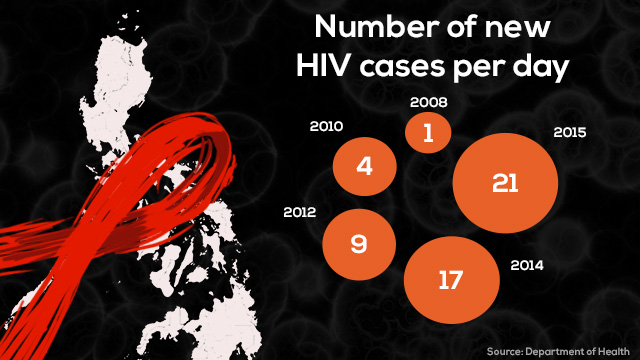 Time to act
The Joint United Nations Programme on HIV/AIDS (UNAIDS) earlier said the Philippines will not be able to meet the HIV/AIDS target in the 2015 Millennium Development Goals:
Halt by 2015 and begin to reverse the spread of HIV/AIDS

Achieve, by 2010, universal access to treatment for HIV/AIDS for all those who need it
Hall said "now is the time to act" if the country wants to reduce its HIV infections like India, Myanmar, Papua New Guinea, and Thailand.
These 4 countries in Southeast Asia and Western Pacific account for a large number of people living with HIV, but they have already reduced new infections by more than 50%.
For the Philippines, the National HIV Testing Week is a start. Hall said it was a "big success" in terms of awareness, but whether more people really got tested remains to be seen. – Rappler.com
*US$1 = P44.60