Debate heats up as August 7, the judgment day for the RH bill, nears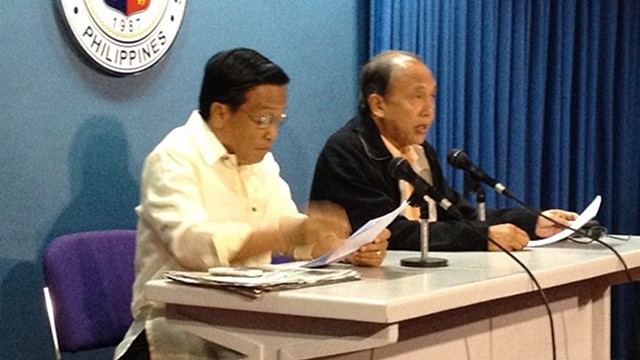 MANILA, Philippines – House Minority Leader and Quezon Rep Danilo Suarez and other members of the House minority bloc are withdrawing their support for the Reproductive Health bill (RH bill).
Suarez told reporters on Monday, July 30, up to 8 members of the minority will withdraw their support for the controversial bill.
Aside from Suarez, the others include Siquijor Rep Orlando Fua, AA Kasosyo party list Rep Nasser Pangandaman, Lanao Del Sur Rep Muhammad Hussein Pangandaman, ALE party list Rep Catalina Bagasina, and Camarines Norte Rep Elmer Panotes.
They reached the decision early afternoon Monday after their regular weekly meeting. Plenary debates also resumed on Monday afternoon.
The minority bloc's move comes a week before the crucial August 7 scheduled House vote on whether or not to terminate the period of deliberations.
President Aquino endorsed "responsible parenthood" during his State of the Nation Address (SONA) last week. It remains to be seen if this will translate into votes next week.
Overpopulation an easier problem?

Suarez said he had always been a hesitant co-author. He added his recent travels to developed countries convinced him that the coutry doesn't need the RH bill.

Suarez said he originally supported it because he was alarmed by the growing number of unwanted pregnancies in the Philippines. "But in the course of my travels in developed nations, I was concerned. When you go around, you don't see children. Bihira," he said.
"Those countries have negative growth rate," Suarez said.
"My point is: Which is easier to handle? An overpopulation thriving in hunger, which can be addressed with good governance? Or a negative growth rate and convince your people to bear children?" he asked.
Lagman vs Suarez
RH bill proponent Iloilo Rep Janette Garin said Suarez's move was "personal."
"Kay Manong Danny, it's personal," said Garin.
Early this year, the minority bloc was shaken by an internal dispute between Suarez and former minority leader Albay Rep Edcel Lagman, the strongest supporter of the RH bill.
Citing a supposed term-sharing agreement, Suarez challenged Lagman's position. Suarez was eventually named minority leader and Lagman left the bloc.
Garin remains confident that supporters of the RH bill have the numbers in the House of Representatives. "Ako personally, sa tingin ko may numbers. Lalo na sa termination ng debate," she said.
Garin said a number of solons who do not agree with the current version of the RH bill want to terminate the debate so they can amend the bill.
Garin also said several members of the minority bloc like fellow Iloilo Rep Augusto Syjuico are true supporters of the bill. – Rappler.com