(UPDATED) During Estrada's bail hearing at the anti-graft court, Tuason maintains she personally delivered to the senator millions of pesos in kickbacks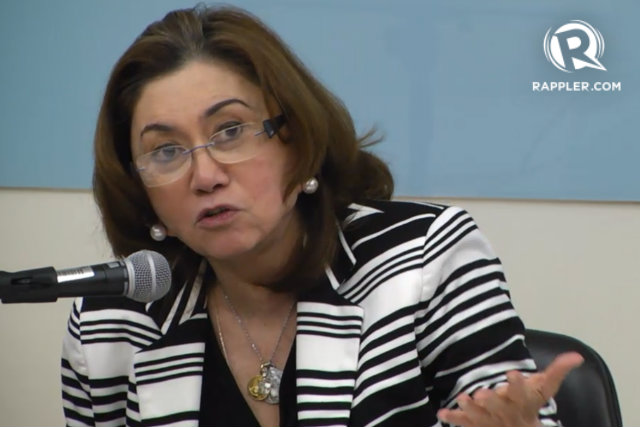 MANILA, Philippines (UPDATED) – Socialite Ruby Tuason testified against Senator Jinggoy Estrada at the anti-graft court Sandiganbayan for the first time as a state witness on Monday, June 15.
During Estrada's bail hearing in connection with his plunder case, Tuason maintained that on several occasions she personally delivered to the senator millions of pesos in kickbacks taken from government projects, as part of the alleged pork barrel scam.
This was the same thing she said in her Senate testimony and in an affidavit filed before the Sandiganbayan in February 2014. (READ: Ruby Tuason: 'I personally delivered Jinggoy's shares')
Estrada, along with fellow senators Juan Ponce Enrile and Ramon "Bong" Revilla Jr, are among the legislators charged with graft and plunder for allegedly misusing the Priority Development Assistance Fund (PDAF) or pork barrel allotted to them until 2013.
According to a report by GMA News, Tuason recalled a transaction in 2004 where she received around P5.7 million in commissions in two tranches from alleged "pork barrel queen" Janet Lim-Napoles, and delivered them to Estrada's residence in San Juan City.
But a few days later, she was instructed by Estrada to return the money to Napoles. Tuason said that actor Matt Ranillo later became the senator's agent for this transaction, reported DZMM.
Tuason also told the anti-graft court's 5th division that in 2008, she again served as the "agent" to Estrada in two other transactions, with kickbacks amounting to a total of P19 million.
She then claimed that she delivered a part of that amount to Estrada's office at the Senate. (READ: Tuason brought bags of cash to Jinggoy)
The kickbacks were said to be taken from projects funded through the PDAF.
Tuason 'saving neck' from Malampaya scam

In a statement on Tuesday, June 16, Estrada "categorically and vehemently" denied Tuason's statements.
"I never received money, much more commissions or kickbacks from my PDAF allocation, from Mrs. Tuason or from anybody, and I never authorized her or anyone to act as my 'agent' to transact using my PDAF," said the senator. (READ: Jinggoy to Ruby Tuason: Stick to facts)
He added, "As seen in the CCTV footages when she went to the Senate, never once was she seen carrying a duffel bag (supposedly containing cash) but only trays of sandwiches."
Estrada also argued that Tuason was "blurting out these lies, concocting stories, and twisting truth just to save her neck from sure punishment" for her alleged involvement in the Malampaya fund scam. He then claimed that Tuason "could be the most liable in that scam."
"As her involvement in the Malampaya scam and the consequent penalties therefor dangle over her head, she now resorts to fabricating stories against me in order to gain the favor of the prosecutors, bargain for another immunity from suit, and again escape culpability," continued Estrada. (READ: De Lima: Tuason has no immunity yet in Malampaya scam)
Echoing a previous statement, Estrada said, "undoubtedly a person that desperate will say anything and do everything to avoid going to jail, which to her is worse than death."
The senator's camp is mulling over the filing of charges against Tuason in response to her statements.
Tuason was among those charged in connection with the pork barrel scam, but she turned herself in and became a state witness in 2014 after offering testimonies against many personalities involved in the pork barrel scam, including Estrada.
Tuason claims to be a close family friend of the Estradas. She was a former staff member of the senator's father, former President and current Manila Mayor Joseph Estrada, who was also present during the bail hearing. – Michael Bueza/Rappler.com