(3rd UPDATE) The government grants Angkas provisional authority to operate until December 9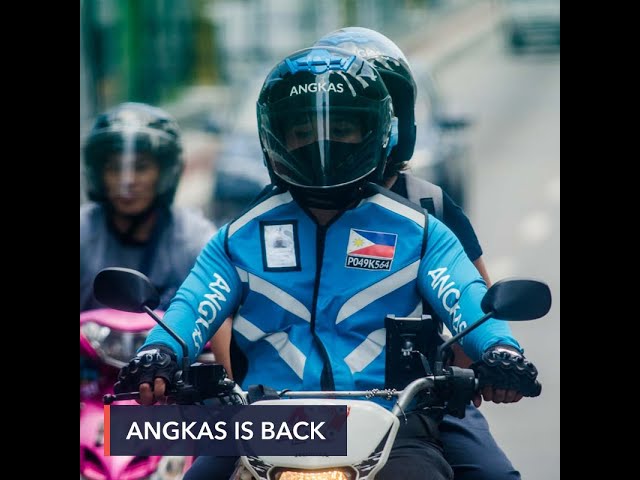 Motorcycle taxi giant Angkas can resume operations in Metro Manila starting Tuesday, November 24, until at least December 9.
In a statement on Tuesday, the Motorcycle Taxi Technical Working Group (TWG) said it has granted Angkas provisional authority (PA) to operate.
Following the announcement, Angkas said it would begin operating again on Wednesday, November 25, with around 6,500 of its riders to return.
To secure a certificate of compliance, which would allow Angkas to operate beyond the December 9 validity of the PA, the motorcycle taxi giant would need to comply with government requirements.
"[The] certificate of compliance will give them authority to operate during the pilot study," said Transportation Assistant Secretary Goddes Hope Libiran.
One of the requirements is insurance for both riders and passengers.
"Aside from the heightened protocols and training that we employ, we are compliant with ensuring there is insurance coverage for every ride booked on our platform and will be providing the documentation to the TWG," said George Royeca, Angkas chief transport advocate.
The TWG also told Angkas to provide thermal scanners to detect if a passenger has fever, but this requirement, according to the TWG statement, is still "for discussion" with the National Task Force (NTF) Against COVID-19.
Libiran said the thermal scanners are not in the existing guidelines of the NTF, but the "TWG believes these are necessary."
"We will take it up with the NTF for their consideration," Libiran added.
Angkas previously designed a barrier between driver and passenger to "protect" both of them from COVID-19 transmission. But some have argued that barriers are unnecessary and unsafe.
JoyRide, too
Later on Tuesday, the Department of Transportation (DOTr) said JoyRide was also given provisional authority to operate until December 9.
MoveIt, another ride-hailing firm, has yet to be issued a PA. Libiran said the TWG has yet to receive a letter signifying MoveIt has complied with requirements.
In 2019, Angkas motorcycle drivers were allowed to offer rides under a DOTr-led pilot study.
The test run was extended to accommodate JoyRide and MoveIt, but it had to be cut a few days short because of the coronavirus lockdown last March.
In October, the Philippine government allowed motorcycle ride-hailing services to augment transportation in Metro Manila, which has been limited due to coronavirus restrictions.
Grab Philippines previously expressed interest in joining the motorcycle taxi pilot run. – Rappler.com