After his 76th birthday celebration, President Rodrigo Duterte is expected to return to Manila to welcome one million doses of China's Sinovac vaccine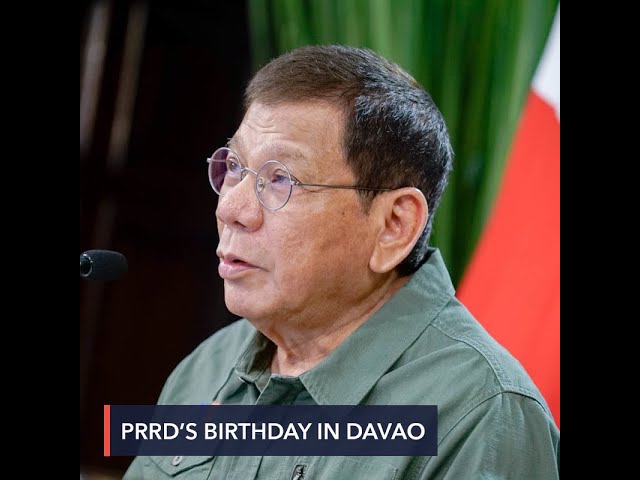 On the eve of another lockdown in Metro Manila and 4 nearby provinces, President Rodrigo Duterte planned to celebrate his birthday in his hometown of Davao before returning to the nation's capital, his spokesperson said.
"Pupunta po (He will be there)," Presidential Spokesperson Harry Roque said in a press briefing Saturday, March 27, when asked if Duterte will attend the arrival of one million purchased doses of China's Sinovac vaccine.
"Magse-celebrate lang po siya ng birthday niya sa Davao. Babalik po siya sa Maynila dahil ang Presidente naman po, kung naalala ninyo, maski iyong napakatagal na ECQ natin ay nasa Maynila siya at talagang hindi niya iniwan ang Maynila," Roque added.
(He will just celebrate his birthday in Davao, but he will come back to Manila because the President, if you remember, was here in Manila during the long ECQ and he will not abandon Manila.)
Sunday, March 28, was the 76th birthday of Duterte, who was born in Maasin, Southern Leyte, on March 28, 1945.
Roque made these statements during the Saturday press briefing where he announced Duterte had approved reviving an enhanced community quarantine (ECQ) in Metro Manila, Bulacan, Rizal, Laguna, and Cavite to blunt a deadly spike in COVID-19 infections.
The ECQ – the strictest quarantine measure in the Philippines – will be in place for a minimum of one week, from March 29 to April.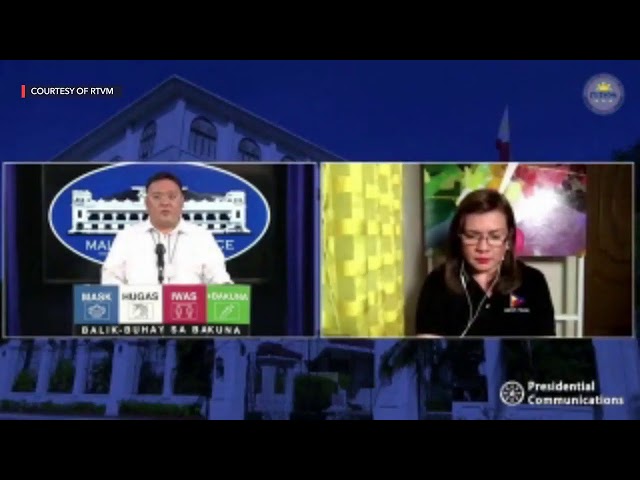 A day before this lockdown, Roque on Sunday, March 28, greeted Duterte and hailed his "decisive and compassionate leadership" that served as an "inspiration" to government officials.
Referring to Duterte by his initials, Roque said, "As PRRD's official spokesperson, I have seen firsthand our Chief Executive's decisive and compassionate leadership, coupled with his hard work and love of country, and how these served the interest and betterment of the Filipinos and inspired officials in the government – myself included – to deliver public service which our people truly deserve."
For the arrival of Sinovac vaccines that Duterte was expected to attend, Roque said he personally applied for the arrival ceremony to be exempted from the government's own ban on mass gatherings during the ECQ.
But when asked if Duterte would remain in Manila for Holy Week or the duration of the ECQ, Roque declined to give a categorical answer and only reiterated the President would grace the arrival of vaccines from China.
"Babalik po talaga siya dito 'no para doon sa arrival (He will come back for the arrival)," he said.
'Things have not really changed'
A year after implementing one of the world's longest lockdowns, the Duterte government was once again forced to reimpose ECQ in Metro Manila and 4 nearby provinces after cases soared to their highest records yet since the pandemic started.
After pointing to supposedly lower public compliance to health standards as one culprit behind the rise in cases, Roque blamed the existence of COVID-19 variants of concern in the Philippines as a cause for the rapid increase in infections.
Citing rising cases in other countries where variants were found, Roque said this was "proof" COVID-19, not the government, was the public's enemy.
While health experts backed the temporary return to an ECQ, they stressed it is going overdue for government to undertake measures and long-delayed reforms in the country's health system, were it to avoid a repeat of the situation.
Health experts first called on the government to strengthen its pandemic response after a surge in cases threatened to cripple the Philippines' health system last July to August 2020.
Earlier in the month when researchers warned the Philippines was seeing a deadly spike in cases, health experts pointed out "things have not really changed much since we called for a timeout in August (2020)." – Rappler.com