(UPDATED) The suspect, Police Senior Master Sergeant Jonel Nuezca, shoots the two at close range in the presence of his own daughter
Christmas week in the Philippines began with stains of blood. A policeman shot and killed a mother and son in Tarlac province, north of Metro Manila on Sunday, December 20, local police confirmed.
Sonya Gregorio, 52, and her son Frank, 25, were shot by Police Senior Master Sergeant Jonel Nuezca on Sunday evening. The shooting was captured on video and has gone viral on social media with netizens using #StopTheKillingsPH and #JusticeForSonyaGregorio.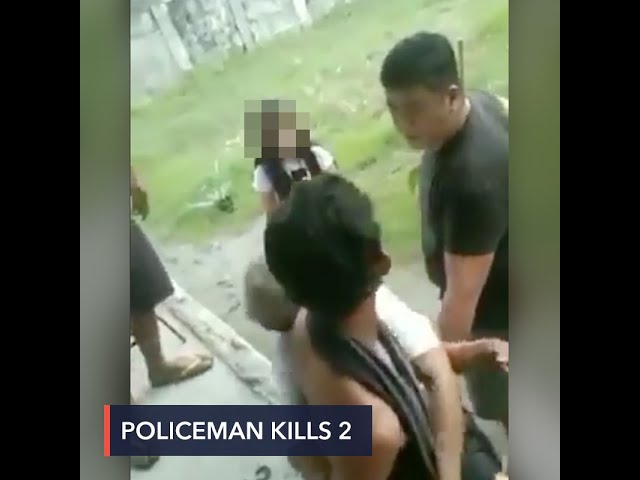 Paniqui police confirmed the contents of the video with Rappler. Because of its graphic nature, we are not showing the video here.
According to Police Colonel Renante Cabico, director of the Tarlac Provincial Police Office, Nuezca had gone to the Gregorios to investigate who was shooting boga, an improvised canon usually made of bamboo, used to make noise during New Year celebrations.
When Nuezca tried to arrest Frank Gregorio, who appeared drunk, his mother Sonya intervened.
"Nung aarestuhin niya, nakialam daw po 'yung magulang, 'yung nanay niya na si Sonya, na naging biktima po hanggang nabaril na nga po 'yung mag-ina," said Cabico on Monday, December 21, in an interview with DZBB.
(When he arrested him, the mother, Sonya, intervened until he shot the mother and son.)
However, Cabico also said Nuezca was "off duty" at the time and had just come back to his hometown from his usual assignment at the Parañaque City police crime laboratory.
In the video, Nuezca shouted the following words before shooting Sonya and Frank at close range: "Putang ina mo gusto mo tapusin kita ngayon ah?" (Son of a bitch, you want me to finish you off now?)
Nuezca's daughter was beside him when he shot the Gregorios. She witnessed the confrontation and the shooting itself. Cabico did not mention why the young girl was present.
Cabico added that Nuezca and the Gregorios have long had disputes over right of way which also surfaced during their confrontation on Sunday.
Where is the suspect now?
The shooting happened at 5:10 pm then was reported to the Paniqui police station at 5:30 pm.
Nearly an hour later, at 6:19 pm, Nuezca surrendered to the Rosales police station in Pangasinan province. Paniqui police picked up Nuezca and now have him in their custody.
Show 'no mercy'
Senator Panfilo Lacson, himself a former Philippine National Police chief, condemned the shooting and called on the police to hold Nuezca accountable.
"I enjoin the Philippine National Police leadership to show no mercy. They should spare no effort to make sure that he rots in jail. He's the last policeman that they need in the force," said the lawmaker in a statement.
Lacson also said police should surrender their firearms to their units when they go off-duty.
"Policemen should turn in their issued firearms to their unit's armorer or supply officer when on off-duty status. That said, they should not be issued Permits to Carry Firearms Outside Residence (PTCFOR) while still in the active service," said the senator.
Other incidents of police brutality
The killing of the Gregorios is only one of several incidents of police brutality and abuse in recent months.
Last September, the police chief of Kawit, Cavite and 5 others were sacked over alleged illegal arrest after Kawit cops were seen in a video forcibly dragging a woman out of her home in front of her children.
In April, cops also shot ex-soldier Winston Ragos for violating quarantine rules in Quezon City. The National Bureau of Investigation concluded that it was murder and that policemen even planted evidence. – Pia Ranada/Rappler.com