WHAT YOU NEED TO KNOW
How many people have tested positive for COVID-19 in the Philippines? How many have recovered, and how many have died? What is President Rodrigo Duterte doing about it?
What are the latest updates from the World Health Organization regarding the vaccines? How is the Department of Health addressing the variants? What should the public expect in terms of the economy, quarantine classifications, and the vaccine rollout?
Bookmark and refresh this page for the latest news updates, opinion articles, and analysis pieces about the COVID-19 pandemic in the Philippines.
LATEST UPDATES
DOH bulletin: COVID-19 cases as of November 29, 2021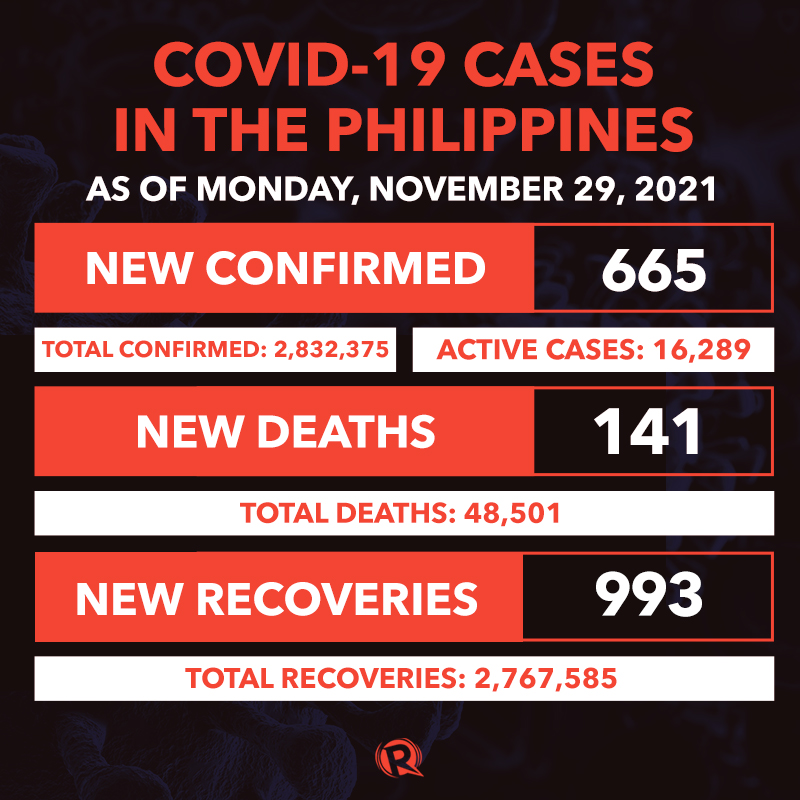 Galvez: Companies can use vaccine orders for boosters, but follow prioritization
Vaccine czar Carlito Galvez Jr. said on Sunday, November 28, that companies can use coronavirus vaccines they ordered as booster shots, but they must follow government guidelines on which groups are already eligible to receive additional doses.
"[Health] Secretary [Francisco] Duque, [Trade] Secretary Mon Lopez, and I – we are for the private sector using their expiring doses. We just need to wait for the EUA (emergency use authorization) because the EUAs that came from [Food and Drug Administration] DG (Director General) Eric Domingo are only for A1, A2, A3," Galvez said in Filipino.
More details here.
Philippines eyes deals for at least 90 million COVID-19 vaccine doses in 2022
The Philippine government is in talks with manufacturers for the purchase of at least 90 million coronavirus vaccine doses needed in 2022, vaccine czar Carlito Galvez Jr. said on Sunday, November 28.
Galvez told reporters in a press briefing that the doses will mostly cover booster shots, while vaccines to be used for first and second doses – known as a primary series – will come from supplies purchased through deals secured in 2021.
Here is the full story.
New COVID-19 cases in Philippines hit 11-month low
The number of new COVID-19 cases reported in the Philippines hit an 11-month low on Sunday, November 28.
The Department of Health (DOH) announced 838 new confirmed cases, the lowest one-day tally since December 28, 2020, when 766 infections were reported.
DOH bulletin: COVID-19 cases as of November 28, 2021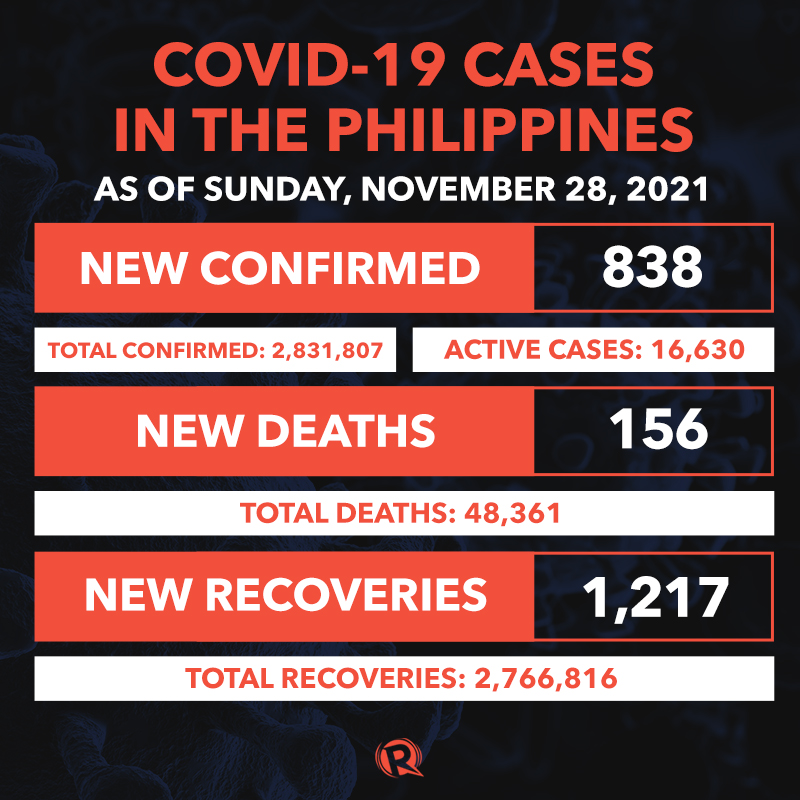 Philippines buys 20 million more Pfizer doses for boosters, kids' vaccination
The Philippine government signed a supply agreement to purchase 20 million additional doses of the Pfizer-BioNTech vaccine, raising the country's total order of this brand to 60 million doses – its biggest deal to date.
Vaccine czar Carlito Galvez Jr. made the announcement in a press briefing on Sunday, November 28, saying the deal had been signed the previous day.
DOH bulletin: COVID-19 cases as of November 24, 2021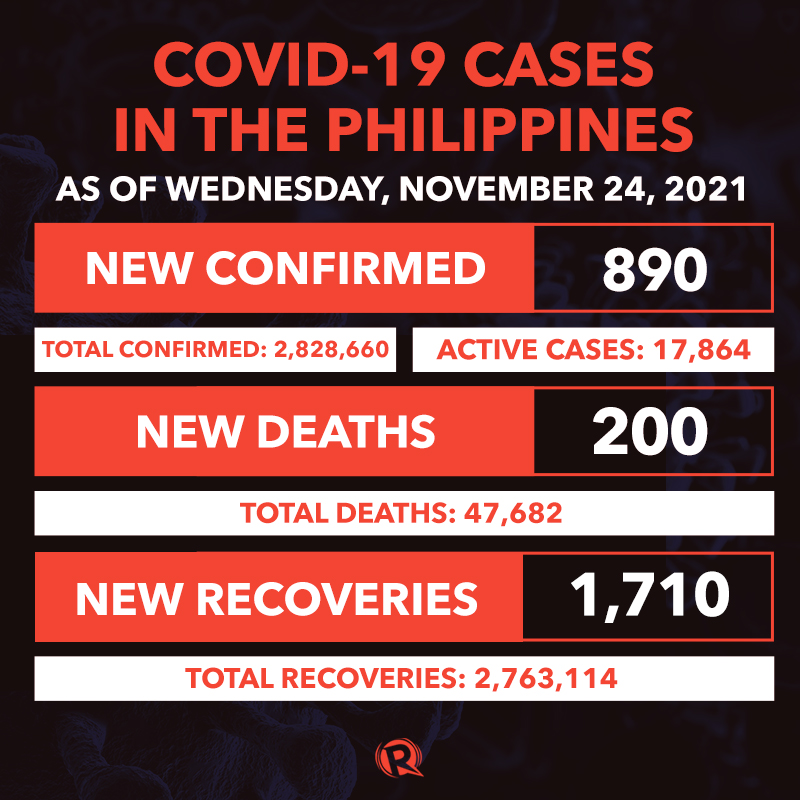 CSC: Absences of gov't workers due to COVID-19 vaccination may be excused
The Civil Service Commission (CSC) said on Wednesday, November 24, that absences of government workers due to COVID-19 vaccination may be considered as excused absence, as provided under its newly-released interim guidelines.
CSC Memorandum Circular No. 16, s. 2021 or the "Interim Guidelines on Absences of Government Officials and Employees Due to COVID-19 Vaccination and/or Adverse Events Following Immunization of COVID-19 Vaccine" provides for the treatment of absences of government officials and employees during their COVID-19 vaccination day and/or the required treatment or recuperation period from any AEFI of COVID-19 vaccine.
The guidelines define AEFI as "any untoward medical occurrence which follows immunization and which does not necessarily have a causal relationship with the usage of vaccine."
Read the complete guidelines here.

DOH bulletin: COVID-19 cases as of November 23, 2021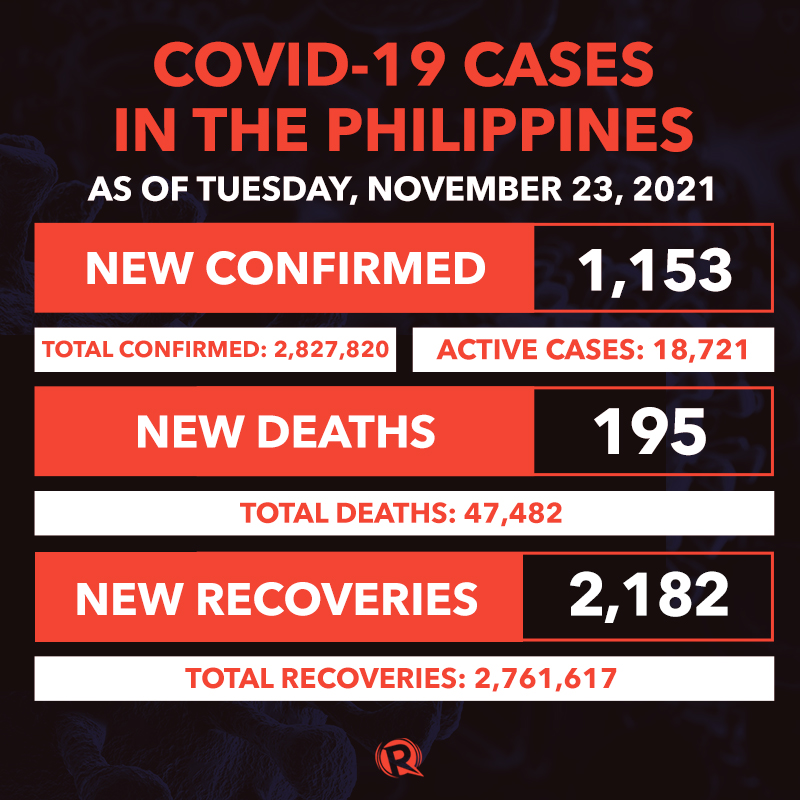 OVP, QualiMed ink deal on molnupiravir treatment aid