WHAT YOU NEED TO KNOW
How many people have tested positive for COVID-19 in the Philippines? How many have recovered, and how many have died? What is President Rodrigo Duterte doing about it?
What are the latest updates from the World Health Organization regarding the vaccines? How is the Department of Health addressing the variants? What should the public expect in terms of the economy, quarantine classifications, and the vaccine rollout?
Bookmark and refresh this page for the latest news updates, opinion articles, and analysis pieces about the COVID-19 pandemic in the Philippines.
LATEST UPDATES
Top 10 vaccine sites inoculate nearly 2,000 minors with comorbidities
Data from the Department of Health showed that the top 10 sites during the nationwide rollout of vaccinations for 12- to 17-year-olds with comorbidities were able to inoculate nearly 2,000 from that group.
The nationwide rollout of A3 pediatric vaccinations, launched on Friday, October 29, comes after a two-week pilot run in Metro Manila.
A site in Bacolod City vaccinated 266 12- to 17-year-olds with comorbidities, making for the most number of minors inoculated in a single area. These sites followed:
● Manuel A. Roxas District Hospital, Isabela – 246
● Governor Faustino N. Dy District Hospital, Isabela – 226
● City of Ilagan Medical Center, Isabela – 216
● Caraga Regional Hospital, Surigao City – 206
● Baguio General Hospital and Medical Center, Baguio City – 168
● Batanes General Hospital, Batanes – 156
● Echague District Hospital, Isabela – 155
● Saint Paul Hospital, Iloilo City – 130
● Teresita L. Jalandoni Provincial Hospital, Silay City, Negros Occidental – 77
3,410 new COVID-19 cases bring PH tally to 2,787,276
The Philippines now has 2,787,276 confirmed COVID-19 cases after the Department of Health (DOH) reported 3,410 new cases on Sunday, October 31.
The DOH also reported 128 new deaths, bringing the death toll to 43,172. 
Meanwhile, recoveries were up by 5,825, raising total recoveries to 2,698,871.
Of the total cases, 45,233 or 1.6% are active. This is the lowest number of active cases since July 14, when 44,408 were reported.
DOH bulletin: COVID-19 cases as of October 31, 2021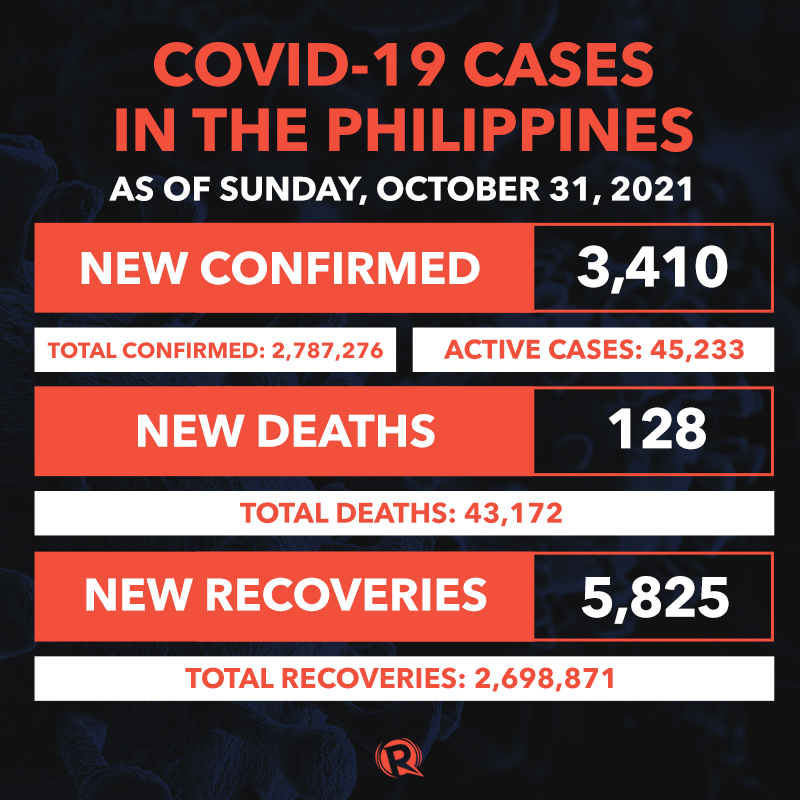 Lower Metro Manila to Alert Level 2 by November 15, urges Concepcion
Presidential Adviser for Entrepreneurship Joey Concepcion urged the national government's coronavirus task force to lower Metro Manila's status to Alert Level 2 starting November 15, noting "increased vaccination rates and the decline in new cases."
He also cited estimates from the National Economic and Development Authority showing that the Philippine economy would gain P3.6 billion and add 16,000 jobs per week under Alert Level 2.
Alert Level 3 had been extended until November 14.
Japan delivers over 3 million COVID-19 vaccine doses to PH
The Philippines received additional 1,065,600 doses of AstraZeneca vaccine from Japan on Saturday, October 30. This brings Japan's contribution to the country's vaccine stockpile to over 3 million doses.
The additional doses came two days after the delivery of the 896,000 doses on Thursday, October 28. Prior to this, Japan had provided 1.12 million doses to the Philippines in July.
"Both vaccine provisions are on top of Japan's contribution to the COVAX facility and serve as integral component of the comprehensive partnership between Japan and the Philippines in this time of the pandemic," the Japanese government said in a statement on Saturday.
The vaccines were received by Foreign Undersecretary Brigido Dulay and Embassy of Japan in the Philippines Economic Minister Masahiro Nakata on Saturday. 
Philippines' daily COVID-19 deaths hit all-time high at 423
The COVID-19 death toll in the country has breached 43,000.
Read more.
DOH bulletin: COVID-19 cases as of October 30, 2021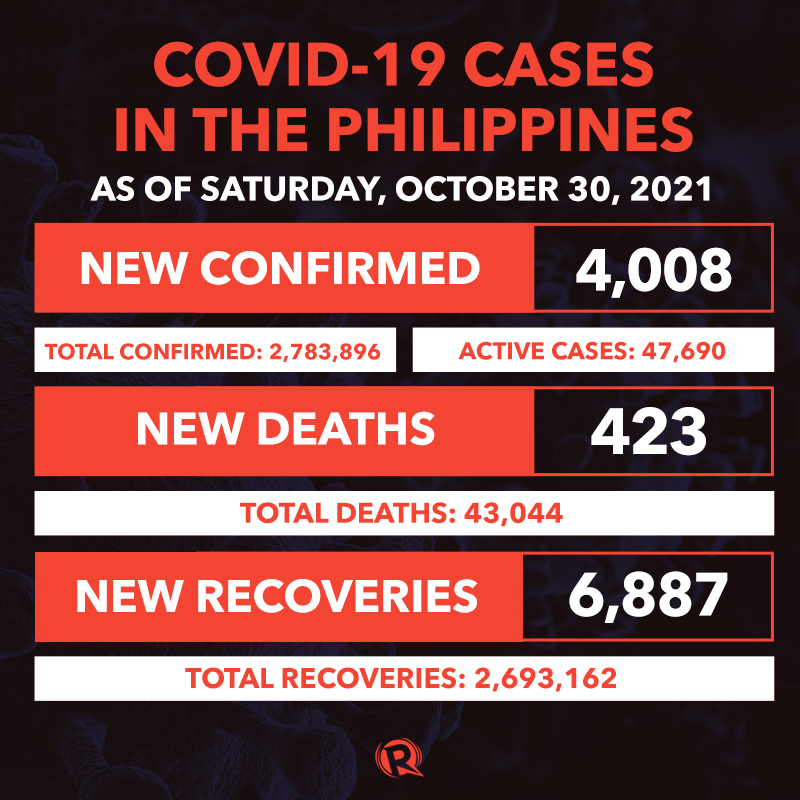 DOH bulletin: COVID-19 cases as of October 29, 2021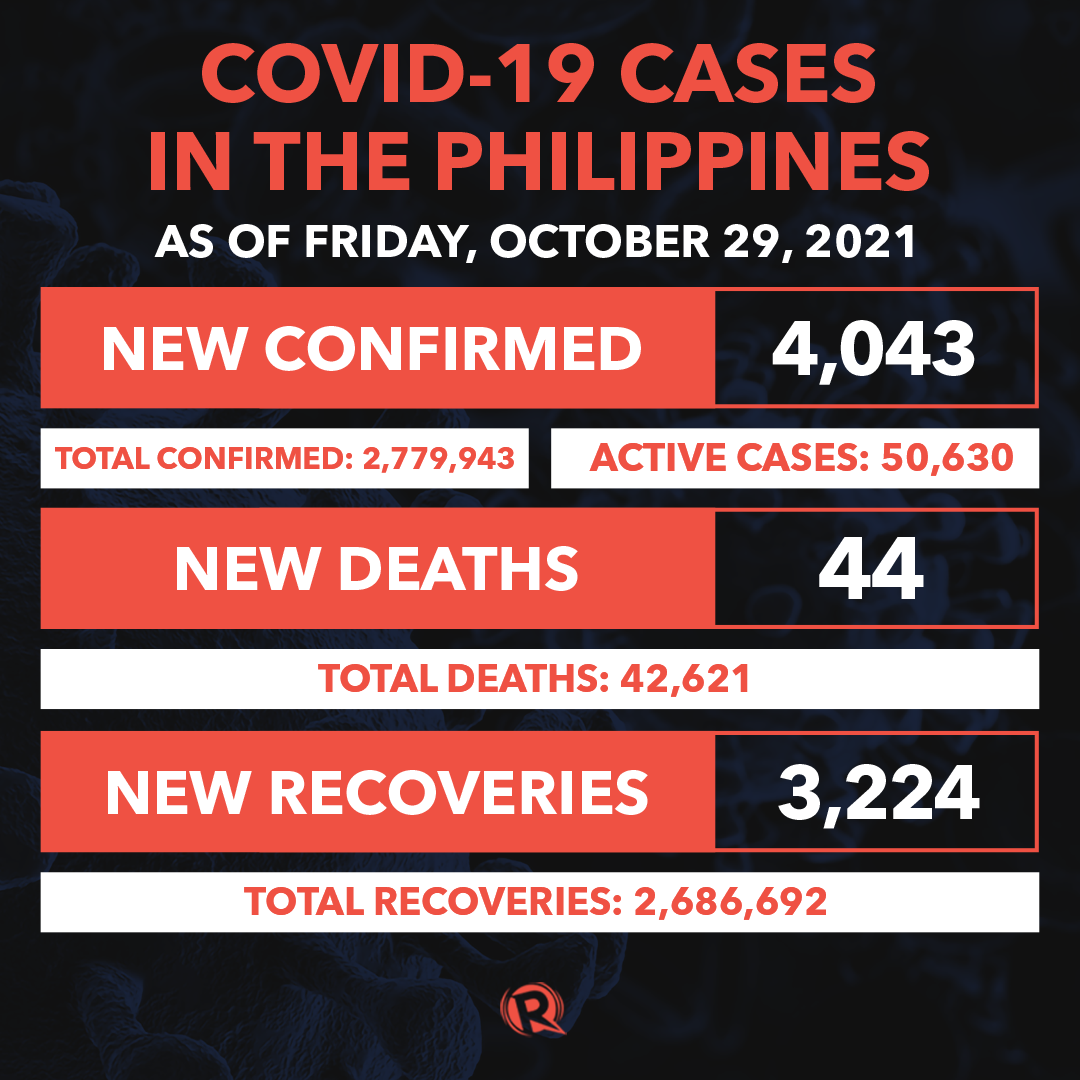 Gov't expands alert level system to 3 more regions
The Inter-Agency Task Force (IATF) for the Management of Emerging Infectious Diseases on Thursday, October 28, expanded the pilot alert level system to three more regions: Central Luzon, Western Visayas, and Northern Mindanao.
Presidential Spokesperson Harry Roque announced on Friday, October 29, that the IATF also added Baguio City as an area for special monitoring.
The national government's task force also announces new restrictions from November 1 to 14.
Read the full story here.
DOH reports 3,439 backlogs of COVID-19 cases
The Department of Health (DOH) on Friday, October 29, reported an additional 3,439 backlogs of COVID-19 cases, bringing the total caseload in the country to 2,775,930.
The DOH explained that the cases were from September 29 to October 18 but were only recorded to its reporting system COVIDKaya on October 27 due to technical issues.
"Note that of the 3,409 cases, 3415 are new recoveries, 2 are deaths, and the 22 remaining are new active cases," the DOH said. 
The country now has 2,683,496 recoveries and 42,577 deaths. A total of 49,857 cases remain active or currently sick.