(3rd UPDATE) President Rodrigo Duterte picks controversial general Debold Sinas as his 5th police chief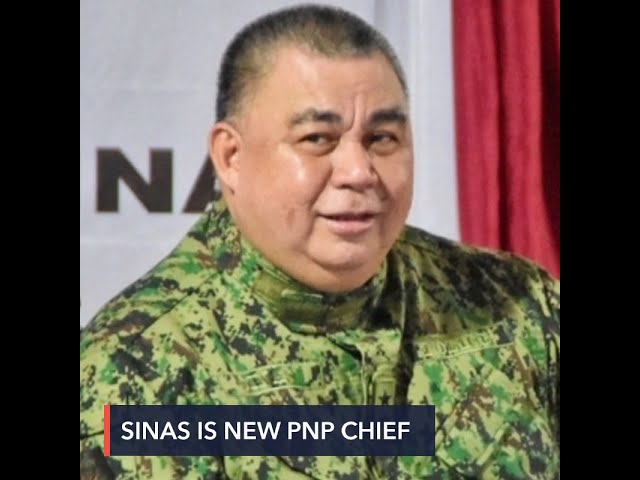 Despite figuring in the bruising "mañanita" controversy that led to criminal and administrative complaints against him, Major General Debold Sinas is rising to power as the new chief of the Philippine National Police (PNP).
Sinas' appointment was announced by Presidential Spokesperson Harry Roque on Monday, November 9, during his regular Malacañang press briefing.
Roque said Sinas' appointment will take effect on Tuesday, November 10.
Sinas succeeds his upperclassman, General Camilo Cascolan of the Philippine Military Academy (PMA) Sinagtala Class of 1986, who is set to retire on Tuesday.
Sinas, a Butuanon who belongs to the PMA Hinirang Class of 1987, is the first appointment by President Rodrigo Duterte to the PNP's top post outside the powerful 1986 class.
In appointing Sinas, Duterte set aside the order of succession in the police command.
Sinas is set to jump to the top spot, surpassing incumbent second-in-command Lieutenant General Guillermo Eleazar and incumbent third-in-command Lieutenant General Cesar Binag, who were both his classmates at the PMA.
Debold delayed
According to a source privy to the appointment plans of the President, it was Sinas who was supposed to succeed Archie Gamboa, not Cascolan. But some senior PNP generals opposed it because of his mañanita fiasco.
In the original plan, the President was to appoint Sinas as PNP chief after Gamboa and that Sinas would be replaced by current Central Visayas top cop Brigadier General Albert Ferro, who was supposed to have been replaced by Anti-Kidnapping Group chief Brigadier General Jonnel Estomo.
This explains the confusion during the first week of Cascolan's police chief tenure when he initially replaced Ferro with Estomo. But since Sinas was not made PNP chief and thus could not vacate his Metro Manila post, Cascolan reversed his order and retained the generals in their positions.
Police sources told Rappler that Sinas has Duterte's backing thanks to his former colleague Royina Garma, one of the President's most trusted police officials whom he has since appointed as the chief of the Philippine Charity Sweepstakes Office.
The source said Cascolan being Gamboa's replacement was a last-minute intervention by Interior Secretary Eduardo Año to stop the "infighting" among the contenders.
Favored despite the flak
Asked why Duterte picked Sinas to lead the PNP, Roque said in Filipino, "President Duterte has been saying for a long time what a big help he has been to the war on drugs."
Sinas' marching orders are to "continue the war on drugs" and build on the "gains" achieved by the police.
Duterte chose Sinas despite controversies that caused public outrage against the police and the government.
Sinas most notably gained infamy in May 2020 when he celebrated his 55th birthday at the Metro Manila police headquarters, Camp Bagong Diwa, with subordinates surprising him with an early morning party.
Repeatedly asked how Malacañang would counter the perception that Sinas has been rewarded despite bad behavior, Roque merely kept repeating that Duterte does not have to explain his appointments.
"No one is perfect…. The President believes that Chief Sinas will be effective in his role. Let's trust the President on this decision," said the spokesman.
The photos of the party showing Sinas and other police officials violating quarantine rules on physical distancing and mass gatherings came right from the Metro Manila police's public information office. The event was later reported by the media.
The controversy led to the PNP filing criminal and administrative complaints against Sinas and 18 others.
Asked if the complaints would be dismissed given Sinas' top appointment, Roque said: "I don't think so. That's not how our laws operate."
The criminal case was filed before the Taguig City Prosecutor's Office since the birthday celebration took place in Taguig and violated the city's ordinances. Sinas was also accused of violating Republic Act No. 11332 or the Mandatory Reporting of Notifiable Diseases and Health Events of Public Health Concern Act.
Sinas' tenure as Metro Manila police chief was also marred by incidents of police abusing quarantine rules. He defended the cops until enough pieces of evidence surfaced against them.
Sinas, Duterte's 5th police chief, is set to retire on May 8, 2021, when he turns 56, the mandatory age of retirement for uniformed personnel. – with reports from Pia Ranada/Rappler.com