'We declare our victory over COVID-19, the destroyer of our lives, economy, way of life, and society,' says Education Secretary Leonor Briones
As over 24 million Filipino students started classes again on Monday, October 5, Education Secretary Leonor Briones claimed victory against the raging coronavirus pandemic, which has so far infected 322,000 people in the Philippines.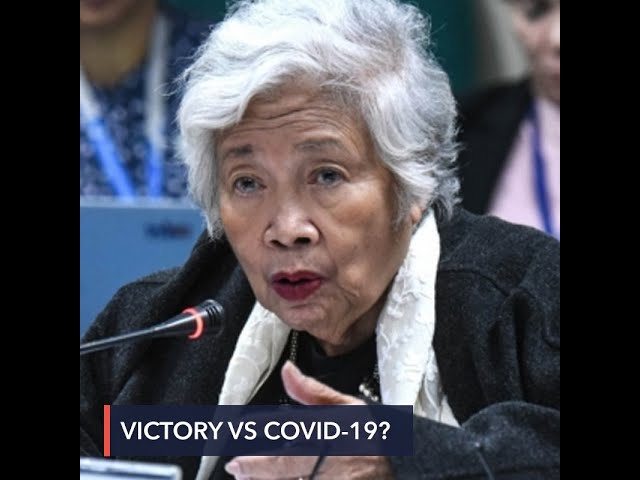 "Today we celebrate a great victory. We declare our victory over COVID-19, the destroyer of our lives, economy, way of life, and society," Briones said during the Department of Education's (DepEd) school opening program.
Following President Rodrigo Duterte's directive for schools to delay face-to-face classes until a coronavirus vaccine becomes available, the DepEd has shifted to distance learning.
Distance learning is when teachers and students are geographically remote from each other during their classes. This means lessons are delivered outside the traditional face-to-face setup, through a mix of modular learning, online learning, and TV and radio broadcasts.
The opening of classes had already been delayed twice to allow schools, teachers, students, and parents to prepare for the demands of distance learning.
The decision to open classes in the middle of a pandemic was met with criticism. Students and parents pointed out that their household finances have been affected by months of lockdown, and they could not afford to buy the tools needed for the revamped education system.
Despite this, the DepEd dismissed calls for an "academic freeze" or the suspension or cancellation of the school year. This issue has sparked heated debates not only in the Philippines, as governments worldwide try to balance academics and the safety of students.
During Monday's public address, Briones said that education for millions of Filipinos should not wait.
"Araw-araw may bagong krisis. Bagong problema. Bagong pagkukulang. Paghihintayin ba namin kayo?" Briones said.
(Every day there will be new crisis. New problems. New shortcomings. Are we going to make you wait?)
Briones assured that no students will be left behind in the revamped education system. However, there are some 3 million students who are still unenrolled.
"Igagapang ng DepEd at lahat ng sumusuporta sa DepEd [ang pag aaral ng mga bata]. Kailangang ipagpatuloy ang pag-aaral, kailangan igapang natin maski maraming challenges," Briones said.
(The DepEd and its supporters will strive harder for the education of the students. Education must continue; we should strive harder despite challenges.)
Meanwhile, President Rodrigo Duterte in a pre-recorded message congratulated DepEd for the school opening. "The school opening of this year is a momentous occasion because it is pushing through despite [the] global health crisis due to COVID-19," he said. – Rappler.com