The President wants COA to audit the Philippine Red Cross, a private organization
President Rodrigo Duterte went for the jugular in his rant about Senator Richard Gordon on Thursday night, September 2, accusing the lawmaker of using his position at the Philippine Red Cross (PRC) to finance his electoral campaigns.
Duterte presented no concrete evidence to back up his claims. He only pointed to an alleged plan of Red Cross to charge P3,500 for COVID-19 vaccines and profit by P1,000 from each jab.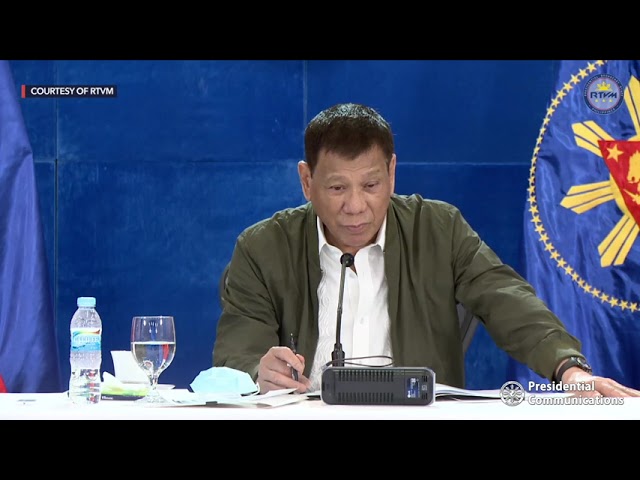 "Is the Red Cross saving money so it would eventually pass a resolution to set aside a big amount to fund your elections plans, just like the funds you used in the 2010 amd 2016 campaign?" said Duterte in a meeting with pandemic task force officials in Davao City.
"Alam mo, ginagamit mo itong Red Cross and I daresay na ginamit mo talaga ito para sa elections. Ito yung milking cow mo eh," continued the President, who claimed Gordon wants to run for vice president in the 2022 elections.
(You know, you are using Red Cross and I daresay you are really using it for elections. This is your milking cow.)
Duterte also floated a conflict of interest issue in Gordon's position as senator and his post as PRC CEO, which he has held since 2004.
'Audit Red Cross'
The President, in particular, slammed Gordon and PRC for supposedly "threatening" to stop COVID-19 testing back in October 2020 because of the government's inability to pay its debt to the humanitarian organization.
But the PRC back then had said it was forced to stop its free COVID-19 testing because it needed the Philippine Health Insurance Corporation (PhilHealth) to pay its P930-million debt in order to have enough resources to replenish its test kits and reagents.
Claiming that more anomalies hound PRC, Duterte declared his administration would "audit" the organization. He volunteered the Commission on Audit (COA) for the job, despite having recently attacked the agency for its audit reports on his government's pandemic spending.
"The executive department will demand that we be furnished copies of your audit taken by COA and COA to give us the copy so we can review also what you have audited and we will see if it's right or wrong," said Duterte.
But the COA audits government agencies, not private organizations like PRC. However, Republic Act No. 10072, which recognizes the PRC as an autonomous NGO auxiliary to Philippine authorities, requires it to submit to the Philippine President an annual report containing its activities and showing its financial condition.
Meanwhile, a COA circular signed in 1995 says the COA can conduct special audits of NGOs if requested by the proper authorities, if the organization was given funds by the government.
In his criticisms of Gordon, Duterte also accused PRC of violating the Expanded Senior Citizens Act for supposedly not giving the elderly a discount for its COVID-19 tests, which he also branded as "astronomical" in price.
This was the second time Duterte attacked Gordon in public after the Senate blue ribbon committee, which Gordon chairs, conducted a bombshell hearing about the government's billions of pesos worth of pandemic-time deals with Pharmally Pharmaceutical Corporation.
Gordon has hinted that the Senate may investigate Duterte himself and his former aide and now senator Bong Go given the circumstances surrounding these big contracts.
In the Thursday meeting, Duterte again demanded that lawmakers restrain their investigations into government initiatives.
"Do not investigate programs that are ongoing," said the President.
However, audit reports are mandated by the 1987 Constitution and the legislative branch has oversight functions over the executive branch – part of the checks and balances system in democracies that are supposed to guard against abuse of power. – Rappler.com