'Thanks to collusion at all levels within the state apparatus, Duterte has an arsenal that he can use to wage total war against journalists,' says Reporters Without Borders in its report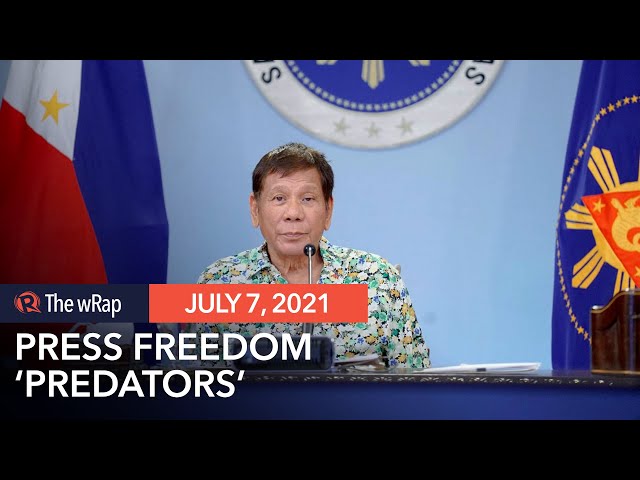 President Rodrigo Duterte is among the 37 global leaders in Reporters Without Borders' gallery of "press freedom predators" in 2021.
RSF said Duterte has been a "predator since taking office" in 2016 and that his "predatory method" is total war against independent media.
"Backed by most of the private sector, Duterte easily imposes his line on media outlets owned by businessmen that support him. Independent media outlets have assumed the role of opposition, with all the risks that this entails," RSF said.
"Thanks to collusion at all levels within the state apparatus, Duterte has an arsenal that he can use to wage 'total war' against journalists, an arsenal that includes spurious charges of defamation, tax evasion, or violation of capital legislation; rescinding broadcast licenses; getting accomplices to buy up media outlets and bring their journalists into line; and using an army of trolls to subject journalists to online harassment," it added.
Malacañang dismissed the report, calling it baseless and "absolutely bereft of merit."
Presidential Spokesperson Harry Roque on Tuesday, July 6, claimed press freedom is alive and well in the Philippines – despite incessant attacks from the President – and cited the findings of retired International Criminal Court (ICC) prosecutor Fatou Bensouda on Duterte's drug war.
"Kung titingnan ninyo po iyong findings ng ICC prosecutor, lahat po ng kinu-quote niya eh media na critical sa gobyerno (If you will look at the findings of the ICC prosecutor, it quoted reports of media that are critical to the government). So that proves that freedom of the press is alive and well in the Philippines," Roque said.
He added, "Wala po ni isang kasong libelong sinampa ang Presidente, wala pong kahit sinong mamamahayag na napakulong ang Presidente (The President has not filed any libel case against a journalist and has not jailed any journalist).
Duterte has repeatedly attacked journalists and media organizations, including Rappler and ABS-CBN. These led to the government-backed filing of cases against Rappler and the shutdown of the Philippines' biggest broadcaster. (READ: Duterte to block renewal of ABS-CBN franchise)
The Duterte administration has also backed the spread of disinformation, online harassment, and red-tagging of journalists and perceived enemies of the government. (READ: 12 times social media boosted Duterte's lies)
Under Duterte, the Philippines has consistently slipped in the World Press Freedom Index. ranking 138th out of 180 countries in 2021.
Other leaders on the list are Brazilian President Jair Bolsonaro, Russian president Vladimir Putin, Hong Kong Chief Executive Carrie Lam, Syrian President Bashar al-Assad, and Iran Supreme Leader Ali Khamenei. – Rappler.com