Yet hours before, Presidential Spokesperson Harry Roque has said: 'Haharap ho ba sila sa mga imbestigasyon? Siyempre po!'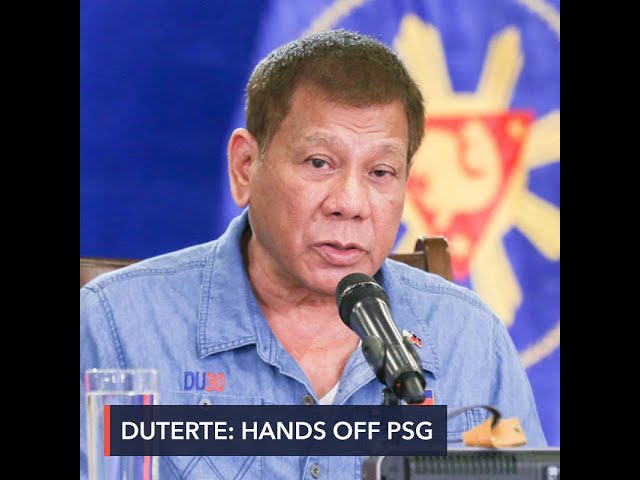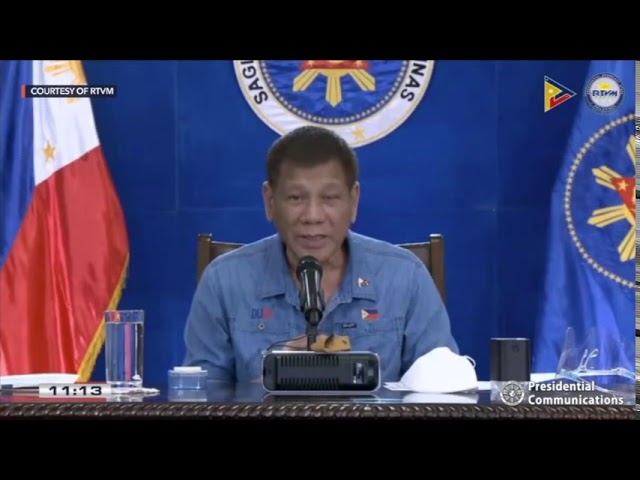 Philippine President Rodrigo Duterte warned Congress of a potential "crisis" should they compel his security detail to divulge details about their use of an unregistered COVID-19 vaccine.
Duterte on Monday, January 4, said he would order the Presidential Security Group (PSG) to either not attend any congressional hearing on the controversy or stay mum during such a hearing.
"Do not tinker with the PSG. Do not force my hand to meddle into this affair. Maybe I am not so keen allowing Durante (PSG chief Brigadier General Jesus Durante III) and the rest of the PSG to testify," said the Chief Executive in a meeting in Davao City.
"I would just ask the PSG to just shut up, do not answer. Invoke the right against self-incrimination. Do not force my soldiers to testify against their will," he added later on.
If lawmakers decide to cite PSG personnel in contempt and detain them, Duterte even said he would swoop into the Senate building himself to free them.
"I might just decide to not allow them to – to ignore your summons. So you choose. It's bad for you, sorry, I don't care. It's bad for the country, maybe," said the Chief Executive.
Contradicting Roque
Hours before Duterte's speech, his own spokesperson Secretary Harry Roque said the PSG would face any investigation, legal case, or punishment arising from their use of an unregistered vaccine.
"Haharap ho ba sila sa mga imbestigasyon? Siyempre po! Wala po tayong tinatago," said Roque during his Monday press briefing.
(Will they face an investigation? Of course! We are not hiding anything.)
"Let the cases be filed and let them proceed," Roque had also said.
Agencies in the executive branch, including the Department of Justice, Food and Drug Administration (FDA), and military had already announced they would probe the PSG's vaccination.
In his Monday remarks, Duterte tried to justify his move by saying he wanted to protect his loyal security detail from getting "brutalized" in congressional hearings.
He also implied that he might have allowed the PSG to participate if officials did not threaten them with investigation.
"Kung sana tinanong 'nyo nang mabuti without necessarily blurting out threats na have them investigated," said Duterte.
(If you had just asked properly without necessarily blurting out threats to have them investigated.)
Lawmakers and government agencies under Duterte himself want to probe the PSG because their use of an unregistered COVID-19 vaccine may have violated laws, particularly the Food and Drug Administration Act of 2009 which is meant to protect Filipinos from unsafe vaccines.
'Matter of self-preservation'
In another bid to defend the PSG, Duterte claimed their actions were justified because they were trying to protect themselves from COVID-19. He even said their use of the unauthorized vaccine can be likened to self-defense.
"They have every right to live and invoke self-preservation. In criminal law, that is the right to self-defense. The enemy? COVID," said Duterte, a lawyer.
He then said an exception should be made of the PSG given their line of work.
"Anyway, specific ang grupo, PSG lang. PSG has a good reason to have it. One is kailangan talaga nila to mix with the crowd," said Duterte.
(Anyway, it's a specific group, just the PSG. The PSG has a good reason to have it. One is they need to mix with the crowd.)
He made no mention of the urgent need of medical frontliners or the vulnerable age group of senior citizens for a vaccine. Health frontliners and the indigent elderly are in fact first in line for a COVID-19 vaccine, according to the priority list of Duterte's own pandemic task force.
Soldiers and policemen, who compose the PSG, are further down the line.
Duterte then said he was loath to wait for an emergency vaccine approval from the FDA. He bemoaned the fact that, so far, only Pfizer has applied for Emergency Use Authorization (EUA) with the FDA. Only a vaccine with an EUA can be distributed and used in the Philippines.
"Why will I not wait for Domingo (FDA Director-General Eric Domingo) to come out? You know why? Because until this late date, only Pfizer has submitted to the FDA," said a frustrated Duterte.
The Palace has repeatedly fended off questions on information about how the PSG were able to obtain a vaccine developed by China firm Sinopharm.
Yet the controversy has given rise to concerns over whether the PSG circumvented government processes and violated laws. Questions abound on who gave the PSG access to the vaccines and whether this arrangement may involve a quid pro quo. – Rappler.com