(UPDATED) The President even comments on the seeming unenthusiasm of lawmakers for his call for capital punishment
Philippine President Rodrigo Duterte, for the third time, used his State of the Nation Address (SONA) to call on Congress to reinstate the death penalty for violators of the country's anti-drugs law.
"I reiterate the swift passage of a law reviving the death penalty by lethal injection for crimes specified under the Comprehensive Dangerous [Drugs] Act of 2002," said Duterte on Monday, July 27, during his 5th SONA.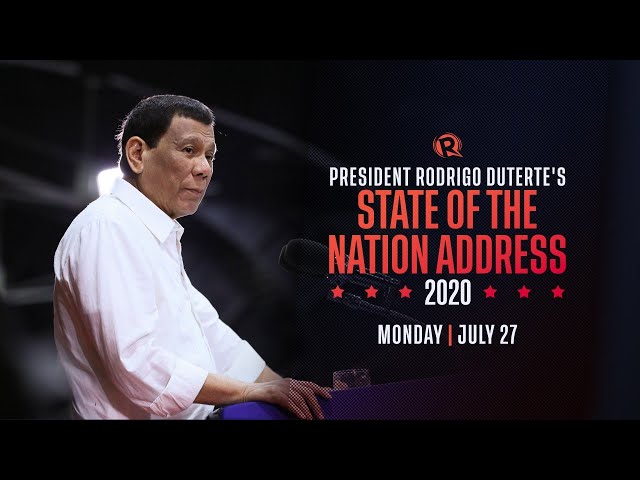 He even teased lawmakers who appeared unenthusiastic about his call.
"I did not hear so much clapping so I presume that they are not interested. Someday I will tell you the story of what happened in the Philippines," said Duterte.
At this point, he digressed from his written speech to launch a familiar monologue about how illegal drugs harm Filipino youths and how Philippine drug syndicates operate like those in Colombia and Mexico.
In a statement, the Commission on Human Rights reiterated that reinstating the death penalty is in conflict with international instruments ratified by the Philippine government, including the Second Optional Protocol to the International Covenant on Civil and Political Rights.
"Bringing back death penalty will be a breach of international law," said CHR spokesperson Jacqueline de Guia.
"We believe in the need for a comprehensive approach in addressing drug sale and use, as well as all other crimes, anchored on restorative justice instead of merely imposing punishments without regard for human lives and human rights," she added.
For the past 4 years of the Duterte presidency, Congress has failed to pass a law reinstating the death penalty. Senate President Vicente Sotto III had previously said that a law reserving the death penalty for high-level drug traffickers stands a better chance of hurdling the Senate.
Duterte had used his 4th SONA and 2nd SONA to push for capital punishment, but it had been his call since since 2016 when he was a presidential candidate. But his support for the death penalty has garnered him criticism from European Parliament lawmakers and human rights groups both in the Philippines and abroad. – With a report from Jodesz Gavilan/Rappler.com