Roque, a former human rights lawyer before becoming Duterte's spokesman, seeks membership in a body that proposes rules and norms for the United Nations
Presidential Spokesman Harry Roque, mouthpiece of controversial Philippine President Rodrigo Duterte, is a step closer to being a member of the United Nation's International Law Commission.
The Philippine government has nominated Roque to be one of 34 persons to be nominated as a member of the UN body this November, during the UN General Assembly.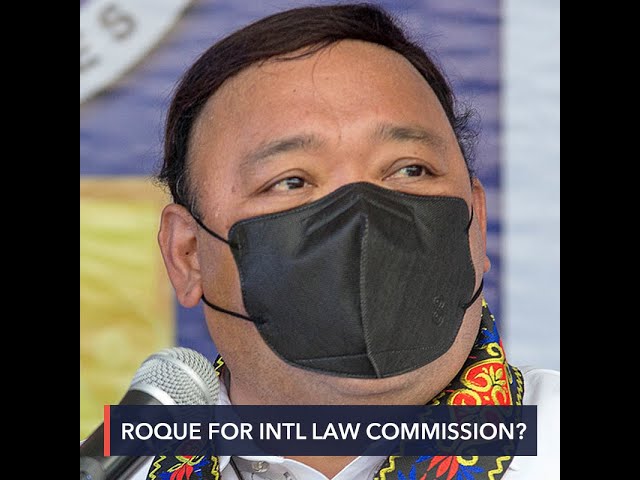 Roque is listed as among the 11 nominees for eight seats allotted to Asia-Pacific states, according to a list posted on the ILC's website on Wednesday, June 16.
China, Japan, Vietnam, India, Korea, and Thailand are among the other Asian countries who made nominations.
Roque, on Thursday, June 17, thanked Duterte and Foreign Secretary Teodoro Locsin Jr. for the nomination.
"I'm very grateful to the President and Secretary Locsin for the nomination," said Roque.
If elected, Roque will have a five-year term as ILC member that will begin on January 1, 2023.
He clarified, however, that if he is elected into the ILC, it should not get in the way of a possible electoral bid in 2022 since it is "not a job," entails no salary, and only requires that the members meet twice a year.
Asked by Rappler if Duterte asked him to seek ILC membership, Roque said, "It's something that could not have happened without the President's say-so because it had to be an official nomination."
But the spokesman said, if elected into ILC, he, as a member would not be participating in the commission's proceedings as a state agent.
What's the ILC?
The ILC was created in 1947 by the UN General Assembly to begin studies and make recommendations "for the purpose of … encouraging the progressive development of international law and its codification," according to the commission's website.
Lawyer Romel Bagares, who used to be with the Center for International Law, a firm co-founded by Roque, said ILC "proposes rules and norms for adoption by the UN system or states." He called it a "very prestigious post for international law scholars."
Roque, who used to be a human rights lawyer and professor before becoming Duterte's spokesperson, has suffered a blow to his reputation among many members of the academe and the legal profession for defending the administration's many controversial policies.
Most recently, Roque gave an impassioned defense of Duterte and his bloody anti-illegal drugs campaign after International Criminal Court former prosecutor Fatou Bensouda's request to investigate Duterte for crimes against humanity. – Rappler.com