(UPDATED) 'The President has granted an absolute pardon to Pemberton,' announces Foreign Secretary Teodoro Locsin Jr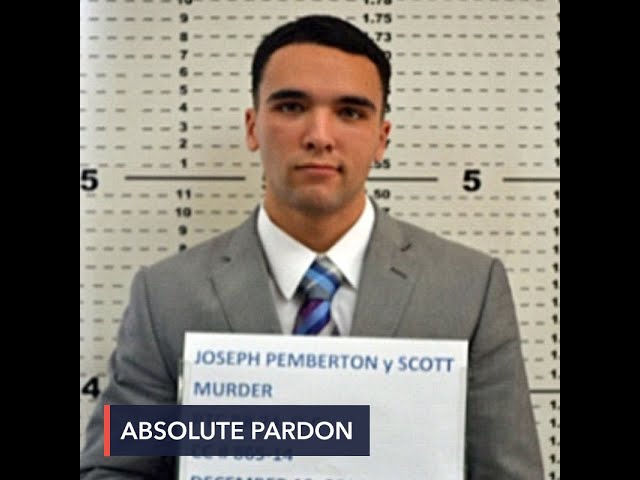 Philippine President Rodrigo Duterte has granted "absolute pardon" to United States Marine Joseph Scott Pemberton, clearing the way for the soldier's early release, confirmed Foreign Secretary Teodoro Locsin Jr.
"Cutting matters short over what constitutes time served, and since where he was detained was not in the prisoner's control – and to do justice – the President has granted an absolute pardon to Pemberton," Locsin announced in a tweet on Monday, September 7.
Pemberton, an American soldier convicted of homicide, had been sentenced to 10 years in prison last December 2015 over the killing of Filipino transgender woman Jennifer Laude.
The soldier, however, was set to be freed 4 years earlier than his scheduled release after he was recently granted full credits of Good Conduct Time Allowance (GCTA) under a Philippine law.
Pemberton to walk free
Up until Duterte's pardon, the Philippine government refused to immediately implement a regional court's release order of Pemberton, saying a motion for reconsideration filed by Laude's family must first be resolved.
Laude's family earlier insisted on seeing proof of Pemberton's records on good behavior while he was detained at a restricted facility in the military headquarters in Camp Aguinaldo.
Meanwhile, one of Laude's lawyers earlier questioned whether or not Pemberton, who was covered by the Philippines' decades-old Visiting Forces Agreement with the US, was even covered by the GCTA law.
"The Court said equal protection does not apply in detentions and convictions under the Visiting Forces Agreement; there is a substantial difference in treatment between someone under the VFA and an ordinary convict. Thus, a different modality applies to Pemberton," international law professor Romel Bagares earlier told Rappler. Bagares is one of the Laude family's lawyers.
Bagares had argued Pemberton was likewise not covered by the equal protection clause since "there is a substantial basis for a different treatment of a member of a foreign military armed forces allowed to enter our territory and all other accused."
In a statement on Monday, Presidential Spokesman Harry Roque said Duterte's pardon clears the issue of whether or not Pemberton is entitled to GCTA.
"This means Pembeteron will be granted freedom, there is no more issue over whether or not he is entitled to GCTA…. The President cleared the punishment that was imposed on Pemberton," he said.
Roque, who used to be one of the Laude family's lawyers, said that while this was the case, the President did not clear Pemberton's conviction.
"Mamamatay tao pa rin siya pero kung ano 'yung karagdang parusa pa, binura na ng Presidente," he said. (He is still a murderer but the punishment given to him has been absolved by the President.)
About-face
Just last week, Malacañang slammed Pemberton's early release, calling it an instance of "judicial overreach" as it encroached on the executive branch's power to grant GCTA.
Roque earlier questioned the decision and called the move to release Pemberton "unjust." Roque said the Olongapo regional trial court had no basis to grant full credits to Pemberton since the Bureau of Corrections, the agency with authority to grant such credits, made no such recommendation.
Roque had also earlier linked the Pemberton issue to Duterte's order to terminate the VFA last February, as the presidential spokesperson said "it is not pursuant to our national interest."
But Duterte has since walked back on this decision in June, ordering for the extension of the VFA for up to one year, citing shifting geopolitics in the region as well as the coronavirus pandemic.
Pemberton was convicted in December 2015 for killing Laude, a transgender woman, who he was about to have sex with. Upon discovering she had male genitals, the US soldier arm-locked Laude and dunked her head in the toilet bowl.
She died of asphyxia by drowning and strangulation. – Rappler.com