President Rodrigo Duterte calls China a 'good friend' amid continued incursions of Chinese ships in Philippine waters
Philippine President Rodrigo Duterte spoke of his country's "great debt" to China for COVID-19 vaccines but also stressed he can't compromise on the West Philippine Sea.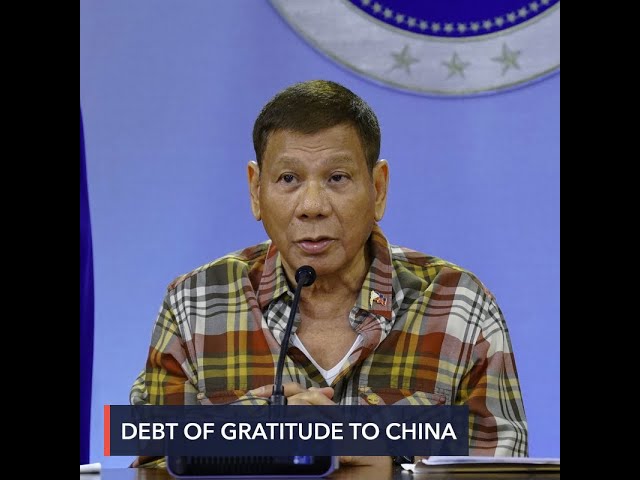 He made these remarks on Wednesday night, April 28, after the National Task Force on the West Philippine Sea said five Chinese ships remain in Philippine waters and the government beefed up patrols in the critical body of water.
"Mayroon tayong utang na loob na marami, pati 'yung bakuna natin (We have a great debt of gratitude, including for our vaccines). So China, let it be known, is a good friend and we don't want trouble with them, especially a war," Duterte said in a meeting of Cabinet members, including Defense Secretary Delfin Lorenzana.
"But there are things that are not really subject to a compromise.... I hope they will understand but I have the interest of my country also to protect," continued the Philippine leader.
He reiterated remarks last week that he would order Philippine vessels to remain in the West Philippine Sea, despite Chinese aggression.
Duterte vowed he would not allow an incident like the 2012 Scarborough (Panatag) Shoal standoff to happen again. In the standoff, Philippine ships left the shoal supposedly to honor a deal with China, but China did not leave the shoal and has since maintained a presence there.
Still, Duterte said he did not want "war" or "trouble" with China, and then expressed doubts that the United States would come to the Philippines' aid.
He said the Philippines is waiting to see what China would do to Philippine vessels "despite our pleadings with peace to settle it (tensions)."
Taunts Carpio, Del Rosario again
The President peppered his monologue about the West Philippine Sea with digs at retired Supreme Court justice Antonio Carpio and former foreign secretary Albert del Rosario, two very vocal critics of his China policy.
"Ikaw, Carpio, maligo na kayo doon, kayong dalawa ni Albert, sa beach sa harap ng Spratlys," he taunted.
(You, Carpio, you and Albert should take a bath in the beach in front of Spratlys.)
Duterte began speaking about the West Philippine Sea after Presidential Spokesperson Harry Roque informed him that among the hottest topics he was hearing government being criticized about were the continued Chinese incursions there.
Heated exchanges between the Philippines and China reached a new level since the reporting of over 200 Chinese ships in Julian Felipe Reef, in the West Philippine Sea.
The Department of Foreign Affairs has filed a series of diplomatic protests, and a word war even ensued between the Chinese embassy and Defense Secretary Lorenzana.
Meanwhile, the Philippines is depending on China as its most dependable source of COVID-19 vaccines.
Most of the vaccines in the Philippines are jabs from Sinovac, a Chinese firm. Some 500,000 more doses from the firm, purchased by the government, are expected to arrive on Thursday, April 29. – Rappler.com