(3RD UPDATE) Without any official announcement, President Rodrigo Duterte is inoculated with a vaccine not yet approved for emergency use by the Food and Drug Administration
Philippine President Rodrigo Duterte was jabbed with the COVID-19 vaccine developed by Chinese-run pharmaceutical firm Sinopharm on Monday, May 3.
It was Senator Bong Go who announced around 6:40 pm Monday that the President was receiving the vaccine.
Even before Malacañang could issue an official statement confirming this, Go's Facebook account went live at around 7 pm with a video showing Duterte getting his shot from Health Secretary Francisco Duque III.
"I feel good and I've been expecting this shot, vaccination a long time ago," Duterte could be heard speaking through his mask.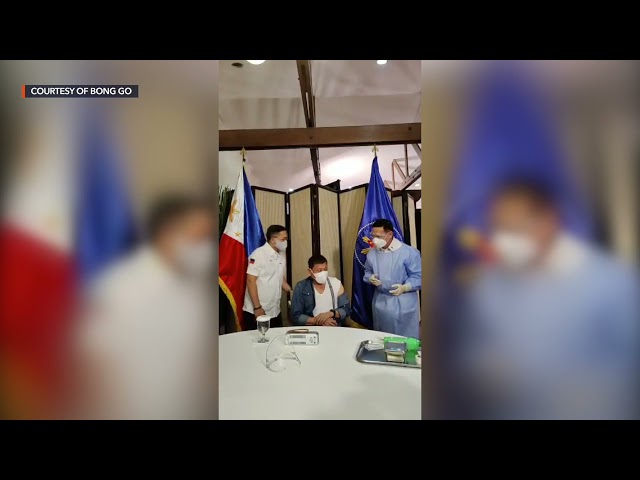 He appears to have gotten his shot at the Malacañang Golf Clubhouse, where he was set to hold another meeting with pandemic task force officials.
Duterte said that his doctors decided to allow him to get the vaccine after what he described as a lengthy assessment.
Duterte has long declared his preference for the Sinopharm vaccine. Media personality and former special envoy Ramon Tulfo had even said the President asked Sinopharm representatives to send vaccines for him and his family.
It was not stated which among the two Sinopharm vaccines the President received but the most well known is BBIBP-CorV.
This inactivated virus type of vaccine was said to be 79% effective against COVID-19, based on an analysis of announced by Sinopharm. Meanwhile, United Arab Emirates Phase III trials showed BBIBP-CorV had a 86% efficacy.
No emergency use authorization
Yet no Sinopharm vaccine has yet to be issued emergency use authorization by the Philippine Food and Drug Administration (FDA).
What has been issued was a compassionate use permit covering 10,000 Sinopharm vaccine doses purchased by the Presidential Security Group (PSG).
Presidential Spokesman Harry Roque confirmed that Duterte's first dose is covered by this permit, issued to the PSG hospital.
Roque had previously said Palace lawyers were studying whether or not it would be legal for Duterte to receive the PSG's vaccines by virtue of the compassionate use permit.
"The Palace's legal department is still studying if the President, as commander-in-chief of the Armed Forces, can have Sinopharm under compassionate use," said Roque last March 1.
However, a few days later, Roque said Duterte had decided to just wait for the FDA to issue an EUA for Sinopharm, an issuance that has not yet materialized.
Roque had also been the lone voice saying Sinopharm had applied for an EUA. In early April, the FDA maintained there was no such application as two representatives of the firm supposedly did not submit all the requirements needed for a full review.
Malacañang and the PSG had been embroiled in controversy when Duterte let slip that members of the PSG had received Sinopharm shots outside of government regulations and processes.
Critics said the move proved the powerful are able to sidestep the law and other important processes at a time when medical frontliners had more urgent need for vaccines.
Duterte, keen to shield the PSG from scrutiny over their illegal vaccination, barred them from participating in any congressional probes into the issue. – Rappler.com