President Rodrigo Duterte is angry at Senator Richard Gordon for grilling embattled former budget undersecretary Lloyd Christopher Lao, and urges voters to ignore the lawmaker if he runs in 2022
President Rodrigo Duterte ranted about Senator Richard Gordon on Monday, August 30, days after the Senate committee the lawmaker chairs led a seven-hour hearing that exposed more anomalies about the government's pandemic spending.
"Huwag 'nyo ibalik sa Senado kasi magdaldal nang magdaldal 'yan, mag show off, magyabang. Marami 'yan, lalo na si Gordon," said Duterte in a meeting with pandemic task force officials in Davao City.
(Don't bring them back to the Senate because they will just talk and talk to show off. There are many of them, especially Gordon.)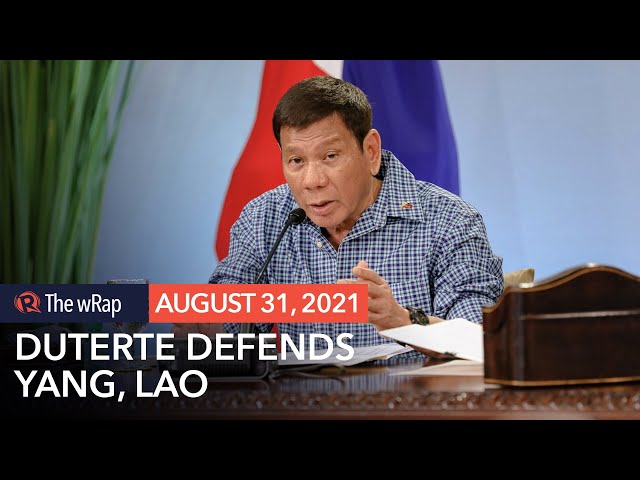 In the same meeting, Duterte warned he had disparaging information about Senator Panfilo Lacson which he would expose in another speech. Lacson was among the senators who asked questions during the August 27 Senate hearing.
The President slammed Gordon for grilling former budget undersecretary Lloyd Christopher Lao. He said Lao, a lawyer, crumpled under Gordon's intense and lengthy questioning.
"Seven hours bugbugin mo 'yung tao ng tanong, mawawala 'yan (You subject a person to seven hours of questioning, he'll lose it)," said Duterte.
Lao signed many of the contracts and purchase orders of the government with its biggest and now most controversial supplier of medical goods, Pharmally Pharmaceutical Corporation. Lao also used to work under Duterte's trusted aide Senator Bong Go, though Go denies it.
The President criticized Gordon for his tendency to speak lengthily, something Gordon himself has admitted and his fellow senators have good-naturedly acknowledged.
But rather than seeing it as merely a quirk, Duterte sought to use it against Gordon.
"Siya ang nanalo sa talkathon, champion, puro daldal (He wins at talkathon, champion, because he's so talkative)… He has that nasty practice of depriving others of asking questions…. The guy just wants to talk and show off to the world that he is a bright boy," said Duterte, who is also known for his ability to talk for hours during public broadcasts.
Gordon was not the only senator who asked questions to Lao during the hearing last Friday, August 27. However, Gordon is chairperson of the Senate blue ribbon committee, which conducted the hearing.
Duterte tells Filipinos not to vote for Gordon
The President then told Filipinos not to vote for Gordon if he runs for senator in next year's elections.
"That Gordon, take him out…. You just teach voice, diction, and grammar, and how to talk and not be understood at all," said Duterte in a mix of English and Filipino.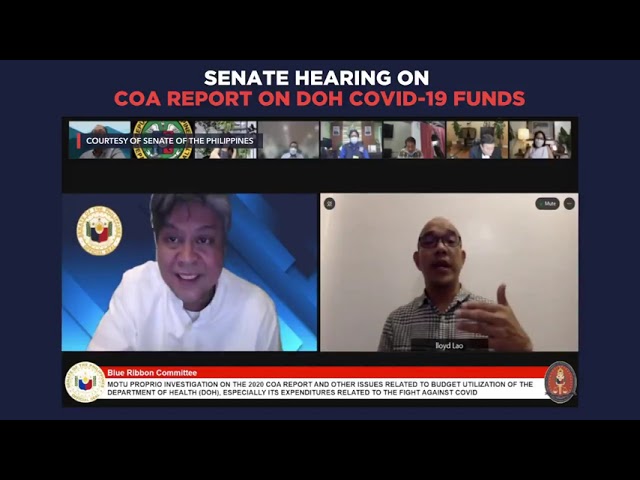 In the same footage, Duterte said it was he who had instructed Health Secretary Francisco Duque III to use faster methods of procurement and to do away with public bidding for early pandemic contracts due to the urgent need for medical supplies in 2020.
"I was the one who ordered Duque. When we were here, I told him, 'I want it done immediately.' I told him it should only take one or two days. I was the one who told him, 'I am sure there is a law which would exempt you from bidding,'" said Duterte in Filipino.
Despite this, he said Duque still went ahead with conducting public bidding for some of the needed supplies.
As early as March 2020, Duterte was given powers to do emergency procurement to ensure the country had urgently needed supplies like personel protective equipment, test kits, masks, and the like.
Duterte also defended the pandemic contracts that were awarded to Chinese suppliers, saying he had asked for China's help in the early months of the pandemic. – Rappler.com