(UPDATED) 'You cannot lay down a policy for my government,' President Rodrigo Duterte warns Facebook after it took down a fake network linked to the country's police and military
President Rodrigo Duterte on Monday, September 28, threatened to stop Facebook in the Philippines after the tech giant recently took down a fake network linked to the country's police and military.
"Facebook, listen to me. We allow you to operate here hoping that you could help us also. Now if government cannot espouse or advocate something which is for the good of the people, then what is your purpose here in my country?" Duterte said during a televised address.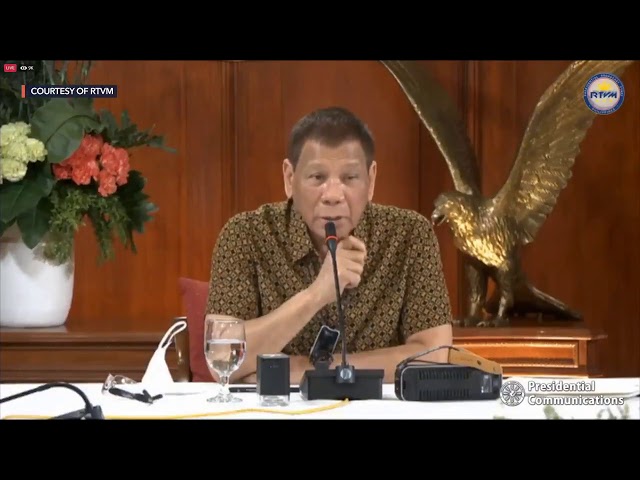 Duterte – a city mayor who rose to popularity and eventually won the presidency partly because of Facebook – scored the platform for its decision to take down accounts, groups, and pages manned by the Philippine National Police (PNP) and the Armed Forces of the Philippines (AFP).
Duterte accused Facebook of helping and "encouraging" communists by blocking the government's efforts.
"If government cannot use it for the good of the people, then we have to talk. We have to talk sense. If you are promoting the cause of the rebellion which was already here before you came, and so many thousands of my soldiers and civilians dying, then if you cannot reconcile the idea of what your purpose is or was, then we have to talk. I don't know what I will do, but we have to talk," Duterte said.
He added, "You cannot lay down a policy for my government. I allow you to operate here. You cannot bar or prevent me from espousing the objectives of government."
"Is there life after Facebook? I don't know. Pero mag-usap tayo (But let's talk)," the President continued.
The AFP and PNP earlier claimed they had no hand in accounts busted by Facebook for spreading disinformation. This comes despite multiple reports documenting police and military commands spreading fabricated information on their social media accounts over the same topics that Facebook mentioned.
So far, at least 3 soldiers were reported to have manned accounts related to the propaganda campaign of the military against communists.
The Philippine Army said it will investigate its soldiers "if there is a complaint of wrongdoing." Filipino troops also asked Facebook to restore the pages it had taken down.
What did Facebook find?
Facebook, in a recent report, explained that the busted network "consisted of several clusters of connected activity that relied on fake accounts to evade enforcement, post content, comment and manage Pages."
"Although the people behind this activity attempted to conceal their identities, our investigation found links to Philippine military and Philippine police," said Nathaniel Gleicher, Facebook's head of security policy.
Gleicher said the operations of these accounts "accelerated between 2019 and 2020."
Posts in Filipino and English, according to the Facebook official, tackled "local news and events including domestic politics, military activities against terrorism, pending anti-terrorism bill, criticism of communism, youth activists and opposition, the Communist Party of the Philippines and its military wing the New People's Army, and the National Democratic Front of the Philippines."
The Philippine military has been waging a battle to wipe out Asia's longest-running communist insurgency by 2022 – the end of Duterte's term.
Duterte has likewise lashed out at communists as one of the Philippines' top security threats, often blasting them or singling them out during his weekly addresses.
Duterte's speech on Monday was peppered with other rants, including about widespread corruption in government. Due to this perennial problem, Duterte claimed he once even "offered to resign as president." – Rappler.com