Even by Philippine standards, the 2016 presidential election brings a whole new level of weird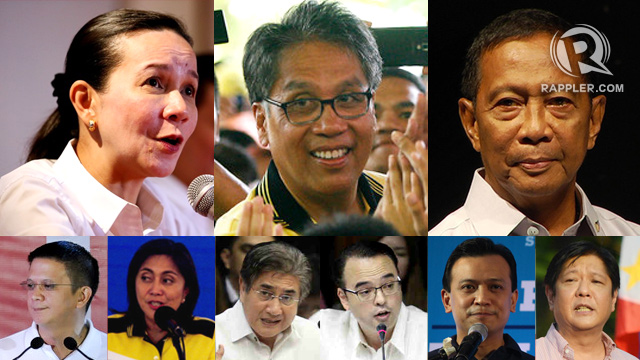 MANILA, Philippines – Filipinos are no strangers to political oddities. They saw a convicted plunderer stage a comeback as mayor of the capital. Necropolitics helped install the reluctant Benigno Aquino III as president. Strange bedfellows and the anomaly of so-called "guest candidates" marked the previous senatorial polls. 
(WATCH: Live: Filing of certificates of candidacy)
Even by Philippine standards, the 2016 presidential election brings a whole new level of weird. So dizzying are the political tandems, non-tandems, and realignments that it took the son and namesake of the late dictator Ferdinand Marcos to point out the obvious. 
"This is the strangest and most complicated election that I have ever come across in my long, long time in politics," said Senator Ferdinand "Bongbong" Marcos Jr. "It has never been this complicated and with much variable." 
Marcos' own candidacy is bizarre, contributing to the historic phenomenon of having more vice presidential bets than presidential contenders. Half of them belong to one party but are running as "independent." Days before the deadline of candidacies on October 16, it is still unclear if it will be a 5-way presidential race, and a 6-cornered vice presidential contest. 
The lack of a clear process for selecting and grooming leaders indicates a continuing decline of the Philippine political system where personalities trump parties. Dynastic interests prevail, leaving it to surveys, money and ambition to determine who gets to run for public office. 
"Disabuse your mind from thinking that there are political parties in the Philippines. Parties are merely coalitions of dynastic families with command votes in their localities. If you really want to run, think of a name, register it, it's a party. Choosing a party is just like shopping in Divisoria," said political analyst Earl Parreño of the Institute for Political and Electoral Reform (IPER).
Exhibit A is boxing champ Manny Pacquiao, who switched parties faster than he changed gloves. The Sarangani reprsentative shifted from the Nacionalista Party (NP) to the ruling Liberal Party (LP), and the opposition United Nationalist Alliance (UNA). Now, all are jostling to endorse his Senate bid.  
Here are the main manifestations of the Philippines' circus-like, peculiar personality politics.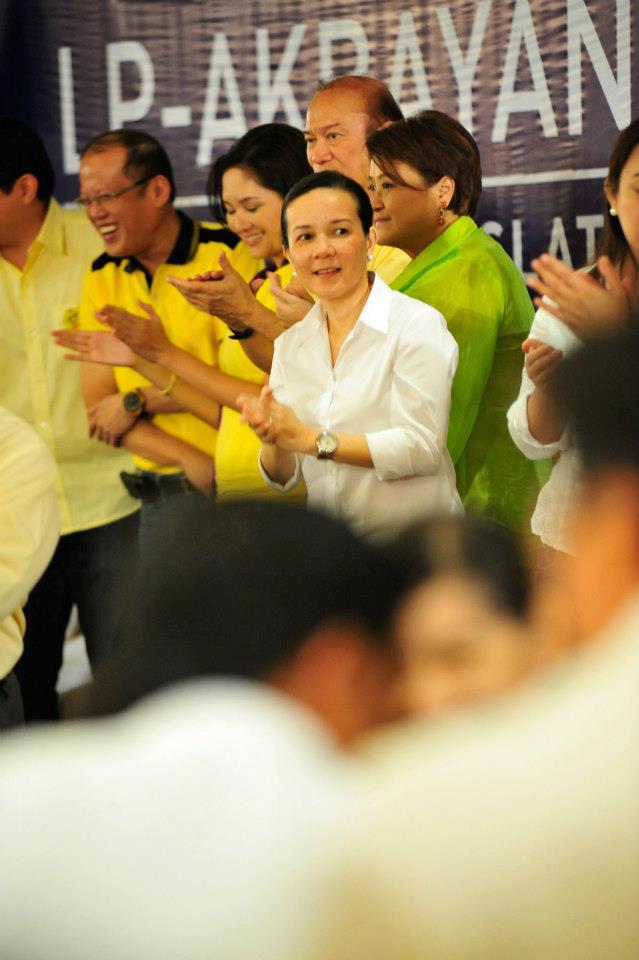 1. No real choice, no clear difference
The Philippines has a multi-party system under the 1987 Constitution, failing to revive the pre-martial law two-party system. Parties are prone to turncoatism and coalitions that transform from one election to the next. Dynasties and interests, not ideologies, bind them. 
In 2016, voters complain of a lack of a real choice. The presidential contenders so far are former interior secretary Manuel "Mar" Roxas II of the LP, opposition leader Vice President Jejomar Binay, and the party-less neophyte senator Grace Poe, the daughter of movie icons.
With no clear programs, individual attributes are highlighted. Gladstone Cuarteros, assistant professor at the De La Salle University (DLSU) political science department, said that the 2016 polls are not as interesting as the 2010 elections because the differences among the candidates are not stark. 
In 2010, Aquino campaigned on an anti-corruption platform known as "tuwid na daan" (straight path) after a tumultuous 9-year presidency of Gloria Macapagal-Arroyo marred by graft and electoral fraud controversies. 
This time around, Poe and Roxas are both allied with the Aquino administration while Binay was part of the Cabinet for 5 years before resigning in June. 
"The context in 2010 was ripe for a clearly drawn battle. Now, it's blurred because Grace Poe is also speaking of tuwid na daan. Mar is also speaking of tuwid na daan, and Binay cannot really oppose tuwid na daan outright because he has to acknowledge there was economic growth but the distribution is the problem," Cuarteros told Rappler. 
Flaws offset candidates' strengths. A Makati mayor for 21 years, Binay is the most experienced candidate but faces a major corruption scandal. Poe is seen as honest but spent only 5 years in government, with legal woes to surmount. Roxas is a technocratic Wharton-graduate who held various portfolios but comes off as insincere and indecisive. 
With the limited choices, voters are waiting for the potential last-minute declaration of Davao City Mayor Rodrigo Duterte, credited for peace and order but blamed for human rights abuses, and the cancer-stricken legal eagle Senator Miriam Defensor Santiago.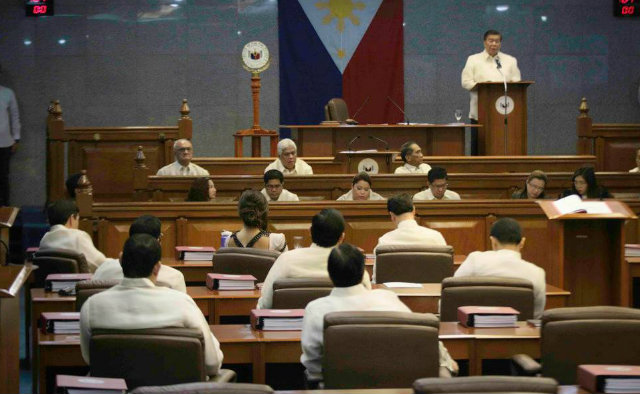 2. Senators' convenience and VPs without partners 
This election is unique for having the most number of vice presidential bets, forming half a Senate slate. There are 6: Poe's running mate Senator Francis Escudero (independent), Camarines Sur Representative Leni Robredo (LP), Senator Gregorio Honasan II (UNA), and senators Marcos, Alan Peter Cayetano and Antonio Trillanes IV (NP). 
Escudero, Honasan, Cayetano and Trillanes have terms ending in 2019, and they can return to the Senate if they lose. The arrangement makes it convenient for senators in the middle of their 6-year term to seek higher office while the chamber suffers from a lack of quorum.
"Running for a vice presidential position is much cheaper than a presidential campaign," IPER's Parreño said. "Because senators know they can go back, they do not have much risk. They don't have to spend much but they have the chance to go one rung higher." 
There, too, is the aberration of Marcos, Cayetano and Trillanes running without a tandem. Trillanes made his own team-up by choosing Poe, while Marcos and Cayetano are both eager to partner with Duterte. 
In a mature democracy, it is the presidential bet who chooses a partner who will support his or her program of government. This is not always the case in the Philippines where the president and the vice president are elected separately. 
"The problem now is you have vice presidential bets selling themselves but in the end, it's the president who will choose. It's not ideology based. It's what these vice presidential candidates could bring – in votes and in image. Although there is no direct correlation with the votes of the president and vice president," Parreño said.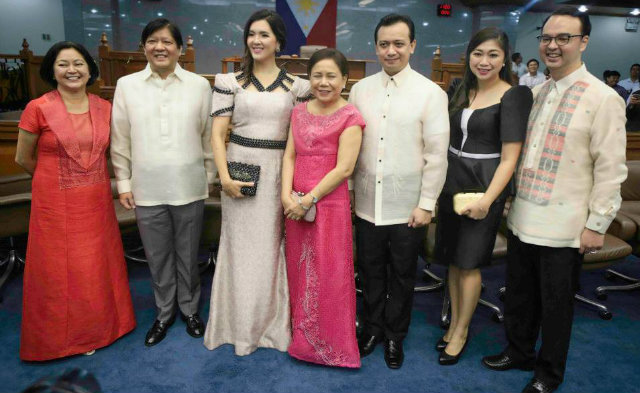 3. One party, 3 VP bets 
The NP of tycoon and former Senate President Manuel Villar Jr holds the infamous distinction of fielding 3 vice presidential aspirants. Instead of holding a convention to select one candidate, the party will implement a "free zone" – a term meaning candidates are on their own, and members are free to choose who to support.  
Senator Cynthia Villar said the Trillanes, Cayetano and Marcos candidacies show NP has a deep bench but it is actually a sign of the party's weakness. 
"The NP cannot even discipline its own members. They are all very pragmatic politicians. [Manny] Villar as party president has not exercised his powers also because he is a pragmatic politician. They just allow their members to run without a guidance on what to do, and what platform to pursue," DLSU's Cuarteros said. 
The 3 NP senators will count on their own support groups and machinery, not their party.
Trillanes has his Magdalo group of former rebels and soldiers. Cayetano has his dynastic clout in Taguig while Marcos is relying on his father's loyalists, the so-called solid north vote of the Ilocos region, and his mother's bailiwick in Leyte. 
4. 'Partido Pilipinas,' puso and hype 
Poe and Escudero claim to be independent but are courting the support of donors, partylist groups, and political parties with no national candidates: the NP, the Nationalist People's Coalition, and the National Unity Party. 
Instead of joining a party, they proclaim to belong to "Partido Pilipinas," (Party Philippines) and promote a 20-point agenda of gobyernong may puso (government with a heart) in response to criticism of a callous, insensitive Aquino administration. 
'Eh ano kung may puso? Gilas nga may puso eh, natalo pa rin. Kasi hindi lang naman puso ang kailangan mo diyan kundi skill, experience.'

 
"It's all branding and hype," Parreño said. "Grace Poe was an honorary LP member. When she didn't want to be vice president, she formed 'Partido Pilipinas.' But what does it mean? What is its ideology? If you put her agenda side-by-side with that of the LP, NP and UNA, it will come out to be the same, all motherhood statements." 
Slogans are confused for platforms in the political discourse. Other UNA senatorial bets now echo the need for a government with "heart."
Cuarteros retorted: "Eh ano kung may puso? Gilas nga may puso eh, natalo pa rin. Kasi hindi lang naman puso ang kailangan mo diyan kundi skill, experience."
(So what if the candidate has heart? The Gilas Philippine basketball team had heart but still lost. Because you don't need just heart to govern but also skill and experience.) 
'Elections are demand-driven'  
With this election offering more of the same, pundits said the challenge for civil society groups, the media, and the Commission on Elections is to get candidates talking about specific issues beyond who's running with who. (READ: We need election debates, not boodle fights)
Billed as the referendum of Aquino's tuwid na daan, the polls must engage the administration to defend the merits of its anti-corruption and anti-poverty programs with clear arguments and statistics, and compel other candidates to present viable alternatives. 
In the long-term, voters must call for political party and campaign finance reform. If Filipinos do not like a system perpetuating name recall and celebrity politics, they have to change the other side of the equation. 
"The quality of elections will depend on the demand side, the voters," said Parreño. "If candidates do not feel pressured, they will not act. Elections are demand-driven." 
To prevent more political abominations, Filipinos must make higher standards the norm. – Rappler.com