(2nd UPDATE) 'If I become president in the near future, this country will become better,' Santiago says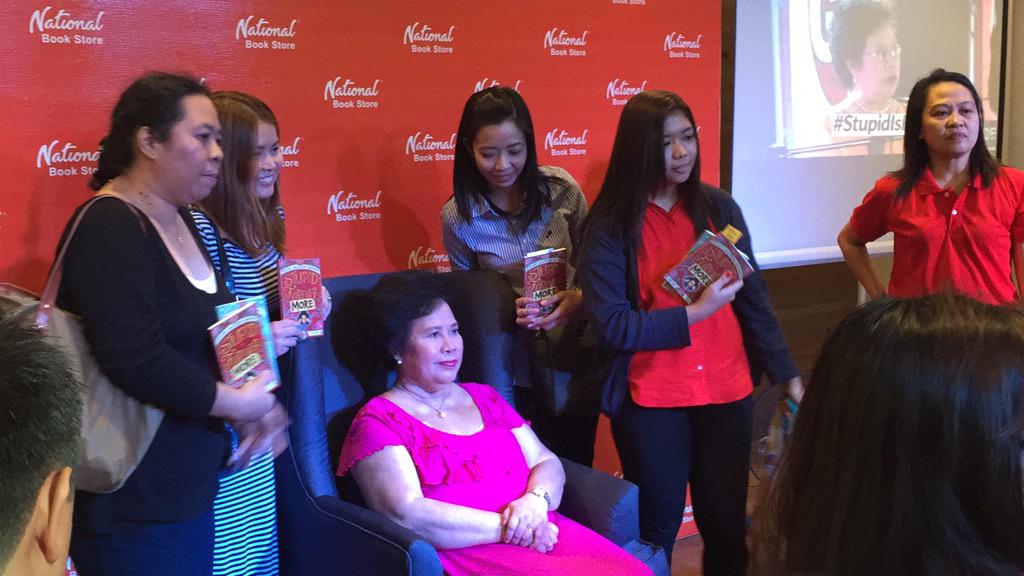 MANILA, Philippines (2nd UPDATE) – Senator Miriam Defensor Santiago is running for president in 2016.
She declared her candidacy on Tuesday, October 13, during the signing session of her book, Stupid is Forever More, which was released July 15.
She said her running mate is someone who has already declared. Santiago said she will run under her own party, the People's Reform Party, the same vehicle she used for her 1992 presidential bid.

"If I become president sometime in the very near future, this country will be much better than it was before. Today this country suffers from the malaise of plunder," she said. 
In an interview with reporters after the book launch, Santiago said: "Unless I get struck by another bout of cancer, but it doesn't happen that often, I will run because I've already gotten over my bout of the cancer and there's nothing left to do. I think since I have served the government from the very beginning, I will end my career here."
The 70-year-old senator announced she had Stage 4 lung cancer in July 2014 and went on leave from the Senate. In a press statement in July 2015, she declared that her lung cancer had been "licked." (READ: Will voters go for ill candidates like Miriam Santiago?)
It was also in July 2015 that Santiago said she was eyeing the presidency. 
Judging by the response of the crowd at her book launch, Santiago said, she is running because "I'll disappoint a lot if I don't do that."
Running mate
When asked, Santiago said her running mate is someone who has already declared his vice presidential bid but declined to name him.
"He has already announced. We will be running together. I cannot give the answer because his wife might scold him," she said.
Among the vice presidential candidates who have no running mates, so far, are senators Ferdinand "Bongbong" Marcos Jr, Antonio Trillanes IV, and Alan Peter Cayetano.
Cayetano had earlier said he wants to team up with Davao City Mayor Rodrigo Duterte, but the local official announced on Monday that he would not run. Trillanes earlier said he would support Senator Grace Poe in 2016. 
Santiago was also coy on who would be her senatorial candidates, only saying it is up to the media "to guess" who they are. She was also mum on when she would file her certificate of candidacy. 
Santiago placed 7th in the latest Standard Poll, with 7% voters' preference among 8 candidates included in the survey conducted by Laylo Research Strategies of pollster Pedro "Junie" Laylo Jr from September 21 to October 1, 2015.  
Earlier in 2014, Santiago, who is chairperson of the Senate committee on constitutional amendments, said she wanted to amend the constitutional provision that only provides for citizenship, age, literacy and residency requirements. Candidates for the top posts of the country, as well as for the Senate and the House of Representatives should be at least college graduates, according to her.
The senator ran for president in 1992 but lost to Fidel V. Ramos in an election she claims was rigged. 
Malacañang welcomed Santiago's entry in the presidential race. Palace Communications Secretary Herminio Coloma Jr said: "Senator Santiago's entry in the presidential race provides voters a wider latitude of choice as she has carved a public service record spanning more than two decades in all three branches of government." – Rappler.com