(UPDATED) 'Yung slot na yun, binibigay namin kay Rody Duterte,' PDP-Laban's Martin Diño says. But Duterte has yet to take the party's offer to take Diño's place in the 2016 presidential race.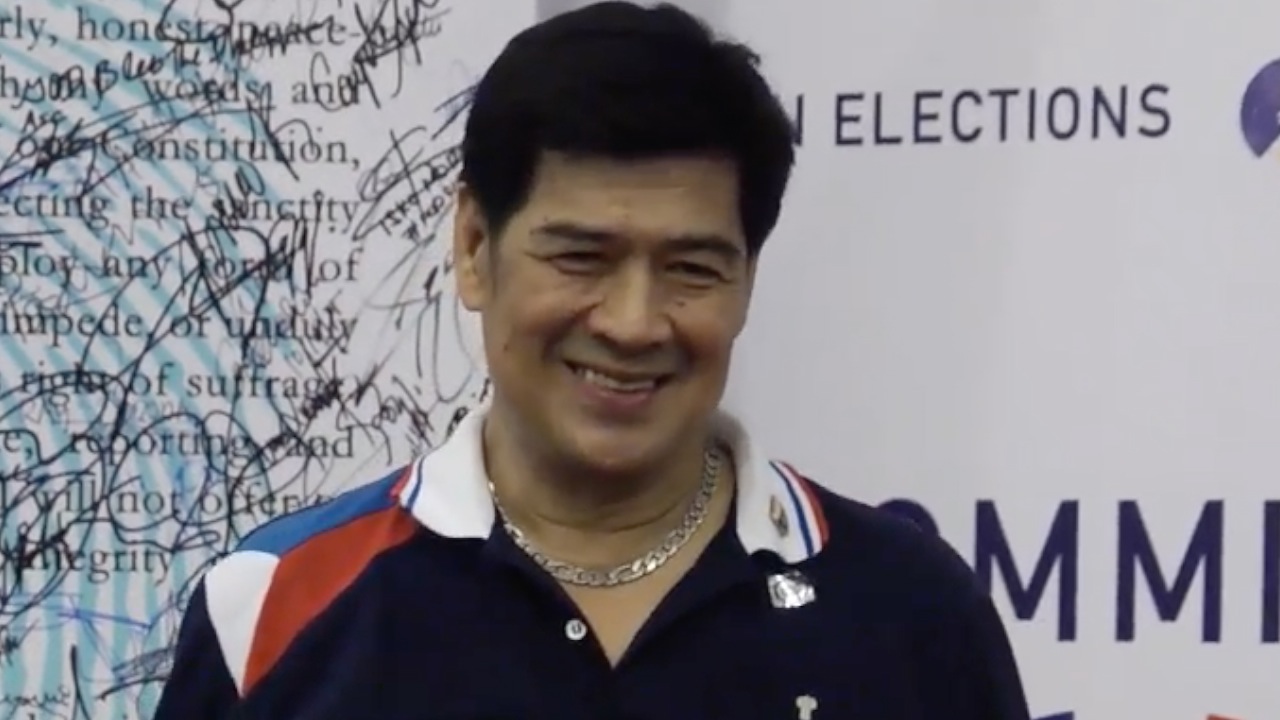 MANILA, Philippines (UPDATED) – PDP-Laban's Martin Diño on Thursday morning, October 29, withdrew his candidacy for president as the Commission on Elections (Comelec) is considering declaring him a nuisance bet.
Diño, widely seen as a placeholder for Davao City Mayor Rodrigo Duterte, confirmed to Rappler that he withdrew his certificate of candidacy (COC) for president at the Comelec legal department on Thursday.
He said his withdrawal is his response to moves by the Comelec legal department to disqualify him as a nuisance candidate, along with 124 others.
"I feel insulted by Comelec," he said during a news conference. "Kawawa naman ang aking pamilya, sobrang insulto ang inabot namin." (My family is pitiful because we have been so insulted)." 
The Comelec en banc, or the poll body's commissioners sitting as a whole, is set to tackle the Comelec law department's petition.
The Comelec en banc will have the final say on nuisance candidates.
The Omnibus Election Code defines a nuisance candidate as someone who files a COC "to put the election process in mockery or disrepute or to cause confusion among the voters by the similarity of the names of the registered candidates or by other circumstances or acts which clearly demonstrate that the candidate has no bona fide intention to run for the office for which the certificate of candidacy has been filed, and thus prevent a faithful determination of the true will of the electorate."
Offering slot to Duterte
Diño, chairman of the Volunteers Against Crime and Corruption, said he felt insulted by the Comelec legal department's assertion that he did not have enough funds to run a nationwide campaign.
"Ang kandidato, hindi ka kailangan maging mayaman. Susuportahan ka ng partido 'pag nakita na nasa sa iyo ang katangian upang mamuno dito sa ating bansa. Nakita 'yan ng aming pamunuan. Ngayon, ide-deprive mo ang aming pamunuan?" he said.
(A candidate doesn't need to be rich. The party will support you if they see you have the characteristics to lead the country. Our party saw this in me. Now, you will deprive our party?)
He said he had consulted the leadership of PDP-Laban about his decision right after he received the letter from the Comelec. The party had even provided him with 15 lawyers to tackle the case, he added.
Now that he has withdrawn his candidacy, PDP-Laban will enact a resolution it arrived at last Monday: to nominate Duterte as Diño's substitute.
"'Yung slot na yun, binibigay namin kay Rody Duterte," said Diño. (That slot, we are now offering to Rody Duterte.)
Duterte is yet to take PDP-Laban's offer. He has until December 10, the substitution deadline set by the Comelec, to decide.
Mike Sueño, PDP-Laban national chairman, said they are now just waiting for Duterte's go-signal so they could file a request for substitution with the Comelec.
Duterte candidacy in peril?
Manny Piñol, who belongs to Duterte's inner circle, said cancelling Diño's COC "would effectively close the door" on Duterte's "expected substitution" for Diño.
He quoted the Comelec petition as saying it is "clear" that Diño filed his COC "to put the election process in mockery or disrepute…and that he has no bona fide intention to run for office."
"The respondent, in several media interviews, openly admitted that he was filing his COC for president because Davao City Mayor Rodrigo Duterte did not show up and failed to file his COC for the presidency on the last day of filing thereof," according to the Comelec law department petition, cited by Piñol.
Diño faces another problem because he submitted the wrong COC, where he declared, in one portion, that he is running for mayor of Pasay City.
The Comelec, however, explained that a substitute could take the "slot" of a political party's bet if the poll body disqualifies the original candidate. – with reports from Pia Ranada/Rappler